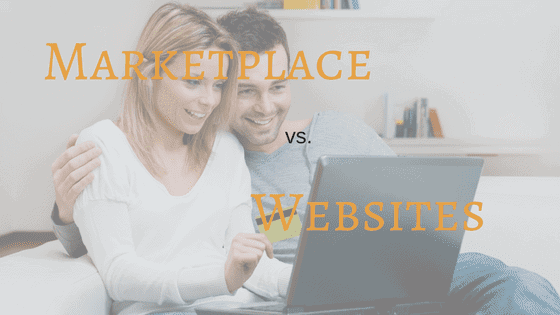 Why Online Marketplaces Are Beating Out Other Online Retailers
97% of online shoppers shop from online marketplaces like OverStock, Amazon, or Jet.com. There are a number of reasons that these marketplaces are so appealing to online shoppers.
You Can Find Almost Anything on a Marketplace
Instead of jumping from one retailer website for women's clothing to another for children's to yet another website for household goods, marketplaces generally carry anything you're looking for. It's a one-stop shop. This convenience lets customers gather everything into one online shopping cart, combine shipping, and finish their visit in one fell swoop.
Pricing Is Competitive
Since everything is in one place, pricing is typically more competitive as well. You'll be hard-pressed to find better pricing outside of an online marketplace for most items.
Shipping Is Generally Faster and Cheaper on a Marketplace
Walmart offers free 2-day shipping on any order over $25, Amazon offers free 2-day shipping on orders over $35 or on any order if you're a Prime member. Other marketplaces are following suit with fast, free shipping. It's not considered a luxury anymore… it's an expectation.
90% of consumers say free shipping is a primary incentive for purchasing from a retailer, and many of them expect shipping to take no more than a couple of days.
Free Returns
Another commodity that has gone from a perk to an expectation is free returns. Whether or not the item is defective, 79% of consumers want to be able to return it for free if it no longer meets their needs (within a specified amount of time of course).
The Experience Is Almost Guaranteed
Even if you purchase from a third-party retailer on an online marketplace, you are protected by the guidelines of the marketplace. Take Amazon for example. I purchased a product for my car through a third-party retailer that was covered under Amazon's promises. When the piece arrived and didn't fit, I had issues working with the retailer to get my product returned. I reached out to Amazon and they essentially took care of everything for me. Knowing that I'll be taken care of no matter who I purchase from on Amazon gives me peace of mind to continue shopping there.
Most retailers in these markets places want to have a great reputation on the website so their products are displayed at the top of search results and in turn, have higher conversions. So they are willing to do what's necessary to keep the customer happy.
Products Are Trusted
Because thousands, millions, of people are shopping in online marketplaces, there are a lot more ratings and reviews shared, creating a sense of security when doing research on a product. Places like Amazon also don't allow incentivized reviews, so you know you're reading honest opinions.
Also, marketplaces don't want to sell faulty or misleading items, so they're going to remove anything that risks their reputation.
For all of these reasons, more consumers are turning to online marketplaces to do their shopping. It seems that no industry is safe from the growing transition to e-commerce.