See what our clients have to say about Shopper Approved
We've taken some time to gather a few ratings and reviews from around the web, and then sorted
them into three main review categories. Simply click on the buttons below, or just scroll
down, to read all of the great things our customers have to say about us.
Our results
Shopper Approved vs. the competition
Our amazing team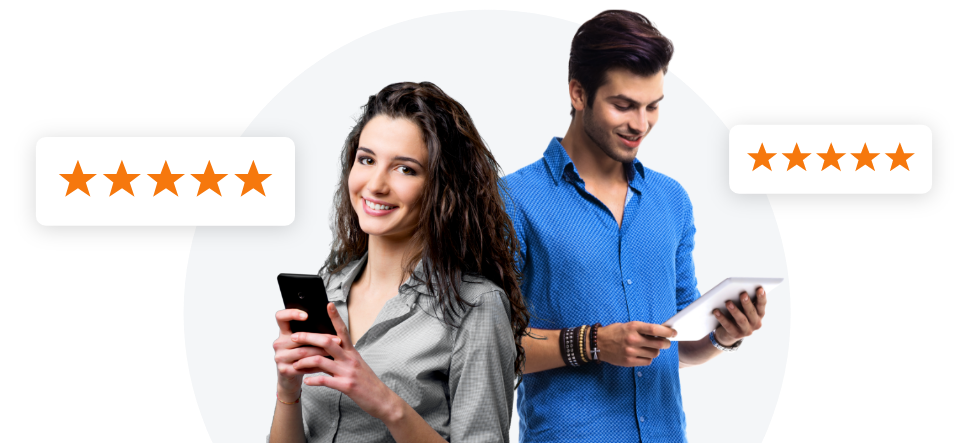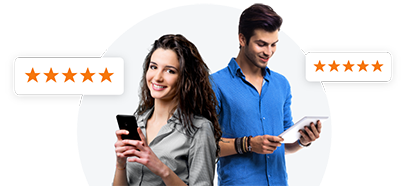 Shopper Approved delivers real results
At the end of the day, no matter how many features your review software has, if it
does not generate more high-quality, verified customer reviews, and have the
ability to distribute those reviews across the web to significantly increase your
online visibility, clicks, and conversions, it is not doing you any good.

In other words, results are king. One of the things we take great pride in at Shopper Approved is
generating amazing results for our clients. Here's what some of them have to say…
We now have more and better reviews than any of our larger rivals. And with the Shopper Approved Reputation Management Software we distribute our reviews on other 3rd-party review sites, allowing us to collect more reviews and display them in more places, which improves our click-through and conversion rates.

We owe our success and Inc. 500 Fastest-Growing Company award in large part to Shopper Approved."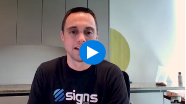 Nelson James

Kay Perry
We have seen our click-through rate increase by 20% and our conversion rate increase by 19% from using Shopper Approved."
With the help of Shopper Approved, we are setting new records consistently, and close to doubling our sales revenue!"

Justin Smith

Ryan Garrow
Nobody delivers more Google reviews in more places at a lower cost than Shopper Approved. When we combine their reviews with our PPC campaigns, they perform better at a lower cost, creating a win-win for everyone."
This is absolutely amazing. The speed in which you are able to set up your client is phenomenal. The one to one help was very beneficial. The many years in business is paying off with wonderful Customer Reviews. This will increase sales, but don't go it alone (ugh). It is worth the investment. I certainly wish we would have done this sooner. Thank you so very much for your guidance and expertise."

Elizabeth Joerin

Tom Szynwelski
I needed a review platform to integrate with our website, and also email communications. After much research, I went with Shopper Approved. It was the right decision. The level of customer service, integration process, hand-holding, etc., that they provide is outstanding. We have had immediate success on this platform getting reviews for our company. Thank you Shopper Approved!"
I help my clients get more sales by recommending them to Shopper Approved. Many of my clients increase their prices because reviews bring built-in credibility. Since 2015, I have recommended Shopper Approved to over 650 website owners. Credibility starts at the search engine. Review generation can be the difference between being a profitable company or a struggling company. Take action today and grow your company."

Francisco Meza

James H.H.
As a digital marketing agency, we recommend Shopper Approved to our clients, and work directly with SA on integration and directly with clients on using the service. Our clients have witnessed tangible results and experienced very positive outcomes.

The product support is very good—speak to a live person who speaks clearly. The setup, website integration, and training are very good. The dashboard is very user friendly. The platform is feature rich with the ability to engage customers, and obtain more reviews and better testimonial content.

Additionally, you have the ability to share reviews via social and video platforms. An added benefit, through some technical enhancements, is that these reviews can boost website optimization and get star ratings to show on Google Ads."
Shopper Approved has boosted our Merchant, Product, and Google Business reviews by huge numbers. The Google reviews were especially helpful because, despite our overwhelmingly positive customer feedback, a few upset customers left us negative Google reviews and we were having a hard time directing others there to balance them out.

Shopper Approved made it super easy and our Google ratings are through the roof.

Eric M.
Luxury Goods & Jewelry
11 – 50 Employees
Shopper Approved vs. the competition
For over ten years, Shopper Approved has consistently proven to be more
effective, less expensive, and to provide better onboarding and support than our
competitors. So read on to see why so many of our clients have
moved to us from other review platforms, making us their review platform of choice.
Great review service.
We've been with them for years and their customer service and support, have been excellent. Reviews are syndicated with Google as well. Much better pricing than Yotpo as well."

Mike Harley

David Chapman
Switched from another review company 2 months ago. Paying half of what we paid the other company and getting more reviews from our customers. All reviews are from confirmed customers based on invoicing."
We switched from Trustpilot to Shopper Approved when Trustpilot tried to double our monthly fee after a year without any justification only because they thought that we were now dependent on them. We ended up negotiating a similar fee with Shopper Approved.

Trustpilot, which is a passive review site with an API that didn't work for us (we had to manually make review requests), proactively solicits reviews at every level and does so through an API, which they were willing to tailor to our needs (soliciting after their product has shipped, not after the order was placed).

The Shopper Approved team put in the time and effort, following up consistently, to ensure that our transition went smoothly.

Contrary to what some people have asserted, neither Trustpilot or Shopper Approved will let you choose which reviews will show, however Shopper Approved does have a warning and follow-up regimen to help resolve any issues that a customer may have and for the customer to be able to amend his review if he so chooses."

Martin Pollmueller

Tristan Chambers
Shopper Approved is the best review solution for small business
We wanted an online review service that wasn't run by Don Corleone. Shopper Approved gave us all the features we needed, with integrity and great service. There isn't a better online review system on the internet.
What we like most about Shopper Approved is their consistency. Too many review services up their prices once you're hooked in, then hold those reviews over your head in an old school mafia protection play. Shopper Approved has had the same pricing since we started. Their integrity is what we like most. It doesn't hurt that it works great and is easy to use."
I was on a competitor's reviews platform and felt I was overpaying for them to under deliver. I wanted more reviews on Google product listing ads, and saw other websites in my vertical that were successful were on Shopper Approved. They offered a free trial, no contract, and matched what I was paying elsewhere (for less value added services like product reviews.) But that all means nothing, because in one month my reviews on Google PLA ads doubled. My product detail page looks way better with their reviews aggregate snippet, and they have a great account manager who was patient, and most importantly followed up to ensure all of the Shopper Approved technical implementations were installed. In a segment of internet marketing that can be expensive to gauge ROI on, they knocked it out of the park. I can't wait for Black Friday."

Alex Teller

Jeff Senzik
Great service and critical to selling online.

Shopper Approved is very easy to use and they are great at gathering reviews. We used another review service a few years back and they were a lot slower at gathering reviews.

I honestly have no idea how Shopper approved does it but we now have over 10,000 reviews. It really is a lifesaver. I also find the back end user interface easy to use. And it all works. It rarely malfunctions and we have been using this service for many years now. Without these reviews, I would predict we would have a lot less business."
Great system with excellent support
With Shopper Approved's customer review system, my company has received customer reviews at over triple the rate in comparison to our past review request service. The customer service and onboarding team is extremely helpful and walked me through the entire process of integrating their widgets into our site. Both Jared and Marie were a pleasure to work with!"

Charlotte Smith

Administrator in Retail
Small Business
Fewer than 50 Employees
Probably the best online review outfit you can have as a small business."

What do you like best?
"Shopper Approved gives you all the benefits of the other online review services, such as appearing on Google Shopping, but for a fraction of the price. Their staff are always available to help with problems, and are friendly and courteous doing it. Our representative, Holly, is wonderful. Any issue we've ever thrown at her, she's taken care of immediately. It's a first rate organization."

What do you dislike?
"The only downside to Shopper Approved is the somewhat clunky administration interface. It's a very minor complaint though, and one I'm sure they're working to improve."

Recommendations to others considering the product:
"If you're a small business, and you wish to have reviews show up in Google or Bing Shopping, use Shopper Approved. Other services are way more expensive, and have been known to raise prices significantly over time once you are invested. Shopper Approved does not play that game at all."

What problems are you solving with the product? What benefits have you realized?
"Shopper Approved helped us get our reviews shown on Google shopping, and allowed us to greatly expand our individual product reviews."
Shopper Approved is easily the best review site.
I've researched a few merchant review companies and so far I couldn't be happier with my pick: Shopper Approved. Here are the reasons why I think it was the best choice for my company.

Pricing was the best I found and seems like the lowest out there.

The setup was a quick copy and paste of a snippet of code on my checkout page. Took exactly 2 min.

Their dashboard to track your ratings is super easy to use and help was available for any questions.

For initial account setup, Kelsey was absolutely phenomenal helping me understand every option available in the settings.

About 3 weeks after I signed up I've already seen my star rating in the Google AdWords with no additional settings.

I'm very satisfied with their service and I definitely recommend Shopper Approved."

Robert Corleon
Shopper Approved customer
service and support
Our customer support team is world-class and second to none. In fact, we
would put them up against not only any other review platform on the planet, but
we would pit them against any software company in the world! Our clients love
working with our support, onboarding, and integration teams. Here's what some
of them have to say...
Shopper Approved Exceeded Expectations
Shopper Approved has exceeded expectations.

Shopper Approved handled all the integrations required and had everything set up and working perfectly, collecting reviews in less time than they said it would take."

Jerry Reyelts

Christine Torres
Top customer service.
When you don't know what else to do, who do you call? Shopper Approved customer service! BayLee was amazing and helped me when I was struggling to perform a task. She easily swooped in and took care of the situation—all with superb professionalism and pleasantness. Thank you, BayLee! And, thank you, Shopper Approved, for your great platform for gathering our clients' feedback."
Exemplary customer service and value."

What do you like best?
"The responsiveness and helpfulness of account managers like BayLee. We are very impressed with her response time, how supremely effective she is in resolving any issues that popped up while maintaining clear communication channels, and keeping us in the loop."

What do you dislike?
"Not much to dislike. Any issues were resolved rapidly."

What problems are you solving with the product? What benefits have you realized?
"Establishing a reputation and syndicating reviews to multiple channels. Benefits include increased sales and visibility."

Alana K.

Administrator in Health, Wellness
and Fitness, Mid-Market
51– 200 Employees
These guys rock!"

What do you like best?
"Shopper Approved provides the best customer service in the industry! They are always available and go above and beyond to offer assistance when needed."

What do you dislike?
"The UI took a little time to figure out and get used to. I wish the training videos were more readily accessible."

What problems are you solving with the product? What benefits have you realized?
"We are learning a lot from our customers! Their feedback is invaluable for making improvements and decisions. Without these reviews, I would predict we would have a lot less business."
The best support I ever had!!!"

What do you like best?
"Professionalism, quality, reacted quickly and appropriately. Super friendly and helpful. When I have contacted them expected to have a lot of hoops and loops to have my problem resolved and was excited when everything was done right away! I have never seen such a customer treatment from any other companies we are working with! Holly Byers was kind and very very helpful. Thank you so much and I wish everyone would have such a customer support as at Shopper Approved!!!"

What do you dislike?
"There is nothing I would dislike, my issue was handled in a very best way!!! I was expecting to have something similar that I am usually have from other partners, but when my problem was resolved I was so excited and happy with the way I was treated and how my problem was handled. There is nothing I can tell against using Shopper Approved! Always improving their services and provide very best support!"

Recommendations to others considering the product.
"Recommended for everyone! The best rating company we ever deal with! Exceed our expectation and keep doing better each day!"

Administrator in Retail
Small Business
Fewer than 50 employees
---
The bottom line
Shopper Approved is your best choice for improving your traffic and conversion to build trust and grow your business.