Website Security That Makes You Money
Consumer facing Website Security is one of the most powerful sales boosting tools that exists - if you know how to leverage it.
Book a Demo
Get a Free Scan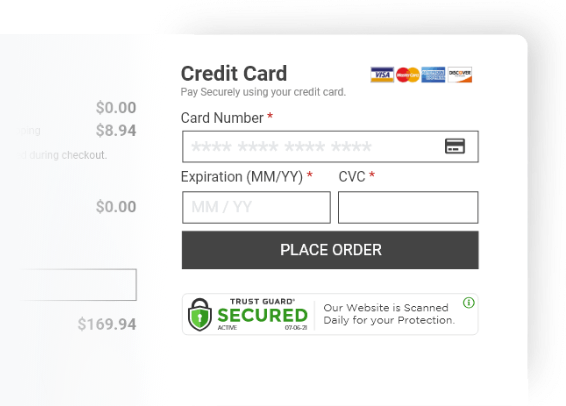 Customers Should Never Wonder If Your Site Is Safe
Website Security is a big concern these days - especially for shoppers. But it's not just enough to have it, you have to 'show it' to your customers so they feel safe, because if they feel safe they are much more likely to buy, which means that you make more money!
Show Customers that Your
Website is Safe
Shopper Approved actually owns one of the oldest, most trusted website security companies in the world, Trust Guard. Trust Guard's 'Trust Seals' are specially designed to be displayed in very strategic locations on your website, to instantly resolve your customer's security concerns at the exact moment they are needed.
Trust Guard Seals are Proven to
Increase Your Sales
Independent split testing done by Conversion Fanatics, found that by adding Trust Guard seals to their client's webpages, regular orders increased by 19.2%, recurring orders increased 28.2%, and revenue per visitor increased 71.1%.

See the independent test results

And, our own national study conducted in July, 2021 found that 88% of U.S adults said that they are more likely to buy if a product page has a 'Website Security' badge or a 'Secure Transaction' link next to the 'Buy Now' button.

Powerful Website Protection
That's Simple To Use
While most website security companies are highly technical and difficult for
the average business owner to use, Trust Guard is incredibly simple - if the
lights are green, you're protected - it's really that easy.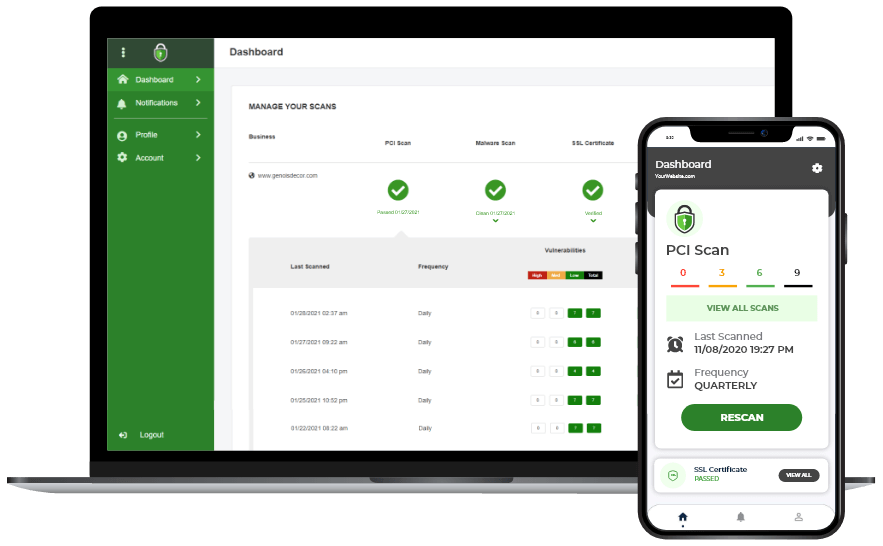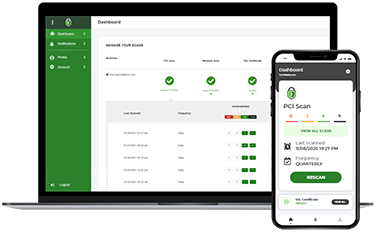 We Protect You in
3 Ways:
There are 3 main types of website security scans that every online business should use to minimize their chances of a breach. These three scans are; External Perimeter Scanning, Internal Malware Scanning, and SSL Validation Scanning. Trust Guard uses all 3 types of scans to help you dramatically lower the risk of a hacker gaining access to your website and your customer's information.
External PCI
Scanning
External Scanning is like the outer walls and barbed-wire fences of a high security building - keeping intruders away by blocking them from ever getting in.
Internal Malware
Scanning
Internal Scanning is like having security guards inside the building, constantly looking for intruders or things out of the ordinary, and sounding an alarm if anything happens.
SSL Validation
Scanning
SSL Validation Scanning is like checking the armored trucks that move valuable items to and from the building to other locations, to make sure things are properly secured.
---
Doesn't my shopping cart
provider protect me?
Possibly. It depends on the cart, but that doesn't really matter. If you have website protection and your customers don't know it exists, then you're only playing defense, and completely missing your opportunity to play offense. By fully leveraging Trust Guard website protection, and making your customers aware of it right at the point of purchase, more of your customers will buy, and your sales will increase.
What Makes Trust
Guard Different?
We have studied user experience and conversion best practices of the leading eCommerce sites for years, and have conducted national research of our own. What we've found is that by having both a clear and obvious 'Secure transaction' seal right above or below the 'add to Cart' or 'Buy 'Now' button, your shoppers will feel more secure and confident about the security of their personal information, and are more likely to buy from you.
Website Security is Part of the 'Traffic
& Conversion Stack' Suite of Tools
Not only are Trust Guard seals proven to convert on their own, but they're also part of the Traffic & Conversion Stack - a highly-effective combination of Product Reviews, Q&A and Website Security tools that are used by sites like Amazon.com to maximize their conversion rates. Now you can use the same strategy on your website.
Learn more about Stack
Learn more about the Traffic & Conversion Stack
---
The Bottom Line
There's no easier, better way to fully protect your website and increase your conversion rate than with Trust Guard.