Turn More
Visitors
Into
Loyal Buyers
Product Reviews are highly influential, and can have a significant, persuasive effect on your customer's decision making and
buying process.
Book a Demo
Free Trial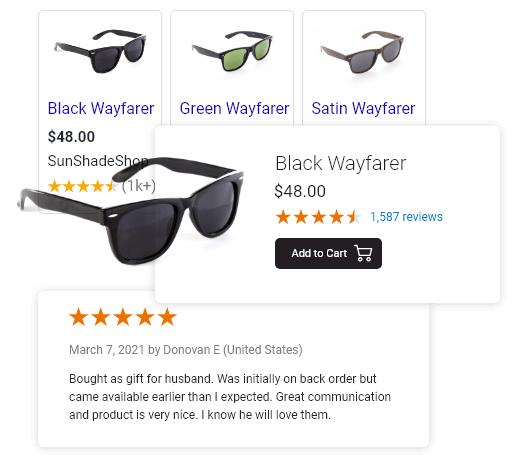 Improve Your Product Sales with
Product Reviews
Product Ratings and Reviews from verified customers are probably one of the most powerful marketing tools in your arsenal when it comes to optimizing organic product search results (SEO) and driving more sales and conversions. Shopper Approved® Product Reviews will help your products stand-out, get noticed, and sold.
5 Ways Product Reviews
Build Your Brand
---
Create INSTANT brand trust and product credibility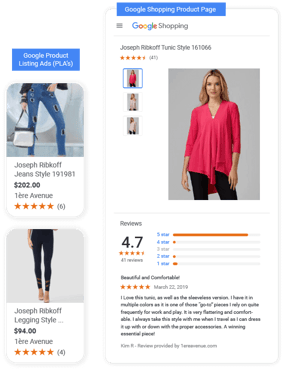 When potential customers see that your products have 4 and 5-star product ratings in Google, not only will your listings stand out, but they will naturally be more trusted and credible - predisposing customers to trust your brand and your products before they even visit your website!
Improve your product search engine visibility and Traffic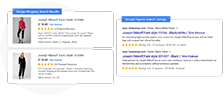 Product Reviews have huge SEO benefits because they infuse your product pages with a constant stream of unique content, keywords, and product descriptions - giving Google exactly what it needs to help boost your product pages to the top of both organic search and Google Shopping results.

Shopper Approved also helps you to display 4 and 5-star ratings right in your product page organic search listings in Google, which helps them to stand out from your competition.

And, as an official Google Product Review Partner, we also get your star ratings to display in both your Google Product Listings Ads (PLA's), and in Google Shopping.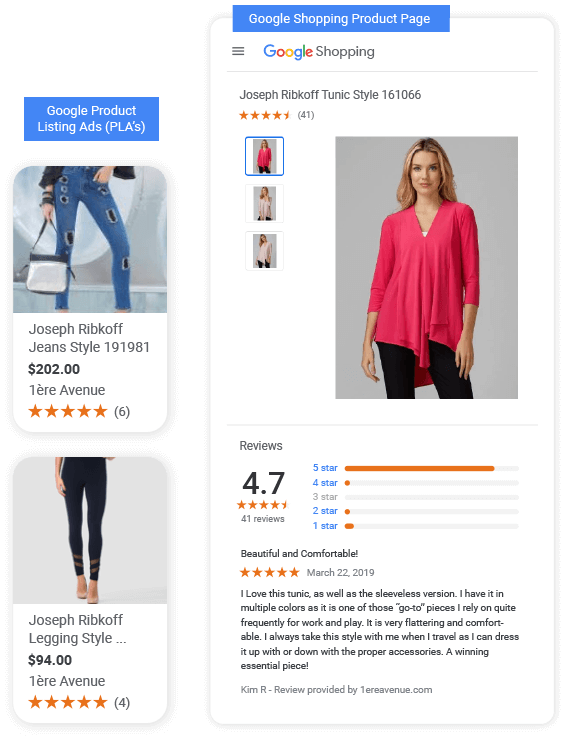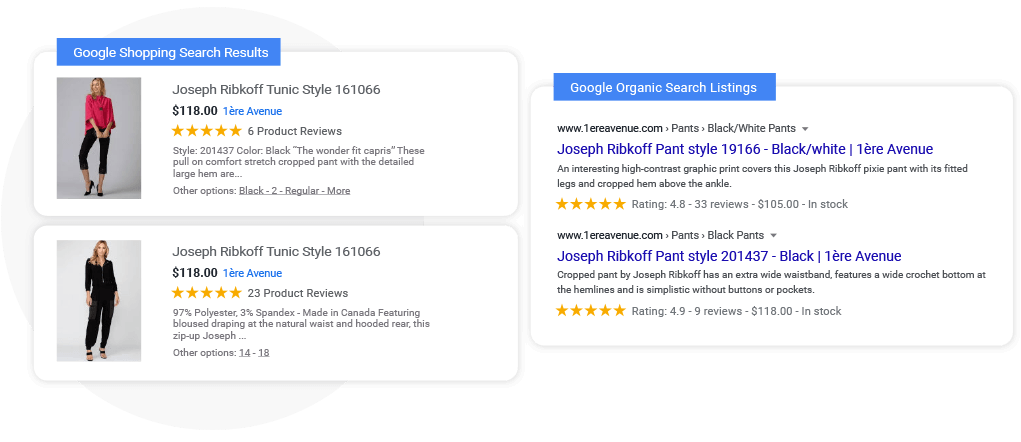 Increase your
Conversion Rate
According to the split-testing software company Crazyegg, customer ratings and reviews are the #1 Trust Signal online, with over 88% of all consumers reading reviews before making a buying decision. At Shopper Approved, we are experts at getting your product reviews to display in all the right places - both in Google and on your website - in order to help as many of your customers as possible to complete their purchase.

By adding Shopper Approved Product Reviews to your website, you're providing your customers with the tools they need to make the most confident and informed buying decisions possible; guiding them along a fully transparent, trusted path that ultimately leads to a more positive overall shopping experience for them, and a stronger, healthier business for you.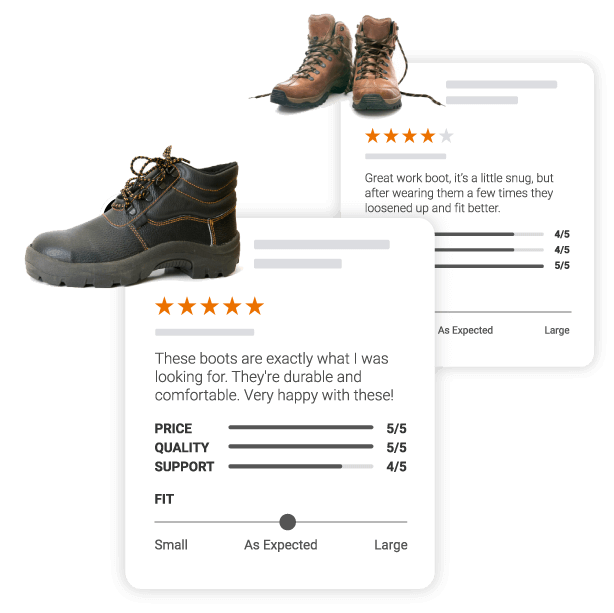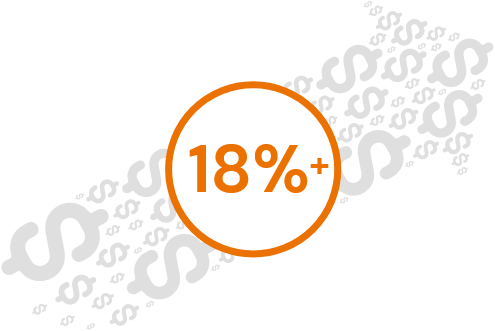 Boost your Average Order Value (AOV)
One of the most effective ways to improve AOV is through social proof, because of the strong influence that existing customers' ratings and reviews can have on new potential buyers - enabling some sites to increase their AOV by 18%. Shopper Approved helps you to strategically display product ratings and reviews on your website, in order to get more customers to buy more products from you - increasing your AOV.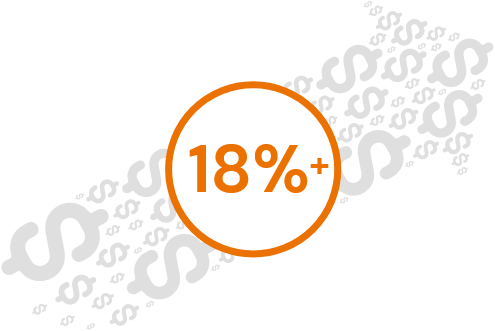 Lower your Return Rate
Product returns are a huge pain, and significantly affect your bottom line. Retailers say that on average, 12% of their online sales are returned, costing them 3.8% in lost profits. Fortunately, by adding product reviews to your website, your customers are empowered to make better, more well-informed decisions, which ultimately lead to fewer regrets, lower product returns, and higher profits.

Incorporating product reviews is such an effective return prevention strategy that Petco reported that products with customer reviews had a 20.3% lower return rate than those that didn't."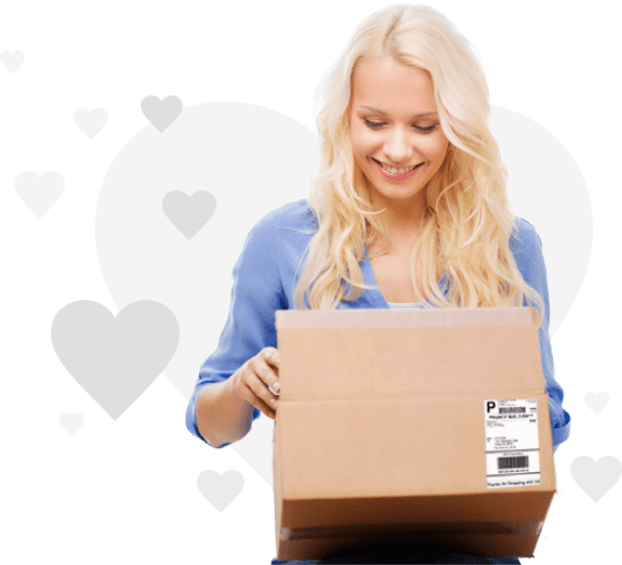 Here's what the Experts Say
about Product Reviews
Fresh, product-specific review content drives search traffic and keyword rankings, specifically when a business earns 10 or more reviews –– resulting in a 15-20% increase in search traffic."
A staple for any e-commerce site is customer reviews for each product."
Reviews can also help improve the SEO of specific product and service pages you have."
Product Reviews are Part of the 'Traffic &
Conversion Stack' Suite of Tools
Product Reviews are arguably the most critical part of the T&C Stack on the product page. In a July 2021 national survey, 80% of consumers said that product ratings and reviews are important when searching for products online, with 68% saying they have either a 'high' or a 'very high' influence on their buying decisions.

Product Reviews and the UGC they generate are also essential in answering the second critical conversion question - "can I trust this product?"
Learn more about Stack
Learn more about the Traffic & Conversion Stack
---
The Bottom Line
Product Reviews will help your products and services
stand out in Google and get sold on your website.