Product

Ratings
& Reviews
Generate more traffic and sales
Get stars in your Google Ads
Display stars in your organic search results
What are Product
Reviews?
Product Reviews are reviews that your customers write about the products they buy from you.

As a Google Product Review Partner, Shopper Approved syndicates your product reviews for display in the Google Shopping network.

Research indicates that 85% of online shoppers buy after reading product reviews, and 61% of online shoppers say product reviews are very important or absolutely essential to making a purchase decision.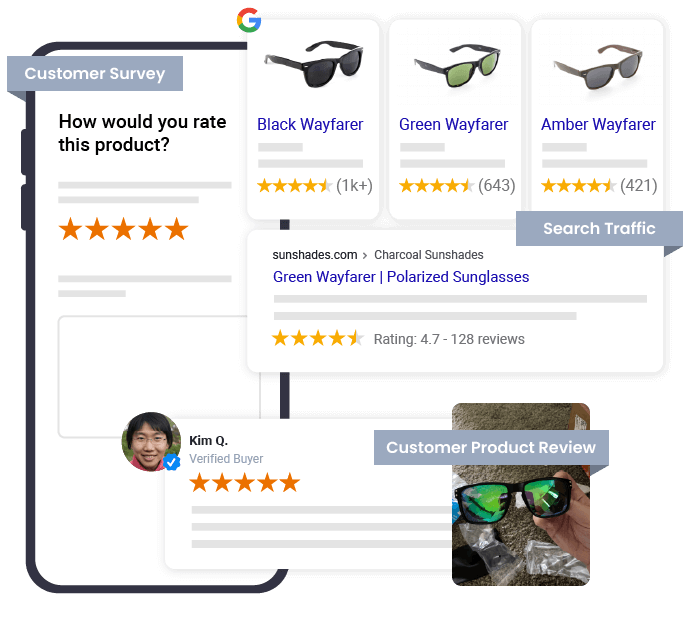 Why do I need Product Reviews?
Product Reviews improve your revenue
Product Ratings and Reviews create social proof to help your products and services stand out in Google and convert to sales on your website.

Product Reviews create powerful social proof to help your products stand out, both on Google and on your website. By strategically displaying Product Reviews in both locations, you maximize your conversion funnel and increase your sales.
Stand out

with
stars in Google
When your Google Shopping, Product Listings Ads, and organic listings display your product review stars, these search results automatically stand out and get more clicks.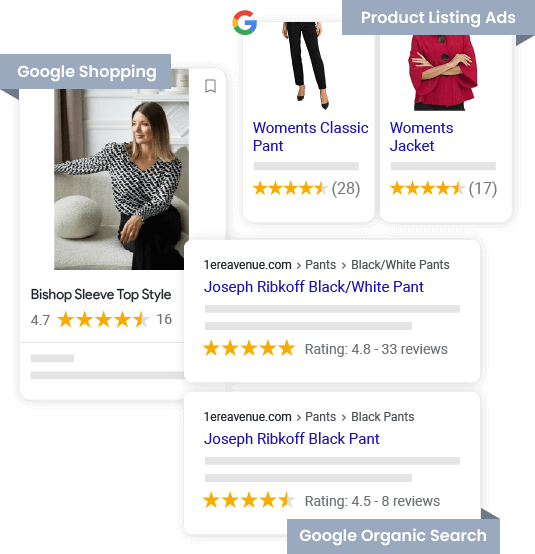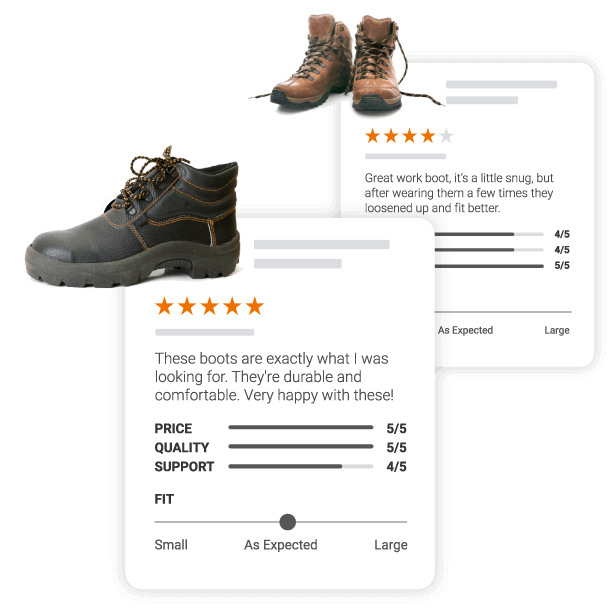 Why Product
Reviews work
Product Reviews are highly influential and can have a significant, persuasive effect on your customers' decision-making and buying processes.
Help your products stand out and get noticed in search
Create trust and credibility
Increase traffic and conversion rates
5 ways Product Reviews

build your brand
Why are we a trusted Product Review platform?
Shopper Approved is an official Google Product Reviews Partner, which means that we get your Product Reviews to display in your Google Product Listings Ads, Google Shopping, and Google organic search results. We also display your Product Reviews on your website, which drives more sales.

Shopper Approved Product Reviews work on any shopping cart platform, from Shopify, WooCommerce, and BigCommerce to custom carts. Plus, our U.S.-based integration team will even install Product Reviews for you for free.*
*Excludes NetSuite
Part of the Traffic & Conversion Suite
Ready to increase your
traffic and conversions?
See first-hand how Shopper Approved drives more reviews,
more search engine traffic & higher conversions.
Still unsure?
Get started for free with Seller
Ratings
We're so confident you will love it, that we are offering the
longest free trial in the industry.