Top 10 Reasons to Choose Shopper Approved
Shopper Approved® is your best choice for improving your traffic and conversion to build trust and grow your business. Here are the Top 10 reasons why:
Book a Demo
Free Trial
Collect up to 10x more ratings and reviews
When it comes to your online reputation, the more verified reviews you have in more places the better. Since 2010, Shopper Approved has consistently collected up to 10 times more verified ratings and reviews than our competitors. This exponential increase in review quantity has helped our clients to significantly stand out from their competition.

If you can collect and display up to 10x more ratings and reviews, for similar pricing to the competition, why would you go with anyone else?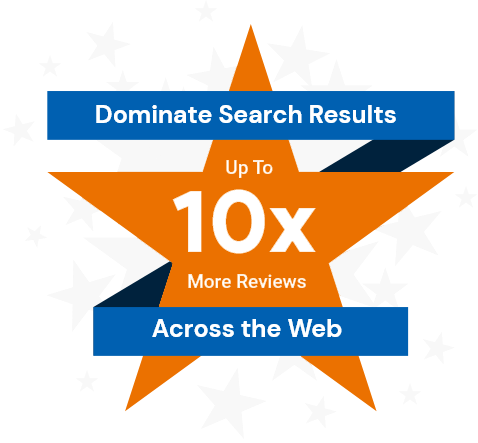 Collecting and Displaying More Reviews Gives
You Several Competitive Advantages, Including:
A higher average overall star rating, that more accurately reflects your true reputation.
More review recency, showing potential customers that your brand is relevant and current.
More User-Generated Content (UGC) that you can use on your website to enhance your SEO efforts.
More social proof, by displaying both star ratings and review quantities in Google that are significantly higher than the competition.
Greater overall trust and credibility, resulting in higher click-through rates and increased conversion rates.
An Official Google Review Partner
As an official Google Review Partner, Shopper Approved can directly display both your Seller Ratings & Reviews and your Product Ratings & Reviews throughout several strategic locations in Google, including; Google Ads, Google Product Listing Ads (PLA's), Google Seller Ratings, Google Shopping, and Google Organic Search Results.

We've been a strategic Google partner since 2013, and work with their review team on a daily basis to ensure that our client's ratings and reviews are current, and show up everywhere that potential customers are searching, in order to maximize their visibility and generate more traffic.

Collect all 3 types of online reviews -
all in one survey
Seller Ratings & Reviews
Seller Ratings are very important, and are most commonly used by Google to help educate and influence visitors about your business, before they visit your website.

These ratings show up in Google Seller Ratings (in the form of a star rating image, numerical rating and total number of reviews), in Google Shopping (in the form of total positive percentage rate and total number of reviews), and in Google Seller Ratings (in all of the forms above combined).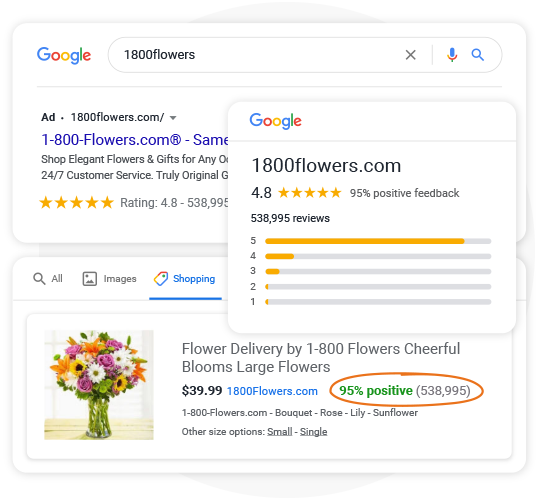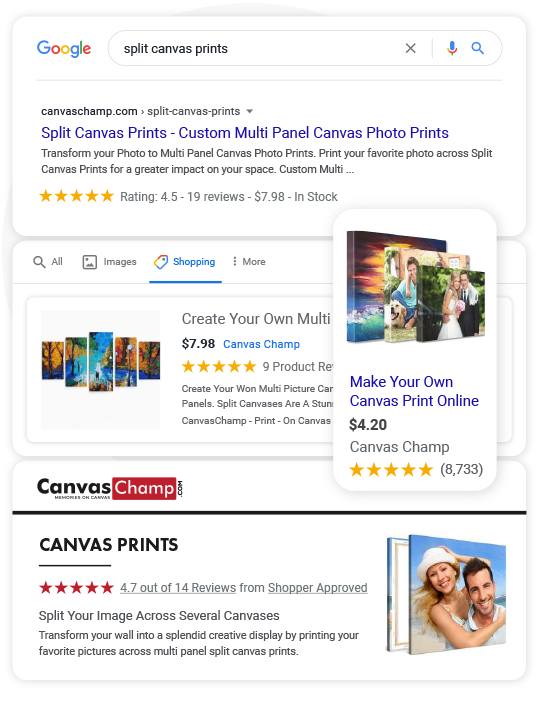 Product Ratings & Reviews
Product Reviews are typically displayed in Google Product Listing Ads (PLA's), Google Shopping and Google Organic Search Results. They are also used on your website's product pages to help educate and influence new potential customers to buy.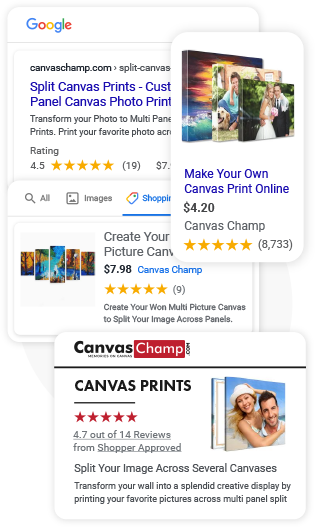 Video Reviews
Video Reviews, once approved by you, are directly syndicated to YouTube, where Google picks them up and displays them in Google Videos, and Google Organic Search Results. You can also display Video Reviews on your website, turning your customers into brand ambassadors.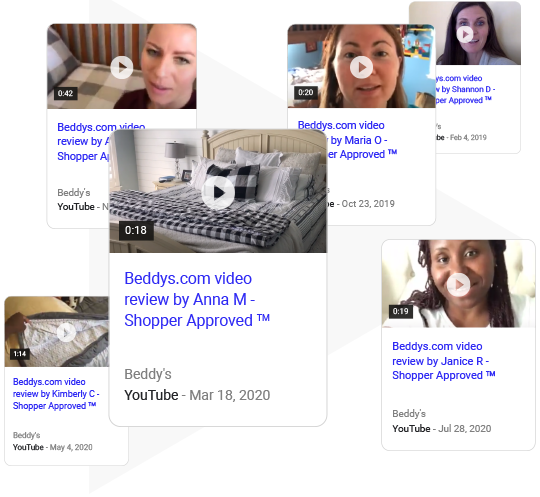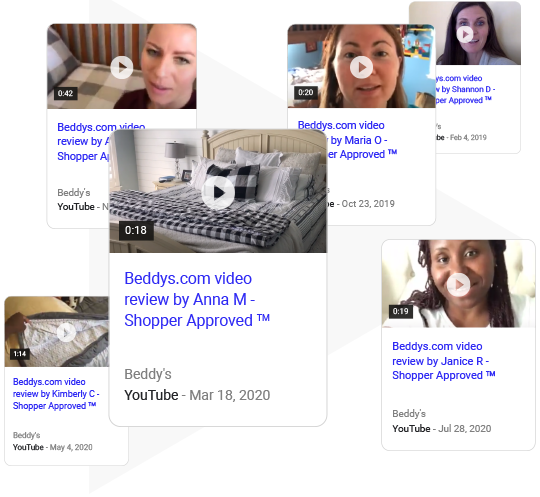 The Largest Review
Distribution Network
Sometimes bigger really is better - especially when it comes to brand awareness and review distribution. Ultimately, reviews mean nothing unless people see them, which is why we're always adding new strategic locations for your amazing reviews to be displayed.

In addition to being an official Google Review Partner, Shopper Approved also has key distribution channels with Bing, Facebook, and YouTube. We also provide you with optimized Google Schema code that adds ratings directly to your own product page listings in organic search results.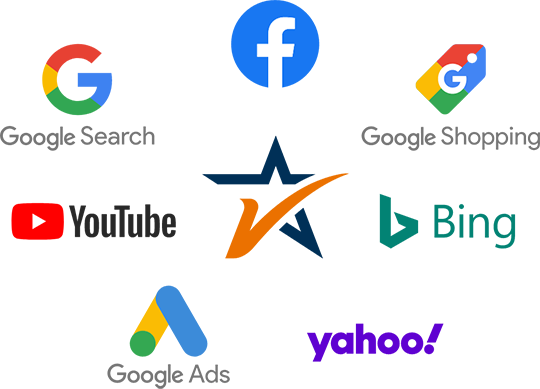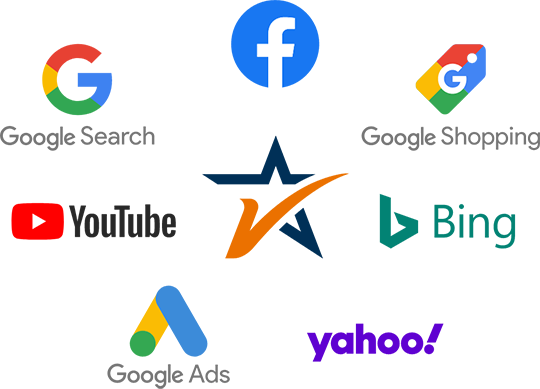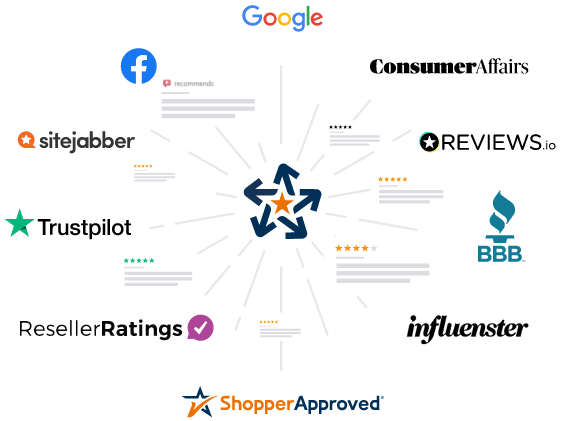 But that's not all. Shopper Approved Review Destinations gives you the ability to send a portion of your customers to leave their review on virtually any open review platform that you choose. This allows you to effectively manage your brand reputation across the web, while creating a larger online presence, achieving a higher, more unified rating, and ultimately get more traffic.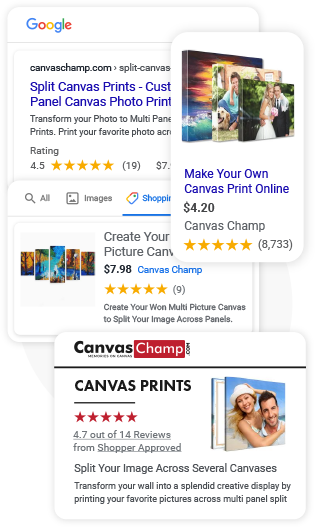 Collect Reviews in
More Ways
When collecting ratings and reviews, the key is to make it as simple and convenient as possible for your customers, which is why Shopper Approved has several survey options available based on the type of reviews you're collecting.

You can request reviews from past customers, collect initial reviews in your shopping cart after checkout, and send automated full survey emails that are triggered based on different criteria.

In addition, Shopper Approved surveys are optimized and responsive, so they display beautifully on any electronic device.
Completely Customizable
Surveys, Seals and Widgets
Our default surveys are designed to easily blend into your existing site to maximize your results. However, if you want your surveys to more closely match your website design, or if you would like to ask any custom questions, we have advanced options available for you to do that.

In addition, you can also customize your review seals and widgets in a variety of different ways in order to complement your website design.
Resolve Customer Issues
and Improve Your Ratings
If a customer ever leaves a 1 or 2-star rating, you are instantly alerted, and can open up a private message board to help them resolve their issue. Then, once the issue is resolved, the customer has the opportunity to update and improve their initial ratings.

In addition, if you make an effort to help a customer and they don't respond, Shopper Approved adds a public message to their review on your behalf, informing other potential customers that you attempted to help them resolve their issue.

You also have the opportunity to leave a public comment to any review. These public comments are incredibly valuable, and can go a long way to building transparency, trust and loyalty. And, when done correctly, they can help you turn almost any negative review into a net-positive review.
The First eCommerce
Traffic & Conversion Stack
We offer the world's first 'Traffic & Conversion Stack' - a highly effective, integrated suite of proven tools that increase paid and organic traffic up to 4x, while maximizing website conversion rates at the same time. Although similar tools and strategies have been used by Amazon, Best Buy, Walmart, Target and other leading websites for years, this proven strategy has never been available as a turn-key solution to other eCommerce brands, until now.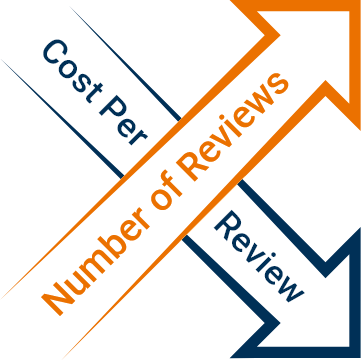 Shopper Approved Has The
Best Pricing in the Industry
Since opening our doors in 2010, our low-cost, best value approach to pricing has been one of our hallmark advantages. At Shopper Approved you only pay for what you need at the time you sign up - any future growth is included at no additional cost, saving you money.

Many of our competitors may appear to have similar pricing, but because the number of reviews they collect is significantly lower, your Cost Per Review (CPR) is much higher, which means that you're actually paying a similar or even higher price for significantly less results.

In other words, if you really want to maximize your results and your ROI, Shopper Approved is the best choice.
Fast and easy to set up,
with free integration!
When it comes to getting up and running quickly, we make the process turn-key, with our U.S. based Onboarding, Support, and Integration teams. And we never charge a penny extra.

Rest assured that we will always have your back when it comes to support and integration, and we will do everything we can to help your business be successful.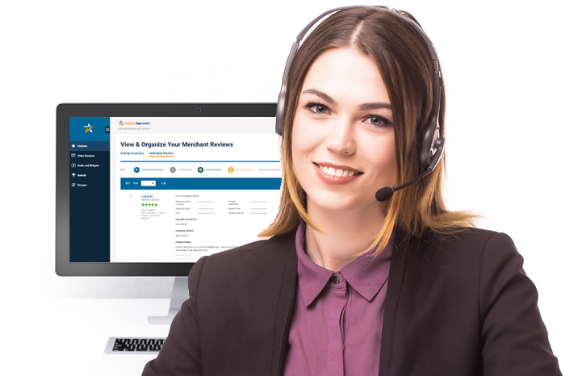 When it comes to Support and Integration, we've got your back:
Our professional Onboarding team will walk you step-by-step through your control panel so you can hit the ground running.
Our friendly Tier 1 and Tier 2 Support Teams will make sure that any issues or concerns you have are addressed as quickly as possible.
Our Full-Service Integration team will install any necessary code onto your website, allowing you to stay focused on running your business.
Additional
Shopper Approved
Benefits
We significantly enhance and improve your SEO efforts

We only collect reviews from your actual, verified customers

We get amazing results without any review incentives

We don't hold your reviews hostage if you ever cancel

We don't display any ads on your review certificate

We guarantee that you'll get double the reviews of any other review platform
Our Favorite Reason:
Giving Back
There's only one thing better than helping businesses become more successful, and that's helping to change the lives of children and families throughout the world.

Thanks to our partnerships with Village Impact and Casa de Zion, we've helped build two incredible schools in Kenya, along with much needed long-term volunteer facilities in Guatemala. We also support several local groups and causes right here in Utah.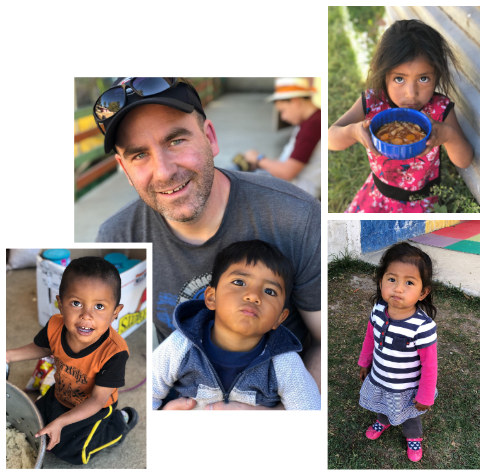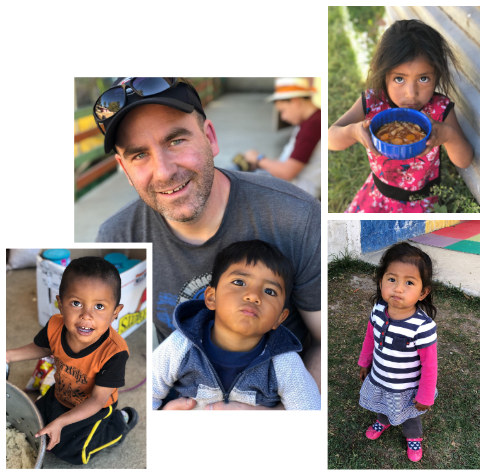 ---
The Bottom Line
Shopper Approved is your best choice for improving your traffic and conversion to build trust and grow your business.