Video Reviews

turn visitors into customers
Improve trust in your brand and products
Increase organic traffic and conversions
Expand your brand's visibility and influence
What are Video
Reviews?
A Video Review is a review of your online store or product left by one of your happy customers in the form of a video rather than a written review. Your 4- and 5-star video reviews are optimized for search results and posted on YouTube and your Shopper Approved Certificate.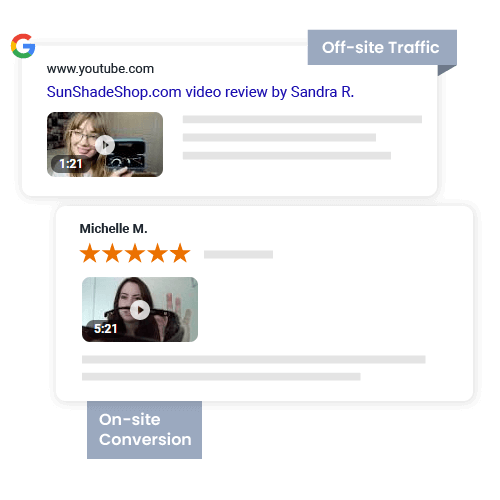 Why do I need Video Reviews?
Why do I need Video Reviews?
Video Reviews are an unbeatable way to boost SEO and conversions. They stand out in search and are more persuasive than written reviews.
Video Reviews increase your
traffic
Video is extremely search engine friendly, and video thumbnails dominate the search engine results page both in size and visual appeal.
It's 50x easier to achieve a page one ranking on Google with video
Video attracts 2x to 3x the monthly visitors
Video can increase organic traffic by up to 157%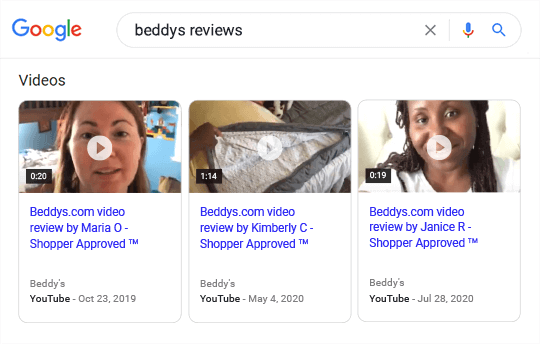 Video Reviews increase
your
conversion
67% of website visitors are visual learners who prefer watching videos over reading. Video is also extremely persuasive because it's more credible and packs the extra punch of sight and sound.
Video testimonials increase all conversions by 25%
Video testimonials on landing pages can increase conversions by 80%
62% of consumers watch product review videos before making a purchase
5 reasons why
Video Reviews
increase traffic
and conversions
How Video Reviews work
Whenever a customer leaves you a 4- or 5-star written review, they're also invited to leave you a video review, giving you the power of two reviews instead of just one.

With a click of your mouse, you can also share your video reviews on your social media channels, giving you even greater visibility and credibility.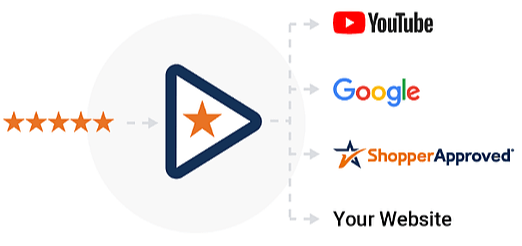 Part of the Traffic & Conversion Suite
Ready to increase your
traffic and conversions?
See first-hand how Shopper Approved drives more reviews,
more search engine traffic & higher conversions.
Still unsure?
Get started for free with Seller
Ratings
We're so confident you will love it, that we are offering the
longest free trial in the industry.