Social Evidence Influences up to 15% More Conversions
Shopper Approved® Social Evidence increases conversion rates by combining 4 different types of powerful Social Proof, with proven, ethical FOMO (Fear of Missing Out) strategies, to positively encourage more of your customers to buy.
Book a Demo
Free Trial
Social Evidence

Can Help Increase Sales

'Popularity' combined with FOMO are emotionally persuasive factors that significantly influence shoppers to buy.

With 'real-time' widgets on your website, you can effectively convey popularity, demand, positive reviews and endorsements for your website and products by showing that many others have recently visited your site, bought from you, or even left you a positive review.

We call this type of persuasion data 'Social Evidence', and it's very influential because of its ability to create an instant positive emotional response in buyers, increasing your sales by up to 15%.
Improve Your Conversion Rates in 3 Ways:
Widgets Amplify Social Proof and
Create Urgency
Reviews
Review notifications by Shopper Approved, help to show off your most recent, relevant, raving reviews from your customers. These review notifications display your customer's first name, their review, and their overall star rating, along with the highly trusted Shopper Approved logo. Customers can even click on the review and go directly to your Shopper Approved Review Certificate for validation, and to read more reviews.
Streaks
Streaks are very compelling because they show a large number of actions taken over any timeframe you choose. These streaks can be total overall product purchases, total individual product purchases on specific product pages, registrations, downloads, etc. Potential customers love this type of group-based social proof, because they can instantly see that many others have successfully gone before them, which creates an incredible amount of confidence and trust.
Conversions
Conversions are individual actions taken by your customers and then displayed individually in real-time - giving your shoppers the ability to see a more personal type of social proof that they can instantly relate to. Conversions can show information like your customers first name, city, and state, along with what action they took, and when, and can include relevant data points like recent purchases, appointment bookings, opt-ins, subscriptions, etc.
Visitor Count
Visitor Count gives you the ability to ethically utilize FOMO, to gently persuade potential customers to take action, at the very moment that they are looking at your products or services, and considering whether they should buy.

You can display how many people are viewing a particular product in real-time, which is a powerful motivator - creating a unique combination of both reassurance and urgency for your customers to buy.
Call to Action Widgets
Display Limited Time Offers
Announcements
In addition to social proof, you can also create Announcements to let visitors know about promotions, new features, company updates, awards, downtime, new products, holidays, incentives - pretty much anything you want to say or point out to people visiting your website.
Special Offers
You can also create Special Offers. These can be a great way to drive traffic and immediate conversions to specific products, whether they be new items, sale items, or even discounted or discontinued items. You can even do a firesale or a special limited-time offer.
Boomerang Tabs Bring
Shoppers Back to Your Website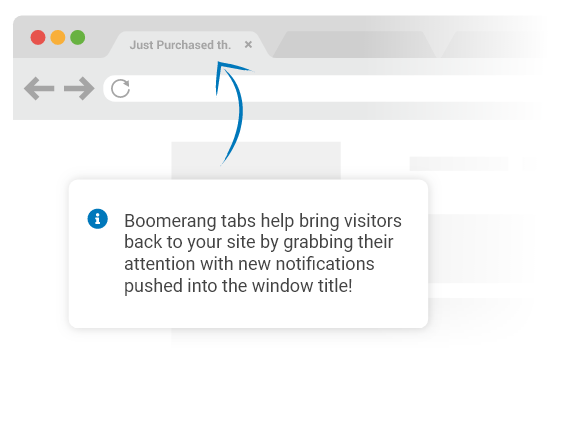 Boomerang Tabs
A Boomerang Tab is a special browser tab that scrolls social proof across it - creating just enough movement to grab your shoppers eye if they happen to leave your site and open a new tab. The movement of the Boomerang Tab will bring their attention back to your website, where you have an additional conversion opportunity.
---
Social Evidence is 'Best in Class'
In addition to all of the above features, Social Evidence also includes:
Limitless Design
With a wide assortment of widget shapes, sizes, colors, backgrounds, images, borders, and drop shadows, you can tailor your notifications to match your website's look and feel.
Live Editor
You can see your notifications
and changes in real-time.
Flexible Animations
With dozens of options, you can make your notifications stand out in a variety of different ways as they enter and exit the page.
Merge Field
Insert any merge field from your shopping cart or data source to further enhance your social proof.
Display Rules
You get to decide when and where notifications are displayed on your website.
Mobile Optimization
Your notifications will look stunning, regardless of whatever device your customers are on.
Social Evidence is Part of the 'Traffic
& Conversion Stack' Suite of Tools
---
The Bottom Line
Influence and motivate up to 15% more of your shoppers to buy, when you create a sense of popularity and demand.