Increase traffic and sales with
Q&A
Increase search impressions up to 40%
Increase organic click-through rate up to 126%

(Answerbase)

Increase organic traffic up to 400%


(ePestSupply)
What is Q&A?
Q&A is a question and answer engine designed to rank your product questions and answers at the top of organic search results—and specifically in the Featured Snippet position—as well as display them on your product pages.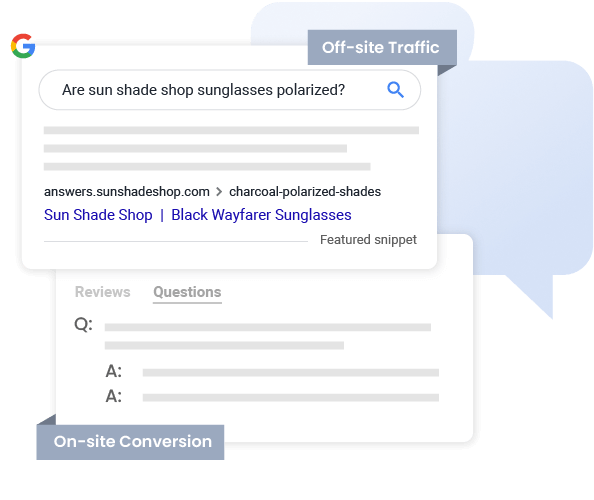 Why do I need Q&A?
People don't buy if they can't get their questions answered quickly and easily.
A better, proven solution to convert more visitors
Our Q&A is a searchable database of answers to your shoppers' most common questions, giving them answers when it counts, which increases their confidence to buy.
Every question and answer is automatically search optimized to appear at the top of the organic search results or in the featured snippet.
Every question and answer is searchable on your website, giving your visitors the easiest and fastest way to resolve their questions and place their order.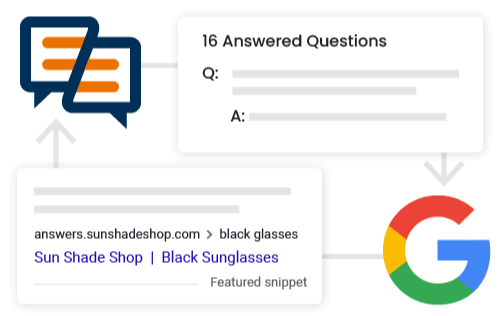 Q&A improves many of your key marketing metrics
Increased impressions
Increased click-through rate (CTR)
Increased organic traffic
Higher customer lifetime-value (LTV)
Link building
Enhanced keyword and keyphrase discovery
Lower support costs
Increased sales and conversions
Here's how Q&A works:
Turn your customers' product-related questions into valuable SEO content that Google uses to funnel laser-targeted traffic—with high purchase intent—directly to your website and product pages.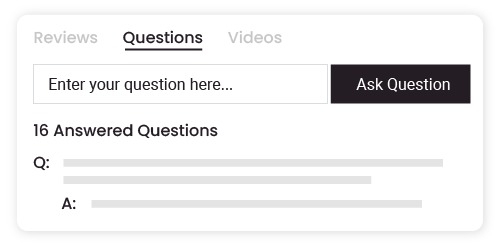 Customers ask questions and you provide answers
On each product page, there is a Q&A section, where potential customers can read all of the previously asked questions regarding a product, along with any answers provided, to help them make a more informed decision.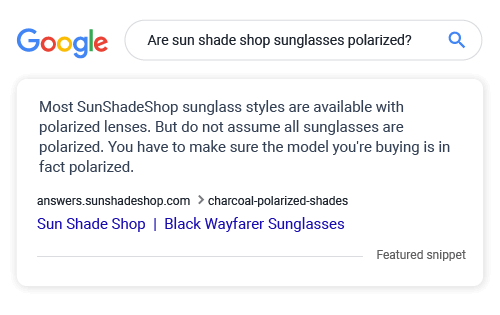 Your answers are optimized to help them show up as Featured Snippets in Google
Shopper Approved Q&A is optimized to show up in Google Featured Snippets, so the more questions you answer, the more likely it is that your responses will be displayed in Google, pointing back to your product page.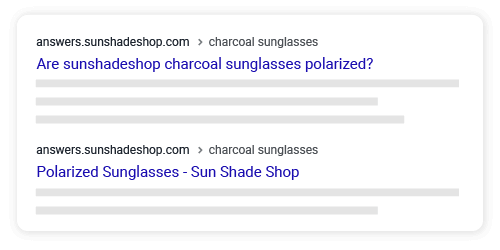 Your answers also show up as organic search results in Google
In addition to Featured Snippets, every answer is also search engine optimized to display in organic search listings whenever a potential customer searches for an answer to that particular question.
Get up to
4x more

high-converting
search traffic

Our search-optimized Q&A is specially designed to be indexed and displayed in Google,
showing up as organic search results—including Featured Snippets—that link directly to
your individual product pages.

Turn up to
75%

of customer questions into actual sales

Not only does Q&A help you create a constant stream of high-quality, organic traffic flowing directly to your product pages, but it also predisposes visitors to buy, based on your answer to their question. In fact, up to 75% of visitors who get an answer to their product question via Shopper Approved Q&A end up buying.
We find that after answering a customer question with an answer that confirms the product is a good fit, we generally see an order approximately 75% of the time."
RV UPGRADES
Part of the Traffic & Conversion Suite
Ready to increase your
traffic and conversions?
See first-hand how Shopper Approved drives more reviews,
more search engine traffic & higher conversions.
Still unsure?
Get started for free with Seller
Ratings
We're so confident you will love it, that we are offering the
longest free trial in the industry.