Collect up to 10x
More Seller Ratings
& Reviews
We turn your ratings and reviews into your most powerful and
influential marketing asset; helping you to position your brand as
the trusted leader in your space.
Book a Demo
Free Trial
What Are
Seller Ratings?
Seller Ratings are ratings and reviews that we collect from your customers about their overall shopping experience. We use a unique
2-step process that has been proven to collect reviews from up to 1/3rd of all of your customers after they buy - which is up to 10x more than other review platforms.
Why are Seller Ratings so
important for my business?
Seller Ratings are so important because of the overwhelming impact they can have on the success of your company. By displaying Seller Ratings in Google, on your own website, and other strategic locations online, you create instant social proof, and establish your online reputation as a trusted brand, which increases your visibility, traffic,
and sales.

Seller ratings can help advertisers improve ad performance and earn more qualified leads. On average, ads with Seller Ratings get a 17% higher CTR than the same ads without ratings.
What's the difference between
Seller Ratings and Google Seller
Ratings?
There are many online review companies, apps, and shopping carts that collect Seller Ratings for online businesses, but there are only a few official Google Approved Review Partners that are authorized to collect and syndicate Seller Ratings directly to Google. If you don't collect reviews from a Google Review Partner, then your Seller Ratings won't display in Google, which severely limits their benefit, reach, visibility, and impact.
Shopper Approved is an official
Google Review Partner
We've been an official Google Review Partner for over 8 years, and we work with their team on a daily basis. Not only are we a Google Seller Ratings partner, but we're also a Google Product Reviews partner. This allows us to collect both Seller Ratings and Product Reviews on your behalf - all in one survey, and send both types of reviews directly to Google automatically.
Shopper Approved Seller
Ratings are displayed
throughout Google
By displaying star ratings in Google, you can expect to increase your Click-Through Rates (CTR) an average of 17% or more, while also lowering your average Cost-Per-Click (CPC), to drive significantly more, targeted visitors to your website at a lower cost.

Your Google Seller Ratings from Shopper Approved will be displayed in 5 highly influential, strategic locations in Google, including:
Google Seller Ratings
Google PPC Ads (Adwords)
Google Organic Search Results
Google Shopping Search Results
Google Shopping Product Pages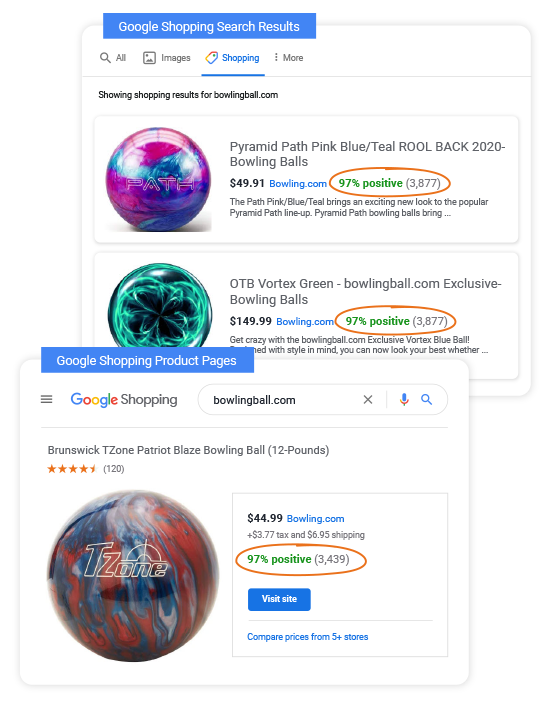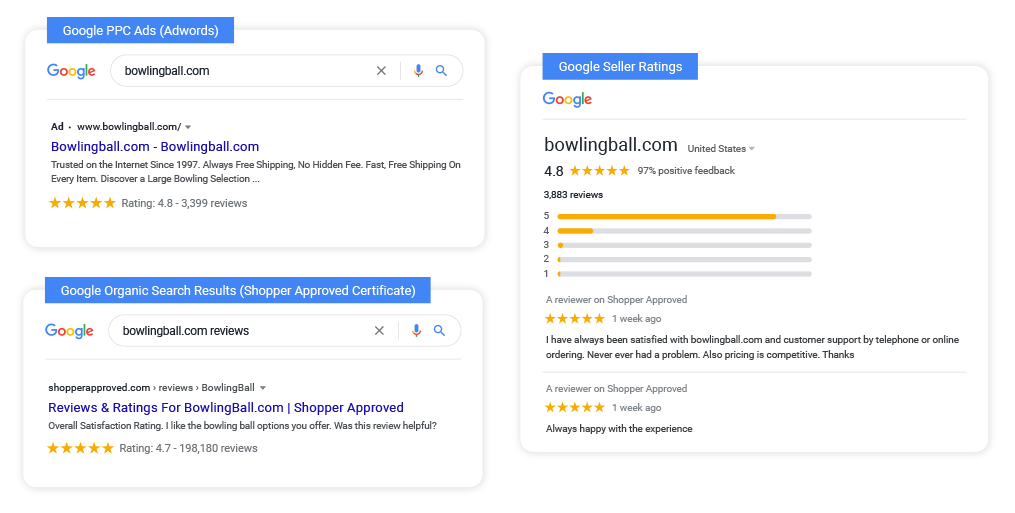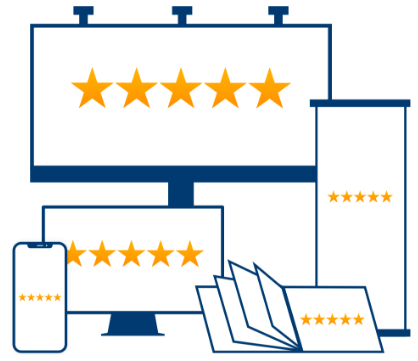 Where else can I display Seller
Ratings for Maximum Impact?
In addition to Google, you can display Seller Ratings on your own website using Shopper Approved Seals and Review Widgets. You can also add Shopper Approved ratings to your online marketing campaigns, and even print ads, displays, and billboards to lend instant trust and credibility to your brand.

Plus, with our proprietary Review Destinations™ tool, your Seller Ratings and Reviews can also be displayed on dozens of other 3rd party open-review platforms, including BBB, Trustpilot, ConsumerAffairs, Reseller Ratings, Influenster, and many more - all of which can also show up as additional star ratings in Google Organic Search Results.
Your Number of Seller Ratings and
Overall Star Rating Matters
The number of Seller Ratings and your overall star rating are the two most important variables that consumers use to determine if you're a trusted, established brand. These are also the two rating metrics that Google displays in their ads, and that millions of people use every day to make critical buying decisions. (There are actually 10 reasons why more reviews matter that you should know about.)
Shopper Approved Delivers Results
Up to 10x more trusted, verified reviews than any other review platform.
A higher overall star rating that more accurately reflects your actual business.
Direct review syndication to Google, thanks to our strategic Google Partnership.
More ratings and reviews displayed strategically throughout Google.
Your ratings and reviews displayed on Shopper Approved.
Your ratings and reviews displayed on potentially dozens of other 3rd party open-review platforms and social media sites.
Your reviews displayed on your own website, marketing materials, and print ads.
More online visibility for your brand, and more trust for your potential customers.
More traffic to your website, and more sales for your business.
Improved organic search results (SEO).
You get all of this, along with our world-class:
Customer Care System to help you resolve customer issues.
Review Management System to effectively manage your Seller Ratings.
VIP access to our U.S. based Onboarding and Integration teams to help you get up and running as quickly and effortlessly as possible.
Seller Ratings are Part of the 'Traffic &
Conversion Stack' Suite of Tools
Seller Ratings and Reviews are the foundation of the T&C Stack, because they populate the stars in your Google Ads to increase your click-through rates, and organic search results for your website name or brand "reviews." Seller Ratings are also critical to your online reputation and SEO, and are used in conjunction with Review Destinations, our reputation management solution, to send a percentage of your customers to other review platforms such as Trustpilot, Sitejabber, BBB, Reseller Ratings, and more to leave reviews.

Seller Ratings and the UGC they generate are also important in answering the first critical conversion question: "can I trust this seller?"
Learn more about Stack
Learn more about the Traffic & Conversion Stack
---
The Bottom Line
Shopper Approved gets you more Seller Ratings &
Reviews to generate more traffic to your site.