Improve Your Reputation with More Reviews in More Places
Manage your online reputation, visibility and traffic by giving your customers the ability to leave reviews on dozens of review platforms across the web. More positive reviews in more places also creates more trust and higher conversion rates.
Book a Demo
Free Trial
Review Destinations

is Your Reputation Management Solution

Our unique Review Destinations tool allows you to improve and manage your online reputation by sending a portion of your verified customers to leave reviews on review platforms across the web, including Trustpilot, Sitejabber, Reseller Ratings, Facebook, BBB, and many more.
Take back control of your online
reputation - ethically and honestly
There are many open review platforms that allow unsolicited, unverified customers to leave reviews anonymously, without any proof of purchase. This can damage or even destroy your brand reputation, because it allows anyone to say anything they want about your company, leaving unwary consumers to view these unverified, negative reviews as authentic or real.

We have the solution. Our unique Review Destinations tool allows you to send a portion of your real, verified customers to these open review platforms to leave a genuine review. And because we collect up to 10x more reviews, the sheer volume of new, positive, verified reviews will naturally improve your overall rating, leaving you with more reviews, and a positive star rating in more places across the web.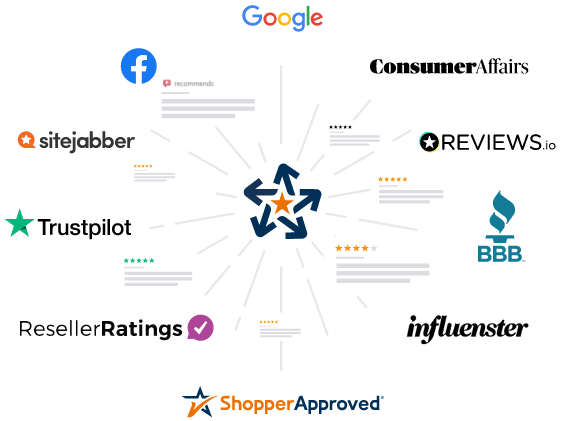 Increase your Trust and Traffic
When you have more positive reviews and a high average star rating across several major review platforms, your online search results for your brand will not only improve, but it will be far more positive. This in turn will build more trust in your brand, and when you combine more visibility with more trust, you will see more traffic.
Increase Your Trust and Conversions
Trust is King! When shoppers see that you have a lot of reviews and a positive reputation, with a high average star rating across several review sites, they will naturally have more trust in your brand, and therefore convert at a higher rate. Because the truth is, people buy from brands they trust.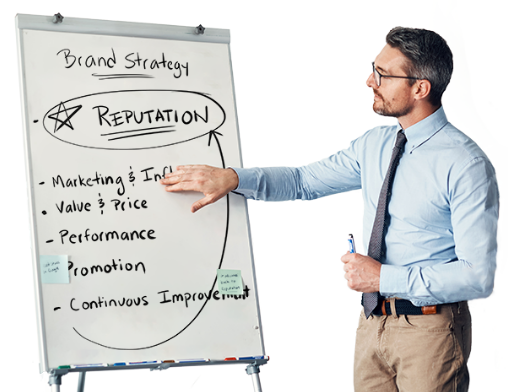 It's time for a winning brand strategy
By using Review Destinations to create a consistent rating and review reputation across the web, you dramatically improve your brand image and customer trust, while simultaneously increasing your online visibility. In fact, every open review platform you actively manage via Review Destinations gives you a wider, more credible footprint - helping you to emerge as a leader and influencer in your industry - especially when combined with Shopper Approved Seller Ratings, Product Reviews and Video Reviews.
Examples from Real Shopper
Approved Clients
---
Company A

Without
Review Destinations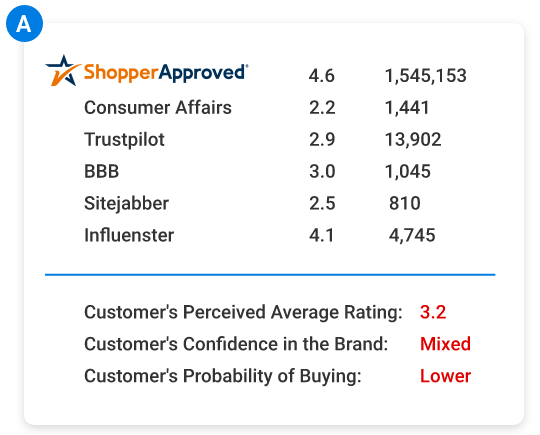 Company A (to the right) is a well-known, household brand that has over 1.5 million trusted, verified reviews on Shopper Approved. However, over the years they've also accumulated some unsolicited, unverified reviews on various open review platforms, which has led to a completely inaccurate and false representation of their brand's true online reputation - ultimately lowering consumer confidence and hurting their overall traffic and sales.

(As a side note, ALL of the open review platform ratings combined in this example, represent LESS than 1/3rd of 1% of this company's total orders, but the influence this tiny number of unverified, negatively skewed reviews has on the perceived view of consumers is substantial, because of the massive visibility and reach that each of these open review platforms have in the search engines.)
Company B

With
Review Destinations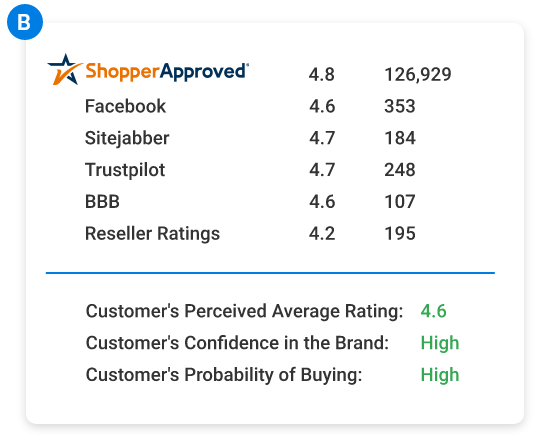 In sharp contrast, Company B to the left is also a well-known brand. When they first started using Shopper Approved, they also had unverified and unsolicited reviews on various open review platforms, however, they decided to use Review Destinations to automatically and randomly send some of their verified customers to leave reviews on these other platforms.

Over time, this has provided them with very consistent, completely natural, unbiased ratings across several review platforms, which has created the highest possible level of trust and consumer confidence for their brand, while allowing their true reputation to shine brightly across the entire web with absolute trust and authority.

This is the power of having more honest, authentic reviews in more places, and why Review Destinations is one of the most powerful reputation management solutions on the market today.
Review Destinations is part of the 'Traffic &
Conversion Stack' Suite of Tools
Review Destinations is an important part of the T&C Stack because it increases your online search visibility in a very positive way, leading to more clicks and traffic, while building more trust in your brand, which improves your conversion rate. You simply cannot be successful without creating as much trust as possible, both on your website and throughout the web.
Learn more about Stack
Learn more about the Traffic & Conversion Stack
---
The Bottom Line
Review Destinations helps you to create and maintain a consistent online reputation across the web.