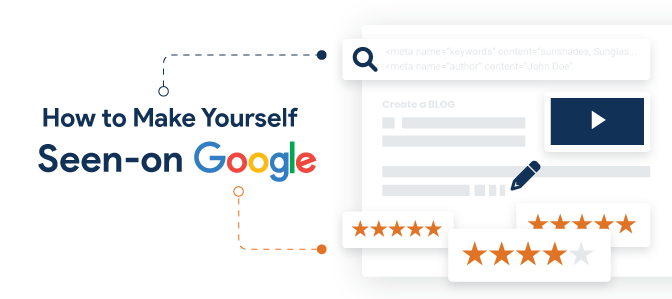 How to Make Yourself Seen on Google
Ah, the Almighty Google. With over 40,000 search queries every second, making your company visible on Google can be incredibly rewarding, in terms of pride and sales.
With Google algorithms constantly changing, and the recent dependency shoppers have on online reviews, it may seem difficult for Google to find you in the vastness of the Internet. But if Google sees you, it's likely that many others will as well.
How can you make yourself seen on Google?
Create a Blog
Google loves unique content, and that's all a blog is content. You can write about your business, your industry, an area you have a lot of expertise in, just about anything. Make it unique and relevant to a following, and Google will pick it up.
Plagiarism or repeat content on the blog is something that counts against you, so keep that in mind as you write content for your blog. Use your own words, take a unique approach to a topic, and answer questions that your following is asking to make your blog stand out in Google searches.
Add a Video (or Two) to Your Website
Videos are quickly becoming the most popular marketing trend. Google's algorithm favors video content and is more likely to display your website higher in organic searches if you have a video on your website. Bonus points for captioning the video as it assists the hearing impaired (Google looks for that!).
Educate Yourself on SEO
Properly using SEO is key to helping your potential consumers, and Google's algorithm finds you. Avoid using broad terms, and go for more narrow, long-tailed keywords. Be mindful of SEO in blog posts, page titles, and even product descriptions. You can read more about using the right keywords for SEO here.
Syndicate Reviews to Google
Reviews have many benefits for a growing or established company. Consumers are using reviews to make purchase decisions, but how can you use them to raise brand awareness? Google allows reviews to be syndicated to them, so if you have an ad running through Google, your star rating will be displayed next to your name. If you show up in a competitor's search, those little stars may be what turns their customers to you.
Create a Google Seller Ratings and Reviews Page
The more unique content you have on your website, the more Google will take notice of you. Consumer-generated content is original, helpful, and something customers are constantly looking for. A Seller Rating page is a page on your website that is a collection of reviews that have been left for your company. Not only does it provide unique content that boosts your Google rankings, but it gives potential customers direct insights into what their experience with your company may look like.
Learn how to make a Seller Ratings page with this guide.
Getting seen on Google may seem like a daunting task, but done properly, can increase brand awareness and conversion rates.