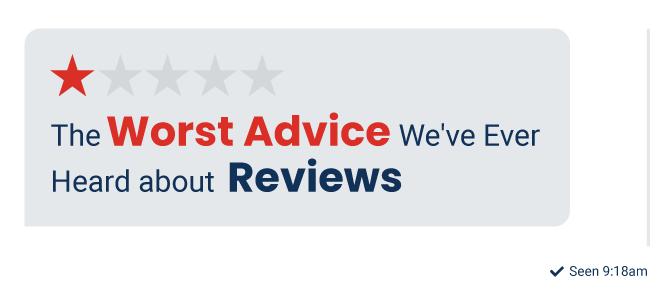 The Worst Advice We've Ever Heard about Reviews
Reviews have proven useful in a world where everybody turns to technology to read user-generated content, make purchases, and communicate. If 88% of consumers consult reviews and ratings before buying, aren't reviews something you should be utilizing? Here are a few of the worst pieces of advice we (or our clients) have ever heard about reviews.
Don't Check Your Reviews
Pretending that they aren't there won't make them go away, and not checking your reviews is not only hurting you, but it's keeping you from learning valuable lessons. Reviews are a great way to hear directly from your customers about what you can improve on. If shipping is too high, they'll probably make that known and you can make the decision to adjust your shipping prices or not. Or maybe there's a particular associate at one of your stores that's alienating customers. Without the reviews, you may not know these things.
Reviews also give you the chance to make things right with the customer. Reaching out after a negative review to try to fix the problem may win you a lifelong customer. However, you can't…
Force Customers to Change a Bad Review
You can absolutely ask them to, nicely. If you've resolved the problem, many are more than willing to change their bad review if you ask. However, you cannot threaten or try to force a customer to change or delete a bad review. This is highly unethical and now illegal. Under the Consumer Review Fairness Act, a new law was added recently that fines businesses that try to bully a customer into changing or removing a review. Read more about it here.
Incentivize Reviews
There's a big moral dilemma with incentivized reviews. A recent study showed that even when merchants asked for an honest review, incentivized reviews are skewed positively. You can see the results of that study here.
The results of this study caused Amazon to ban incentivized reviews on its site entirely. It compromised the integrity of Amazon products and created a barrier of distrust between merchants and consumers. This big change by Amazon may alter the industry in the way incentivized reviews are handled among other retailers.
Don't Ask Customers for Reviews
If you aren't actively asking customers for reviews, you're probably only collecting passive reviews. Passive reviews can be left on websites like Yelp and Trustpilot by anybody, even if they haven't had any interaction with the company. These reviews open companies up to sabotage by disgruntled employees, jealous competitors, or other malicious people.
Passive reviews tend to be more negative as people will typically go out of their way to share a bad experience vs. a good one online.
This creates another moral dilemma that can be counteracted by actively collecting reviews. Active reviews are collected with software like Shopper Approved and are integrated into your software to send all of your customers an email asking about their experiences. These reviews are then syndicated to Google, Yelp, etc., and give a much more accurate perception of your company than passive reviews will.
You can read more about active and passive reviews here.
Managing reviews may seem like an overwhelming task. I mean, it really is you against the world. However, understanding how reviews work and being able to utilize them can mean big increases to your bottom line!