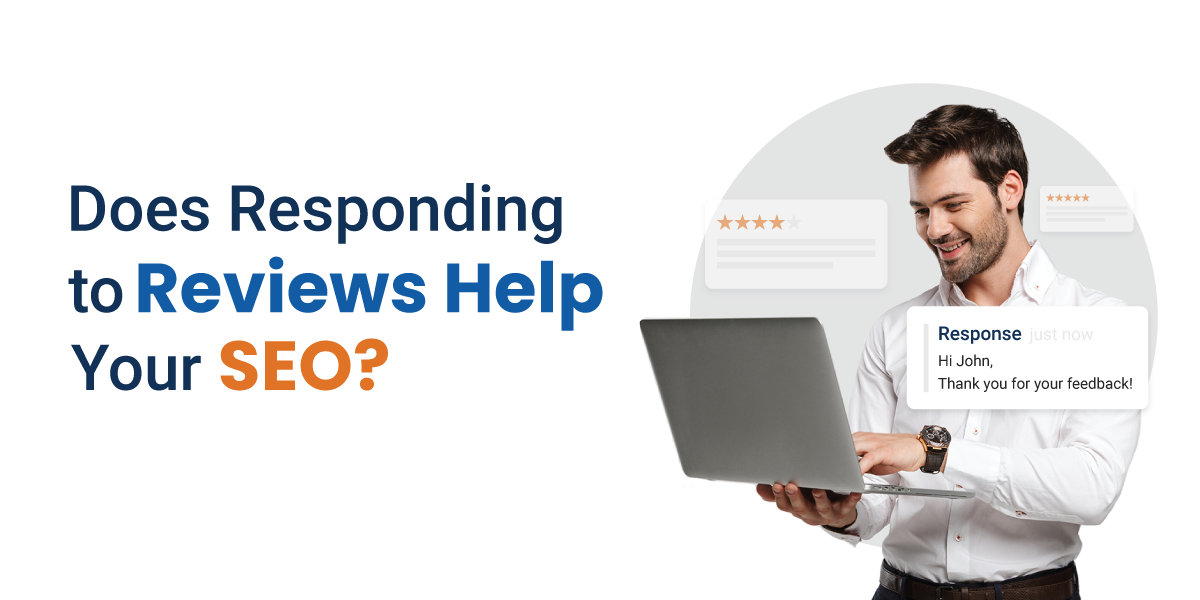 Does Responding to Reviews Help Your SEO?

Does responding to reviews help your SEO efforts?
Yes, always respond. Good or bad that content will be seen by Google as new content and will help you be seen as a trusted source. Like any SEO method it will take time, but it will help.
Responding to reviews can help your SEO in several ways. First, having a high number of reviews and a high overall rating can increase the credibility and trustworthiness of your business, which can lead to increased traffic to your website. Additionally, actively responding to reviews shows that your business is engaged with its customers and values their feedback, which can also contribute to a positive reputation and increase the likelihood of attracting new customers.

Google and other search engines also use user engagement as a ranking factor, so actively responding to reviews can help improve the overall user experience of your website, which can lead to higher search engine rankings.

It's important to note, however, that the relationship between review response and SEO is not necessarily a direct one. While responding to reviews can certainly have a positive impact on your SEO, it is just one of many factors that search engines consider when determining rankings. In order to improve your SEO, it's important to have a well-optimized website with high-quality content and a strong overall online presence.
Google loves verified customer reviews from their Google Syndication Partners. Because when reviews come from a Google Partner who collects verified customer reviews, they carry more credibility, authenticity, transparency, value, and trust.
And this is everything that consumers want in a review, and a website, and therefore everything that Google wants too. After all, Google simply wants to find and recommend the most trusted and helpful websites possible.
For Google, SEO is really all about building trust through a variety of credible trust signals.
The more trust signals that Google can see and index about your website, the more they are likely to give it more search priority. And the more priority Google gives a website, the more consumers will see and trust it. It's a circular process. Create trust and credibility for Google, and Google creates trust and credibility for you.
So one of the many benefits you will realize from working with Shopper Approved is getting more trusted, quality reviews in more places, and particularly where they count the most for the search engines, and your customers.
Customer reviews generate a lot of User Generated Content (UGC) that is packed with your brand and product keywords. And because it comes straight from the consumer, it has far more credibility with the search engines than your own content. Why is that you ask? There are several reasons:
UGC in the form of customer reviews is more current and regularly updated than your website content, which also makes it more attractive to Google.
UGC comes straight from the consumer, so it has the potential of being more real, honest, and trustworthy.
UGC contains natural, conversational language, not just a sales pitch, which is something that both Google and consumers alike.
UGC creates the opportunity for a real dialog between the website and its customers which creates even more keywords, natural language, insights, and transparency.
UGC often provides more product information than formal product descriptions.
UGC is almost never duplicate content.
UGC adds content depth and variety to an otherwise static and potentially stale product page or website.
UGC is often shared across the web on social media channels, for example, creating likes and shares, and therefore "votes" for your brand. Google likes to see that the public is embracing your brand.
UGC often creates positive sentiment toward your brand.
UGC can create a variety of diverse content formats, such as text and video.
If you think about it, these are the reasons that social media, interactive blogs, and forums typically optimize so well.
So for SEO purposes alone, your website needs customer reviews and your responses, and the UGC, social proof, popularity, and trust signals that comes with it. You simply can't beat the SEO value of ratings and reviews.
Search Engine Journal reported on a study that found the following direct correlation between UGC and SEO results that boost website traffic: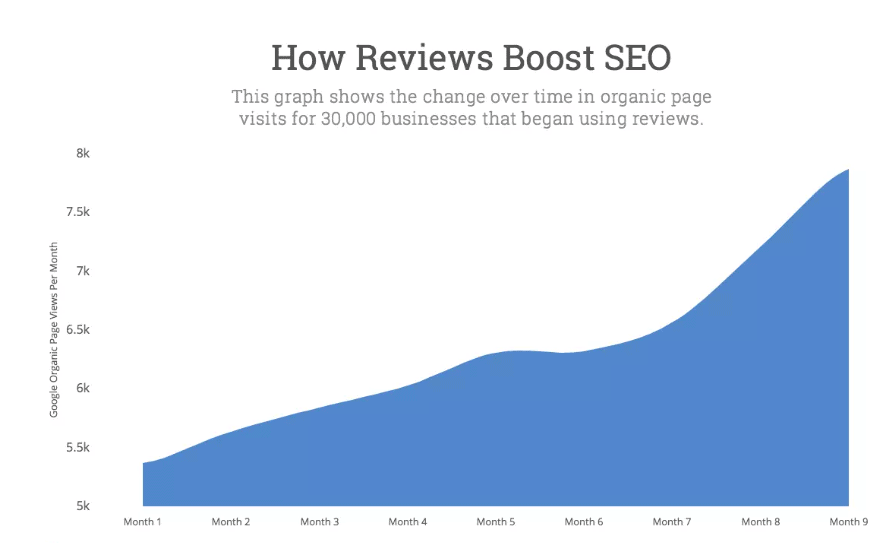 Here's what the SEO experts say about the connection between reviews and search rankings:
Brian Dean, a leading SEO expert and author recently wrote in his 2020 Off-Page SEO Guide "Google's Quality Rater guidelines puts a lot of emphasis on online reviews. Which makes sense: if people hate your business, why would Google want to show your site to more people?"
"Reviews, videos, photos, questions and answers, comments and other user-generated content (UGC) can give search crawlers more information to figure out what your pages are about and how relevant they are to a searcher's query. UGC also creates a sense of community that makes your brand stickier, gives you a vehicle to collect feedback, and lets your audience source information directly from their peers." --Search Engine Land
"Integrating reviews as part of your SEO strategy can have significant benefits to your business. Not only do ratings and reviews determine purchasing habits, but they also affect a businesses' search engine results." --Search Engine Journal
"...search engines love using online reviews as an SEO factor because consumers love using online reviews." --ThriveHive
"The total number of reviews increases the social proof for your business and contributes to localized search ranking factors." --Search Engine Journal
"It is estimated that review signals account for 9.8% of the total ranking factors, which means that they cannot be ignored." --Search Engine Watch
"While everything we've been talking about up until this point is based around SEO for your website as a whole, reviews can also help improve the SEO of specific product and service pages you have." --ThriveHive
"Improve Keyword Traffic. When customers write reviews, they tend to use a certain type of language. You'll find phrases like "best inbound marketing company I've ever worked with." As your company starts to get clicks from review site links that contain such phrases, Google and other search engines start to associate your company with those positive phrases." --Business2Community
"The importance of online reviews is undeniable. Online reviews and SEO have been closely tied together for a long time. That's common knowledge at this point."
"Do Google Reviews Help Rankings & SEO?
The short answer is yes, Google Reviews do help improve search rankings and overall SEO efforts. While there are a lot of factors involved in search rankings, online customer reviews can be a strong signal to search engines that communicates trustworthiness and authority."
"Review signals are the quantity, quality, diversity, and frequency of product reviews. These signals are sent to search engines, which are then used to rank your site. The better you score in these areas, the higher your search rank will be!"
Bottom-Line
User-Generated Content (UGC) in the form of customer reviews and testimonials is one of the most effective ways to create more powerful content and improve your SEO. Let us show you how!
Additional articles on reviews and SEO