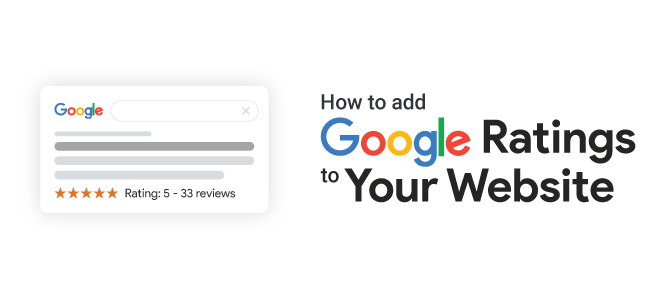 How to Add Google Ratings to Your Website
A positive review can make all the difference when a potential customer is considering buying your product or service. It's even better when those good reviews are easily accessible so they're more likely to sway someone's opinion. That's why you should add Google ratings to your website. Let's walk through how you can do that.
Putting Reviews on Your Website
Depending on how your website was set up, you'll need to take a few technical steps to add Google ratings to your website. It's most likely that your company site was built with HTML or using popular web hosting programs like WordPress, Squarespace, or Wix.
These strategies will require access to your Google My Business account, so make sure you've set that up beforehand.
HTML
While the code that makes up your website can seem intimidating, adding the code for Google reviews is actually very straightforward.
To find the code you need, go to your Google My Business account and click the "share" button next to the review you'd like to feature on your website. From there, you'll see a couple options, but you'll want to click on "embed post" to get the code. Then copy and paste the review's code into where you want the review to show up on your website. You can do this with as many reviews as you want, so don't feel too pressured to pick the "perfect review."
WordPress
WordPress sites have two options for adding Google ratings and reviews to your site: doing it manually and using a custom plugin. To manually add the code, you would follow similar steps to what you do for an HTML site by copying and pasting the code directly into WordPress's own web code. On the other hand, using plugins can do all the technical work for you.
"Google Places Reviews" is a free and user-friendly plugin that allows you to showcase up to three reviews at a time. It also offers customization options, so you can make its color scheme fit into the design of your website.
Squarespace & Wix
Similar to WordPress, you can use a plugin to add reviews to your Squarespace or Wix websites. This particular plugin, known as Elfsight, allows you to paste the plugin's code to where you want to display reviews.
Add a Review Schema
Review schemas, also known as review snippets, is a short excerpt from a review website, which usually includes the average rating score of a specific product or company from all reviewers. On Google, this is the one-to-five-star rating that sometimes appears under a search result. It shows readers the average rating, as well as how many people have reviewed the product or webpage.
How to Add Review Schemas
While you can visit Google's guidelines for a more in-depth look at this process, there are three main steps for displaying the review schema on your website's search result.
Get reviews. You have to collect reviews on your website before you can show the average rating on your search result.
Display your reviews. Usually, you should show reviews of your company on a separate webpage that's easy to access, rather than your homepage.
Apply schema markup. This will read the manually collected reviews from your website to give the average score.
Why You Should Add Google Ratings to Your Website
When searchers are looking to fulfill their needs with your service, they'll look for a reason to trust you. They'll look at the star ratings of different companies to decide what would be best for them. Having both more reviews and high ratings will give you a better shot at attracting their patronage.
In short, making your Google ratings more visible to your customers will only be beneficial. There are plenty of reasons why more reviews are good for you, but some more notable ones include:
More brand credibility.
Better search engine results page (SERP) rankings.
Increased online visibility.
More social proof.
Better digital reputation.
You can also read our ultimate guide for using Google reviews to your advantage to get a better idea of how to implement them into your overall marketing strategy.
Show Better Reviews with Shopper Approved
In order to make this plan work properly, you need to start collecting a lot of reviews on your website. Shopper Approved specializes in getting you better reviews in more places, including your website. Contact us today to find out why we're more than qualified to get your reviews to start working for you.