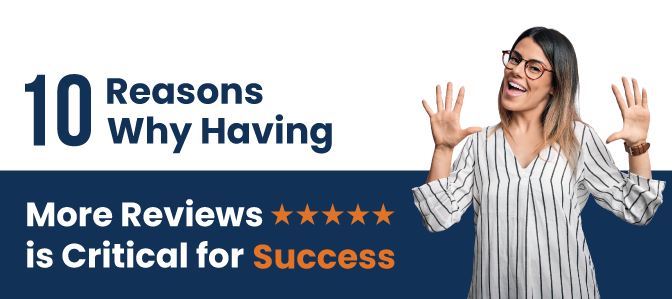 10 Reasons Why Having More Reviews Is Critical to Your Online Success
According to an article in the Harvard Business Review, there are multiple reasons why and how having more reviews improve sales, and how reputation can drive nearly every aspect of a company's performance:
"Firms with strong positive reputations attract better people. They are perceived as providing more value, which often allows them to charge a premium. Their customers are more loyal..." (Emphasis added)
Why Are Online Reviews So Important?
Online reviews are a form of social proof that consumers use to determine if they can trust a company and/or product. Shoppers often begin their search for a product by looking at reviews to narrow down options. Knowing this, search engines often feature reviews high in search results, giving consumers a direct link to highly rated products and brands.
More review volume = more review distribution = more visibility and credibility
More trusted, verified reviews = more accurate, higher overall star ratings
More reviews = more current and relevant reviews
More reviews = more user-generated content (UGC) = improved SEO
More reviews = more momentum = more influence and influencers
More types of reviews in more places in Google = maximum visibility exactly where customers are searching
Higher review count in Google Ads = more social proof and higher click-through rates
More reviews = more credibility and trust
More reviews = easier recruiting
More reviews = better reputation, and lower cost of financing and equity
How Does Having More Reviews Improve Sales?
According to an article in the Harvard Business Review, there are multiple reasons why and how more reviews improve sales, and how reputation can drive nearly every aspect of a company's performance:
"Firms with strong positive reputations attract better people. They are perceived as providing more value, which often allows them to charge a premium. Their customers are more loyal and buy broader ranges of products and services. Because the market believes that such companies will deliver sustained earnings and future growth, they have higher price-earnings multiples and market values and lower costs of capital. Moreover, in an economy where 70% to 80% of market value comes from hard-to-assess intangible assets such as brand equity, intellectual capital, and goodwill, organizations are especially vulnerable to anything that damages their reputations."
(Robert G. Eccles, Scott C. Newquist, and Roland Schatz; emphasis added)
Outside of media and news coverage, a company's reputation is primarily driven by its online ratings and reviews. And statistically, the more reviews you collect from actual, verified customers, the better your average score.
Continue reading for an in-depth look at why and how collecting more reviews improves sales and is your quickest and best strategy to improve your reputation, and your business success:
1. More Review Volume = More Review Distribution = More Visibility & Credibility
With most review platforms, you barely collect enough reviews to display them on just that one review site. But with Shopper Approved, you collect up to 40x more reviews, which means that you have so many reviews that you can distribute up to 75% of them to other high-profile review sites using our Reputation Management tool.
With a higher number of 5-star reviews across multiple review sites, you create a dominant web presence, which means significantly more visibility, credibility, popularity, and trust—all of which directly translate into more site traffic and more sales.
2. More Trusted, Verified Reviews = More Accurate, Higher Overall Star Ratings
Unlike open review platforms, where anyone can leave a review without any verification, including your competitors, Shopper Approved only collects reviews from actual verified customers who have made a purchase. We also try to collect ratings and reviews from every single customer.
Because our unique process and technology are able to collect so many more reviews, and the sample size is so large, your overall rating is much more accurate (and naturally higher) because it is a truer reflection of your customer's overall experience.
This is a statistical fact, and this is why Shopper Approved clients have both more ratings and higher average star ratings. It's not because the negative reviews are deleted or manipulated in any way, it's simply because we collect more reviews from happy clients due to the simplicity and timing of our collection process.
3. More Reviews = More Current and Relevant Reviews
As buyers become savvier, one of the trending factors they look at more often is "review recency."
This is particularly relevant for local reviews, where 40% of people only consider reviews created in the previous two weeks, and 85% of buyers don't think that reviews over three months old are relevant.
But this tendency has also transitioned to the online marketplace, where consumers also give more weight to recent, relevant reviews. Because Shopper Approved collects so many reviews, new potential customers always get a fresh, current perspective from other recent shoppers.
4. More Reviews = More User-Generated Content (UGC) = Improved SEO
Because Shopper Approved Product Reviews are displayed on your home and product pages, every time you get a new review, that content is automatically added to your site, which means that you get a continual stream of new user-generated content (UGC) to improve your SEO.
Paired with our special schema code programming that adds Star Ratings to your product listings in Google organic search results, this constant influx of new reviews helps your individual product pages rank better and get more attention, which means more visibility and clicks to your website.
5. More Reviews = More Momentum = More Influence and Influencers
One of the unexpected, positive benefits of collecting and displaying more reviews is that over time it can become part of your culture, where your customers are more naturally inclined to leave you reviews— creating momentum.
You also are more likely to collect longer, more detailed feedback, and even attract influencers and experts with their own spheres of influence that can help to increase your visibility, trust, and credibility. And longer, more detailed, and specific reviews are more valuable and influential to potential customers.
It's also noteworthy that the Shopper Approved process allows you to create custom survey questions, which encourages more specific and higher-quality reviews.
6. More Types of Reviews in More Places in Google = Maximum Visibility Exactly Where Customers Are Searching
While there are dozens of online review platforms out there, most of them don't have review syndication partnerships with Google, which means Google won't accept their reviews.
In fact, only nine review companies are authorized to syndicate both Seller Ratings and Product Reviews to Google and Shopper Approved is one of them.
However, unlike the other nine companies, we also collect video reviews and syndicate those to your YouTube channel, where they show up in Google Organic Search Results. This means that when you combine all three types of reviews, you can expect those reviews to show up virtually everywhere your potential customers are searching, including:
Google Organic Search Results

Google Shopping

Google Video Search Results

Google Seller Ratings

Google Adwords

Google Product Listing Ads (PLA's)

YouTube
7. Higher Review Count in Google Ads = More Social Proof and Higher Click-Through Rates
As a Google Approved Syndication Partner for both Seller Ratings and Product Reviews, Shopper Approved can send both your overall star rating and your total number of reviews to Google, which then displays them directly in your ads.
Because both of these numbers are naturally higher with Shopper Approved, your ads are more likely to stand out, making them more credible to consumers and more likely to get clicked on.
8. More Reviews = More Credibility and Trust
Research by the Journal of Psychological Science indicates that, "Given two products with similar ratings, consumers are more likely to buy the product with more reviews."
That's how more reviews improve sales. Reviews that you can actively display on Google improve your chances of attracting potential customers and influencing them to buy from you over the competition.
Shopper Approved displays more reviews in more strategic places in Google than any other review company online— and we do it the right way every time so that every review is 100% authentic, transparent, verified, and trustworthy.
9. More Reviews = Easier Recruiting
The best employees like to work for companies with solid reputations. They can afford to be choosy, and they tend to choose companies that have a good reputation for taking care of their employees and customers. Having more reviews underscores your reputation, improving your ability to attract and retain the best employees.
Attracting and retaining top talent, of course, is critical to reducing turnover, the cost of recruiting, and your overall success. And according to Wade Burgess in the Harvard Business Review, a bad reputation can cost at least 10% more per hire, as it becomes more difficult and expensive to recruit candidates.
10. More Reviews = Better Reputation, and Lower Cost of Financing and Equity
A recent 2019 study by the University of Arizona found that a better corporate reputation lowered the cost of loans: "...Reputable borrowers enjoy lower borrowing costs and better loan contract terms: Relative to otherwise similar loans, loans initiated after a firm being recognized as Most Admired Companies are associated with 18% lower borrowing costs, 7% fewer financial covenants, and 6% lower likelihood of collateral requirements."
Another study found that "...Higher levels of reputation are associated with a lower future cost of equity." The research suggests, that just like consumer loans, an organization's reputation impacts its cost of loans and equity.
Bottom Line: Why Is Shopper Approved the Best Review Company for Ecommerce?
Because our Traffic & Conversion Suite was specifically designed to help you do the following:
Collect up to 10x more ratings and reviews at the lowest cost per review
Make your reviews show up in more strategic places on Google
Work with an official Google Syndication Partner (with

both

Seller Rating and Product Review agreements in place for more than seven years)

Collect all three types of reviews— Seller Ratings, Product Reviews, and Video Reviews— all in one streamlined customer survey
Collect only verified, transparent, trusted reviews
Give the ability for your verified customers to leave reviews on other review platforms

Get h

igher, authentic star ratings and review counts in your Google Adwords and Product Listing Ads
Gather a higher number of current, relevant reviews to keep your ratings fresh and updated
Have more user-generated content (UGC) for your product pages to help with SEO
How Does Shopper Approved Stand Out From Other Review Platforms?
Shopper Approved works with over 7,000 amazing companies every day, ranging from startups to the Fortune 500. We are also one of the largest review companies in the world, with nearly 60 million reviews to date and have won numerous awards, including the Inc. 500 (twice), the Utah Fast 50, and the Utah 100 fastest-growing companies (three times in a row).

We are true entrepreneurs who have never taken any venture capital, which has given us the freedom to be innovative and creative while following the dictates of our own consciences, instead of being forced to compromise our standards in order to get an ROI for investors.
We also believe that trust and integrity are everything and that we have a solemn obligation to our clients as well as to consumers around the world to always do the right thing no matter what. If you believe these same things, then you are the kind of client we want, and we will do everything we can to help you be successful.
Other articles on reviews: