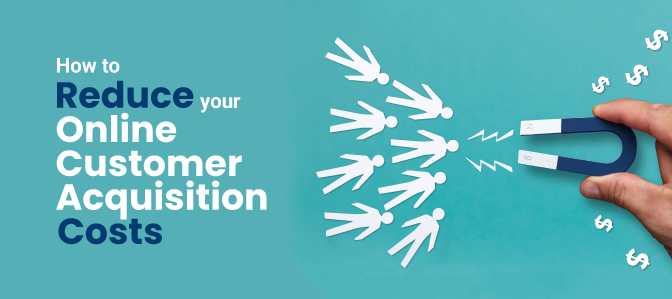 How to Reduce Your Online Customer Acquisition Costs (CAC)
Reducing your Customer Acquisition Cost (CAC) is one of the most important business performance metrics that you should measure and manage. And for good reason. If your CAC is too high, your profits and sustainability will suffer - even putting you out of business.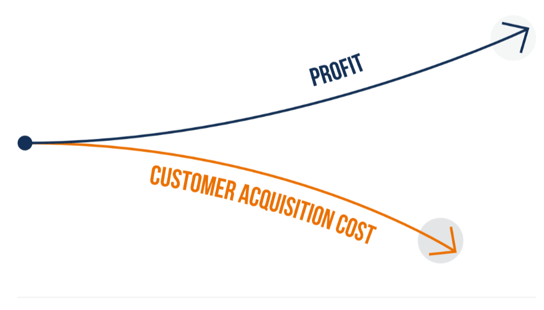 However, if you can create and grow a cost-effective organic traffic strategy, that continues to pay dividends over time, you will be far more profitable; allowing you to become more aggressive in the hotly competitive paid ad space. If you can also couple lower-cost organic traffic with an above-average conversion rate, you are capable of a profit margin and growth opportunity that far exceeds the competition.

In this special report, we will explain some proven psychology triggers and conversion strategies, and highlight the tools that allow you to dramatically improve your organic traffic and your conversion rate, which will automatically and effectively reduce your CAC.
How to Reduce Your Customer Acquisition Cost
Of all the Key Performance Indicators (KPIs) that you can use to measure your eCommerce website's health and efficiency, there is one in particular that will make or break you.

A high Customer Acquisition Cost (CAC), or Cost Per Acquisition (CPA), if not accurately measured and kept in check, can quickly destroy your profits and your business.
And the higher your CAC, the greater your margins and Customer Lifetime Value (CLTV) need to be in order to make a profit.

In order to achieve and maintain the lowest CAC, you often need to look at the cost and conversion efficiency of every stage of the buyer journey, including these leading KPIs (Key Performance Indicators):


The leading KPI inputs above (CPC, CVR, and CPL) provide valuable insight into these KPI
Customer Acquisition Costs
Customer Lifetime Value (CLTV)
Net Profits
Ultimately,
if you can effectively lower the cost, and/or improve the efficiency of one or more of the above leading metrics, you will improve the trailing metrics
by reducing your CAC, improving your CLTV, Net Profit Margin, and company valuation.
For these reasons, at
Shopper Approved
,
we have developed an effective and simple system to improve your leading performance metrics automatically
, by hyper-focusing on delivering two critical performance drivers: more organic traffic (SEO), and higher conversion rates, at a lower cost.
To begin this process,
we studied what we believed were the core conversion techniques
used by Amazon, Walmart, Best Buy, and other leading eCommerce marketplaces to find their commonalities, as well as the leading behavioral science techniques behind human persuasion, and integrated them into a single solution that we call the
Traffic & Conversion Stack
.
Leverage Behavioral Psychology and Behavioral Economics
People prefer "safe" decisions over the thought of taking a risk with their time and money, known as "Risk Avoidance".


People make decisions based on what is popular, and what they see other people are doing, especially people they relate to or respect, known as "Herd Behavior". Herd Behavior also coincides with making safe decisions or Risk Avoidance. The underlying belief is that if everyone else is doing it, it must be the right thing to do. This is also known as "Group Psychology".


People are generally lazy, and they look for "mental shortcuts" or visual cues to make the fastest and easiest decisions, known as "Convenience".


People fear missing out on a good deal, a limited-time offer, or a limited supply, known as "FOMO" or Fear of Missing Out.
Conversion Starts with Trust

User-Generated Content (UGC) is a proven effective strategy to drive both search traffic and higher conversions, because UGC is typically seen as more authentic and transparent, and therefore more trusted.

As it turns out, people are generally more likely to trust and engage in digital 'word of mouth' recommendations and content from other online consumers, than they are from the brand directly.

For the purpose of this discussion, User-Generated Content is collected using both Ratings and Reviews created by your customers, and Q&A, with questions being created by your customers, and answers being provided by your team and/or other customers.

Google often prefers User-Generated Content over brand-created content because the consumer prefers it. Not exclusively of course, but UGC does play a significant role in creating different types of trust signals, like "consumer endorsements" and "social popularity", that brand-generated content simply can't deliver or provide.



In other words, having a solid User-Generated Content strategy, running in parallel to authoritative, brand-created content, is very important to maximizing your online traffic and conversions. And, depending on the terms or phrases that your customers are searching for, it may even be critical.

To prove this point, a recent study by Social Media Today found that 86% of consumers value brand authenticity when deciding which brands they like. And User-Generated Content helps create more authenticity than brand-created content alone.


Trust is King

When it comes to generating more low-cost/free organic traffic, and higher conversion rates to reduce your CAC, consider this mental shift: Trust is King. and User-Generated Content (UGC) is Queen.

We say this because people generally trust what other consumers have to say about your company or products, because they feel like they are more likely to be transparent and authentic, based on their own personal experiences. In fact, according to Marketing Charts, Just 33% of consumers say they trust ads, whereas 70% trust review sites.

Therefore, the more User-Generated Content that you can collect and display, the more trustworthy, valuable, and influential it is to future consumers who read it, and the more likely it is to be featured by Google in organic search results!

Pre-Conversion

Pre-conversion is a very powerful conversion concept. It's the idea that a consumer can be predisposed to buy from you before they even visit your website, based on what they see in Google search results.

There are four primary ways to pre-convert your shoppers to buy:

The first is to have your website or content show up at the top of Google search as the definitive answer when a consumer asks a specific question about your site, brand, category, or product that you sell. This means that you need a search-optimized Q&A tool.


Top rankings in organic search results indicate to the shopper that your content and website are trusted by Google as being the most authoritative and trusted source for the solution or answer to the search inquiry.
The second is to have a strong, comprehensive online reputation in search results (with consistently high star ratings across multiple review platforms), whenever a consumer searches for your "company reviews" in Google.

When your online reputation is consistent across multiple review platforms, consumers instantly can see that you are trusted by other consumers who have already bought from you, which makes them more likely to trust and buy from you.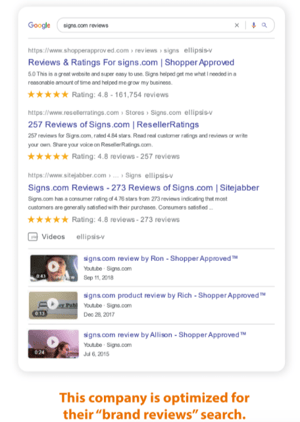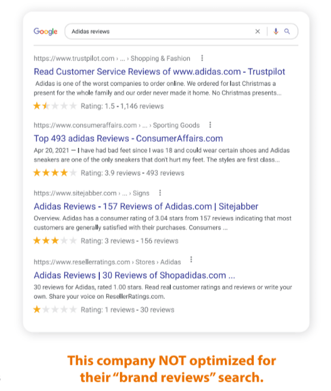 The third (also shown in the image above and below) is to have video reviews displayed on google, that show your existing customers actively displaying and promoting your products for you.

Video reviews are valuable for persuasion. In fact, the #1 most popular type of video on YouTube is product review videos. And, according to a recent survey, consumers are 52% more likely to purchase a product featured in a YouTube product review.

The fourth is to have star ratings actively displayed in Google Product Listing Ads (PLAs) and Google Ads.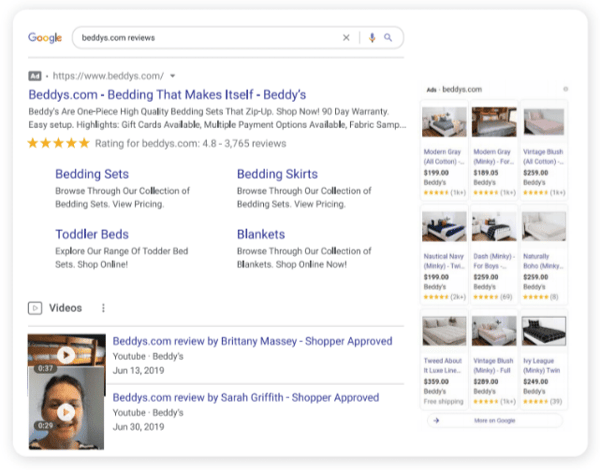 The star rating in the top left image is a Google Ad, and the block of products with star ratings on the right are Product Listing Ads (PLAs). These both combine traditional advertising with social proof, to make them significantly more trustworthy, which increases pre-conversion and click-through rates. Note that all four pre-conversion strategies directly involve UGC.

Cost Per Click (CPC)

To create a winning strategy, you need to create the most affordable Cost Per Click (CPC) that you can get, targeted to the right audience. And when using both SEO and PPC together, marketers see an average of 25% more clicks and 27% more profits compared to using a single technique alone (B2B Digital Marketers).
Another study found that when combining both Seller Ratings and Product Reviews from a Google Review Partner, you get even greater results: "Combining Seller Ratings and Product Ratings increases Click-Through Rate (CTR) by 107%."

While PPC is often the fastest way to get traffic, it can also be expensive, which is why most companies use both PPC and SEO, to balance the cost.

Fortunately, there is a relatively fast and easy way to create search-optimized content that naturally ranks well, and is often served in the Featured Snippet: Search Optimized Q&A.

Search Optimized Q&A can help you rank in top organic positions for thousands of high purchase intent, long-tail question searches. And the higher your answers rank on the page, the more traffic you get.

For example, depending on the study, a Featured Snippet from a question and answer in organic position 1 gets 28% to 43% of the clicks, compared to position 5 which only gets 7%, and position 10 which gets just 2.5% of the clicks.

This type of SEO strategy plays three critical roles:
It drives more free, organic search traffic
It creates more trust, because the search question is consumer-driven, even if the answer is from the company

It pre-converts consumers, making them much more likely to buy because you look like the expert
In some instances, these high-purchase intent long-tail search results in a Featured Snippet can generate up to a 75% conversion rate, and drive up to 400% more organic traffic, directly to your product pages. And, may allow you to even beat out Amazon in search.
The Shopper Approved Q&A tool by Answerbase was specifically built for SEO optimization, and it automatically creates subfolders and structured data for each question and answer, improving each answer's SEO and Featured Snippet capabilities.

Cost Per Lead (CPL)

If you can generate a lower CPC, your Cost Per Lead (CPL) should also be lower. According to Survey Anyplace, based on a recent survey (shown below), organic traffic leads, as a result of SEO, have by far the lowest CPL.


If we look at the CPL across several lead channels, concentrating your lead strategy on those channels and strategies that bring in a lower CPL should automatically reduce your CAC.
Instead of focusing on just traditional link-building and content-writing SEO strategies, consider
also using UGC-powered SEO strategies to significantly improve your results, and reduce your CPL and CAC even faster.


Customer Acquisition Cost (CAC)
A study from First Page Sage found that content-driven organic traffic offers a much lower CAC when compared to paid traffic. And while it's always good to do a combined PPC and SEO strategy, investing in SEO - particularly UGC-based SEO, can pay off in the long run.

In addition, by displaying your online ratings (UGC) directly into your PPC ads, not only does your click-through rate increase, but your cost-per-click actually decreases, giving you a double benefit, and helping you to lower your CAC.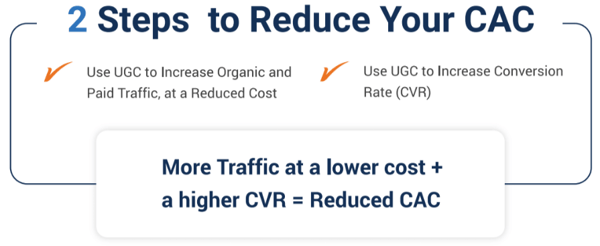 Generating more traffic at a lower cost, plus increasing your conversion rate, will significantly lower your CAC, while directly increasing your profits.

In fact, a national study of eCommerce website owners found that universally, the two things everyone wants are more organic traffic and a higher conversion rate. Because these are the leading metrics that drive profits.

Amazon Nailed It – And So Can You

Amazon knows that conversion optimization means combining and maximizing UGC trust signals, so they created product pages that incorporate both ratings and reviews and Q&A prominently on product pages - right next to each other.



Amazon has intentionally placed star ratings, the total number of ratings, and Q&A immediately following the product name and description on their product pages when available. We call this the UGC Stack, and it creates instant trust, and a sense of product popularity and credibility by providing consumers with this invaluable, highly trusted information upfront, it significantly increases the likelihood of engagement and conversion.

Because Amazon has tested and perfected this layout for years, one can assume that displaying a UGC Stack at the top of all your product pages is the most important trust-building and conversion tool you can have.

Shopper Approved offers the same UGC stack approach as the top eCommerce sites, and we think we do it better because our Q&A and Reviews often optimize better in organic search than Amazon.


The Shopper Approved UGC stack is a simple, effective, integrated conversion solution that can even generate up to a 75% conversion rate on product pages where shoppers engaged with Q&A.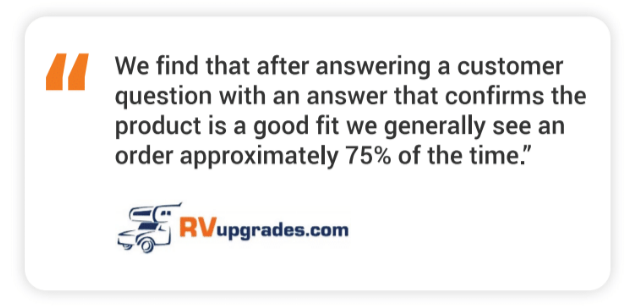 The Bottom Line

Lowering your CAC can be improved by collecting and leveraging UGC in the form of ratings and reviews and optimized Q&A, to help improve your SEO, and increase overall traffic and conversions.

Increase your UGC, Traffic, and Conversions with Shopper Approved
Shopper Approved
is a Google Review Partner. We collect up to 10x more verified customer reviews and display them in more strategic places online to improve your visibility, traffic, and sales. Including Google Seller Ratings, Product Reviews, Video Reviews, and Product Q&A.

Providing up to 400% more organic traffic, a 75% conversion rate, a 200% greater Customer Lifetime Value, and a 60% reduction in customer support costs.