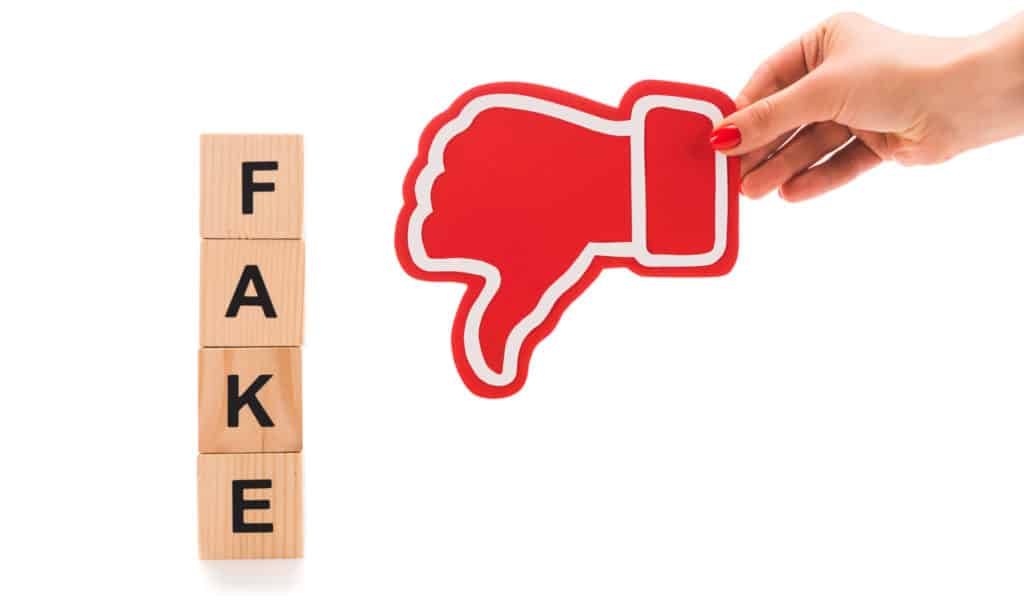 The Problem with Fake Online Reviews
Writing fake reviews, or "astroturfing" as it's come to be known, has proliferated the web in the past few years, as more companies realize the incredible power and influence that reviews have; whether it's creating massive amounts of social proof and sales for themselves, or strategically destroying or defaming a competitor. As time goes on...
And How Open-Review Platforms Are Deceiving Billions of Consumers and Hurting Millions of Honest, Reputable Businesses.
Writing fake reviews, or "astroturfing" as it's come to be known, has proliferated the web in the past few years, as more companies realize the incredible power and influence that reviews have; whether it's creating massive amounts of social proof and sales for themselves, or strategically destroying or defaming a competitor. As time goes on, more companies and individuals, desperate to make fast profits, are adopting fake review strategies to advance their own personal agendas - and they're using open-review platforms to do it.
This is very unfortunate because the original intent of ratings and reviews was to create an honest, authentic, and helpful way for actual customers to tell their side of the brand and product experience, good or bad. The idea was to create more transparency and dialog to help consumers make better, more informed purchasing decisions, based on other users' experiences. The brands could then take this feedback, and thank their customers for their positive sentiment, as well as learn from their customers' feedback, good and bad, to improve their business operations and products. (You can learn more by reading 'The History of Reviews'.)
And this can be and is still the case when reviews are created by actual, verified, authentic customers.
Unfortunately, certain review platforms have been manipulated and used to exploit this system purely for profit by creating open review platforms, or platforms that do not properly monitor, flag, and remove fake reviews. This is done in order to use mafia tactics to extort money from business owners if they want to save their reputation and business from being destroyed by these false, exaggerated, and unsupported claims. And thereby creating what operates more like an opinion forum that plays loose and wild with the facts vs. a true and authentic review tool designed to help both the consumer and the business community.
The other part of this issue of opinion forums disguised as review sites is the individuals that create fake reviews for their own personal gain.
There are primarily 3-types of motivation behind those who create fake reviews:
1. Positive Reviews Created or Paid for by the Brand:
These are reviews designed to generate stars in their ads which improve click-through rates and improve conversions on their website. Positive reviews also help improve SEO and website and product engagement. These can be created in low volume by the website team themselves, friends, or family, or they can be purchased en masse by using any one of dozens of services available designed to write phony reviews at scale for websites (Seller Ratings) and products (Product Reviews).
Large-scale, illegal fake review generation is typically found on Amazon, Walmart, and other high-volume, highly competitive e-commerce sites where competing brands and sellers are vying for clicks on the same website. As well as stand-alone open platform review sites such as Tripadvisor, Yelp, Facebook, Google My Business, DealerRater, Trustpilot, Consumer Affairs, etc. An "open" review platform allows anyone and everyone to leave a review without any proof of purchase. Which makes these websites and review platforms easy prey for review manipulation. And making them more of an open forum, than reliable ratings and review sites of verified customers.
Are fake reviews or fake testimonials illegal in the US? The answer is absolute, yes, and fake reviews or testimonials, both positive and negative can fall under several federal and state bodies of law, including Truth in Advertising, Consumer Protection, Libel, Defamation, and Unfair or Deceptive Acts. Because fake reviews can cause a consumer to make a purchase based on the fabricated, exaggerated, false claims in the reviews, they are often treated and regulated under state and federal advertising laws:
2. Negative Reviews Created by Competitors:
This is a less obvious issue to the unsuspecting consumer, but just as damaging and manipulative as creating fake positive reviews. Oftentimes, competing companies will create, or pay others to create false and defamatory reviews about their rivals, hoping to destroy their reputation. Although this may at first appear to be "just business," it's actually illegal, immoral, and unethical business practice, punishable by law.
3. Reviews That Are False, and Created by Individuals or Groups Who Are Politically, Religiously, Racially, or Financially Motivated to Harm or Support an Organization Based on Their Personal Beliefs, Views, Opinions, or Financial Motivation.
This may include stockholders or investors who create false positive reviews about a company they are invested in. Or false negatives about their competition.
This has always been a problem on open forums or blogs. In one instance, for example, John Mackey, founder, and CEO of Whole Foods created a fake user profile to make false accusations and predictions about a competitor (Wild Oats) over a period of several years on a financial forum in an attempt to lower their stock value prior to acquiring them when the FTC stepped in and uncovered the scandal.
Sunday Riley, the CEO of a skincare line under her name, instructed her employees to create fake accounts and leave phony reviews of their products, as well as dislike negative ones.
The members of religious or anti-religious groups attack an organization based on their support or lack of support for a political candidate, or a business or product that does not align with their beliefs or world views.
Members of a political party falsely praise or degrade a company, based on their political donations or candidate support.
Some fake reviews are racially motivated as well, as in the case of The Honey Pot, a Black female-owned business. In The Honey Pot case, the day after a TV ad was aired featuring The Honey Pot CEO in a Target commercial, Trustpilot was bombarded with hundreds of fake negative product reviews and racial statements about the company, and CEO. Within days, a counter social media campaign was in full-swing encouraging supporters of the black business community, female-owned businesses, and The Honey Pot to go on Trustpilot and leave positive reviews.
Neither the fake negative nor the positive reviews on Trustpilot required any proof of purchase of the product. Making the entire exchange an "opinion forum" under the misleading and deceptive title of "Trustpilot reviews." Eventually, under pressure from the media attention the scandal was receiving, Trustpilot issued a warning on The Honey Pot review page: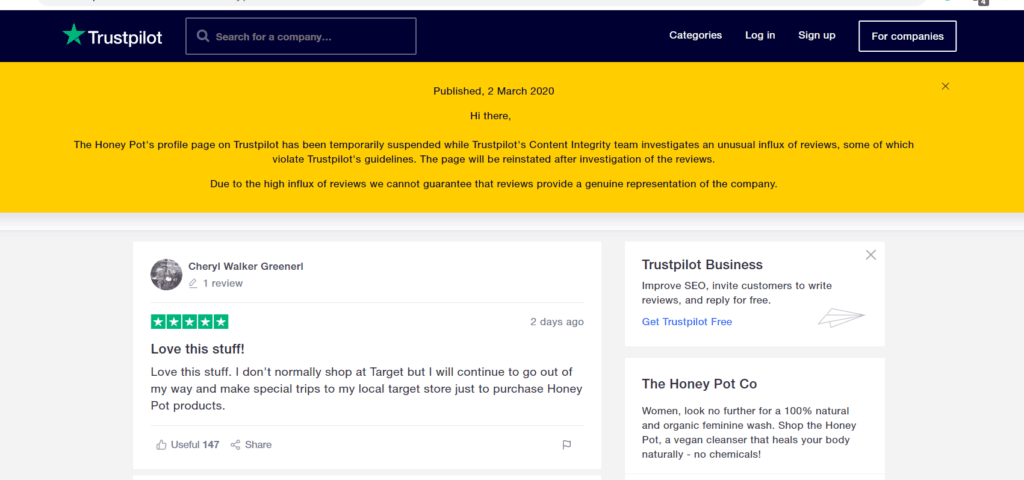 The irony, of course, is that Trustpilot positions itself as "a community for consumers to share their experiences with brands and products" (paraphrase). False claims, fake reviews, motivated by personal agendas, world views, and opinions unfounded in facts, experiences, or reality, however, have nothing to do with authentic brand experiences created to help consumers make more informed purchasing decisions.
If these open review platforms were to require proof of purchase, to begin with, they could avoid coming across as an illegitimate opinion forum.
It may be more accurate, truthful, and transparent if these open review platforms such as Trustpilot, Yelp, TripAdvisor, Consumer Affairs, etc. were to disclose their business model, and how their platform works, so as to warn or notify consumers that the "reviews" on their site may, in fact, be "opinions from unverified customers and may not reflect actual product experiences" so as not to deceive, persuade or manipulate purchase decisions and waste peoples time and money based on erroneous and unsubstantiated rants, opinions and falsehoods. Which gone unchecked, can also erode the value of true, honest, and validated reviews based on actual customers who purchased and used the product.
The processes and technology exist to identify, filter, flag, block, or remove fake reviews created by fake user profiles, and non-verified customers. The financial motivations however for companies such as Trustpilot and Yelp who prosper from the free content created by unverified customers appear to be too lucrative to do the right thing or to even post disclaimers about the potential for fake reviews and misleading information on their site.
Summary
Because positive or negative fake reviews are intentionally misleading and deceptive, they are also immoral and unethical. The behavior of which is unbecoming and can easily backfire, creating harm to the creator's reputation, as well as placing them in legal and financial trouble.
Unfortunately, many open "review" platforms have become complaint boards or open forums to air grievances, beliefs, opinions, and fabrications under the guise of actual and personal experience with the brand or product, that in fact have nothing to do with actual experience and have everything to do with personal motivation.
Below are links to dozens of articles that explain the problem imposed by this deceptive practice, the risks involved for the company or individual who creates them, as well as a look at the fake review industry in general, how to create phony reviews, and how to spot the fakes.
OVERVIEW OF FAKE REVIEWS
You Won't Believe How Many Fake Reviews
You won't believe how many online reviews are actually fake
Why You Can't Really Trust Negative Reviews
https://www.nytimes.com/2018/06/13/smarter-living/trust-negative-product-reviews.html
FTC: Fake Reviews and Fake Influencers
https://www.consumerprotectionreview.com/2019/11/ftc-settles-two-cases-of-alleged-fake-reviews-and-online-influence/
Fake Review Lawsuits
https://www.hg.org/legal-articles/lawsuits-regarding-fake-reviews-44588
UrthBox Fake Reviews on BBB and FTC Lawsuit
https://www.ftc.gov/news-events/blogs/business-blog/2019/04/its-unwise-incentivize-positive-skewed-reviews
HOW TO SPOT FAKE REVIEWS
How To Spot Fake Reviews on Amazon and Yelp
https://www.howtogeek.com/282802/how-to-spot-fake-reviews-on-amazon-yelp-and-other-sites/
How to Spot fake Reviews Fox 43
https://www.fox43.com/article/money/consumer/fox43-finds-out/how-to-spot-fake-reviews-online/521-381bce20-ec26-48a9-a29e-3e78f501da6e
5 Tips to Spot Fake Online Reviews
https://i-sight.com/resources/5-tips-to-spot-fake-customer-reviews/
10 Secrets to Uncovering Fake Reviews
https://www.marketwatch.com/story/10-secrets-to-uncovering-which-online-reviews-are-fake-2018-09-21
How to Spot Fake Amazon Reviews
https://www.cnet.com/how-to/spot-fake-reviews-amazon-best-buy-walmart/
How to Spot a Fake Review on Amazon
https://www.pcmag.com/feature/369119/how-to-spot-a-fake-review-on-amazon
How to Spot Fake Reviews With 90% Accuracy
https://www.inc.com/jessica-stillman/heres-how-to-spot-fake-online-reviews-with-90-perc.html
FakeSpot
TRUSTPILOT FAKE REVIEWS
Do You Trust Trustpilot?
https://www.linkedin.com/pulse/20141014113237-93854683-do-you-trust-trustpilot/
Can You Trust Trustpilot: 9M Reviews Analyzed
https://www.seotraininglondon.org/can-you-trust-trustpilot/
How to Buy Trustpilot Reviews / Review Buying Services
https://www.buyserviceusa.com/product/buy-trustpilot-reviews/
https://www.buybulkreviews.com/buy-trustpilot-reviews-starting-only-2-85/
https://smm420.com/product/buy-trustpilot-reviews/
https://smmboosters.com/product/buy-trustpilot-reviews/
How to Create Fake Trustpilot Reviews
https://www.blackhatworld.com/seo/how-to-write-trustpilot-reviews-that-wont-get-deleted.1038235/
Gaming Trustpilot
https://www.thetimes.co.uk/article/estate-agents-and-banks-gaming-feedback-website-trustpilot-jxjxjt02x
How Firms Buy Bogus Reviews on Amazon and Trustpilot
https://www.dailymail.co.uk/news/article-5672147/How-firms-buy-bogus-online-reviews-products.html
Beware of Kiwi.com and Trustpilot Fake Reviews
https://www.tripadvisor.com/ShowTopic-g1-i10702-k11942353-Beware_of_Kiwi_com_and_fake_reviews-Air_Travel.html
YELP FAKE REVIEWS
Yelp Ignores Fake Reviews
https://www.yelp.com/topic/los-angeles-yelp-ignoring-fake-reviews-how-much-can-we-trust-reviews
Buying Yelp Reviews / Yelp Review Buying Services
https://smmboosters.com/product/buy-yelp-reviews/
https://www.appsally.com/products/yelp-reviews/
https://reviewsthatstick.com/yelp/
AMAZON FAKE REVIEWS
Study Finds 61% of Electronics and 64% of Supplement Reviews on Amazon are Fake
https://marketingland.com/study-finds-61-percent-of-electronics-reviews-on-amazon-are-fake-254055
The Dark Underbelly of Amazon Fake Reviews
https://thehustle.co/amazon-fake-reviews
Amazon is Filled With Fake Reviews
https://www.mentalfloss.com/article/582808/how-to-spot-fake-amazon-reviews
Nike Leaves Amazon to Avoid Fake Reviews and Fake Nike Knockoffs
https://www.inc.com/cameron-albert-deitch/nike-amazon-breakup-brand-loyalty.html?utm_source=incthismorning
CNBC FTC Cracks Down on Fake Amazon Reviews
https://www.cnbc.com/2019/03/01/ftc-cracking-down-on-fake-amazon-reviews.html
Buyer Beware: A Scourge of Fake Reviews on Walmart, Sephora, and Amazon
https://www.cbsnews.com/news/buyer-beware-a-scourge-of-fake-online-reviews-is-hitting-amazon-walmart-and-other-major-retailers/
Fake Amazon Reviews are Increasing According to Fakespot
https://mashable.com/article/fake-amazon-reviews-increase-during-prime-day/
How Merchants Use Facebook to Get Fake Amazon Reviews
https://www.washingtonpost.com/business/economy/how-merchants-secretly-use-facebook-to-flood-amazon-with-fake-reviews/2018/04/23/5dad1e30-4392-11e8-8569-26fda6b404c7_story.html
Hijacked Amazon Reviews Can Trick Shoppers
https://www.consumerreports.org/customer-reviews-ratings/hijacked-reviews-on-amazon-can-trick-shoppers/
FTC Fines Drug Company for Fake Reviews on Amazon
https://www.ftc.gov/news-events/press-releases/2019/02/ftc-brings-first-case-challenging-fake-paid-reviews-independent
Amazon Review Buying Services
https://www.amzfinder.com/blog/buy-amazon-reviews-legally/
https://www.ecomcrew.com/how-to-get-amazon-reviews/
https://www.skytechosting.com/buy-amazon-reviews/
https://www.buzzfeednews.com/article/nicolenguyen/amazon-fake-review-problem
TRIP ADVISOR
How to Create Top Rated, Fake Restaurant on Tripadvisor
https://www.vice.com/en_us/article/434gqw/i-made-my-shed-the-top-rated-restaurant-on-tripadvisor
Trip Advisor Review Buying Service
https://smmboosters.com/product/buy-tripadvisor-reviews/
HOW TO REMOVE FAKE REVIEWS
How To Remove Fake Google My Business Reviews
https://support.google.com/business/answer/4596773?co=GENIE.Platform%3DAndroid&hl=en
Legal Action: Here is a service that writes cease and desist letters from a law firm on your behalf if you detect fake reviews about your company that you cannot get resolution on
Other review articles: