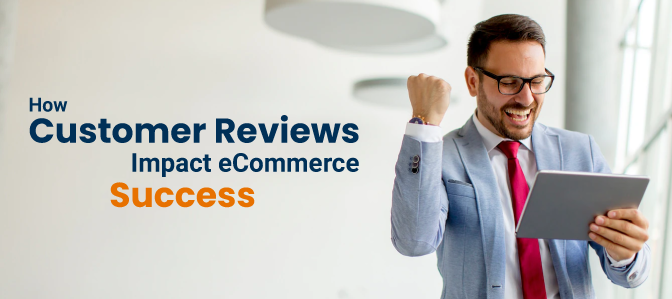 How Customer Reviews Impact eCommerce Success
By now you have heard it a thousand times: Include customer reviews on your eCommerce website. What you may not realize is how compelling the case for reviews is. How well user reviews work — and why they work — is likely to surprise you. Gaining a comprehensive understanding of user reviews empowers you to harness the power of this marketing opportunity.
User Reviews: Delivering the Numbers
Getting Fresh With Your Customers: How Reviews Improve SEO
For an eCommerce business, a favorable ranking in Google's search pages often spells the difference between struggle and prosperity. A key metric for the search engine giant is fresh content for your website. For a business that continuously adds new inventory, this metric poses no problem. Ditto for enterprises that discount items weekly.
However, constantly updating can pose a challenge for small businesses with limited staff. These enterprises can generate fresh content with a blog or a "hint of the week" feature, but this approach imposes an unwelcome time demand.
Online reviews from your satisfied customers help solve this problem. Your happy customers supply the content, automatically, and all by themselves. These online reviews on a website help boost search engine optimization, but they can do much more.
The Income Statement: Why Reviews Are Important
Eyemagazine's marketing strategy manager Emily Cullinan notes that user reviews deliver on three essential eCommerce metrics:
Conversions: Site visitors who read user reviews complete a purchase at a 58% higher rate.
Revenue: On average, review readers generate 62% higher revenue.
Average Order Value: Customers who make a review-generated purchase are 3% more likely to purchase an additional item.
Social Proof: The Foundation of a Review Strategy
The success of customer reviews relies on a concept known as social proof. Human beings, even self-professed loners, like to fit in with their fellow occupants of this planet. This desire extends to purchases of products and services: People like to feel validated and confident in their decision before they part with their hard-earned money. This understandable need leads customers to seek out credible social proof before purchases.
Naturally, a recommendation from a trusted family member or friend remains the supreme social proof for consumer decision-making. Nonetheless, people must make numerous buying decisions without a personal recommendation. For three decades now, the internet has increasingly filled this void.
Large or small, nearly every eCommerce business can benefit by harnessing social proof with an internet presence. With a business website, social proof methods slot into these categories:
User Reviews and Testimonials: The most logical extension of a personal recommendation, user reviews span the gamut from one-click star ratings through written reviews and all the way to self-produced videos.
Case Studies: Often conducted with academic institutions, case studies marshal mountains of data to drive purchase decisions.
Logos: Eye-catching and compact, logos minimize words as they make their case. Logos can represent an endorsement from a popular brand or take the form of a trust badge from groups such as the Better Business Bureau.
News Media: Reviews or articles from websites and trade journals that cover a business's related market segment are an option to build credibility.
Social Media: Screenshots or badges with high follower counts build a case for customer engagement.
How do these methods play a role in the eCommerce sphere? Finding the answer has been a key question for many researchers.
User Perceptions: Memory Plays Tricks
How consumers believe they make buying decisions and how those decisions occur in reality are two different things. A pioneering 2015 study by SEO optimization company Moz quizzed consumers on how deeply they dug into Google search results. Half of the respondents replied that they only looked at the first page, while one-third stated that they advanced to a second or third results page.
Despite their answers, recorded data revealed that only 2% of these consumers clicked on a search result beyond the top five items on the first result page. To gain an accurate picture of the buying process, trusting a survey member's memory is not enough.
The Eyes Have It: CXL's Social Proof Experiment
With an eye on the shortcomings of conventional surveys, the CXL Institute in 2016 set out to measure social proof in eCommerce with cutting-edge technology. Using web services provider HostGator for the trial, CXL tested eight landing page mockups with these varied types of social proof:
Logos of news media firms with short quotes from a review
News media logos standing alone
Single-person testimonials with a photograph
Individual testimonials without a photograph
Logos of household-name business clients
Logos from smaller and less well-known business clients
Facebook and Twitter logos with follower counts above 100,000
The same social media logos from Step 7, only with double-digit follower counts
A ninth landing page with HostGator's typical copy and no social proof indicators served as a control. With each survey participant, CXL used eye-tracking technology to see which social proof method first drew attention.
Eye trackers are devices that sit below a standard computer screen. These trackers use two cameras to record a viewer's eye movement data. After gathering this data, the software then derives what section of a web page held the viewer's attention at any moment of the session.
The technology pinpoints actual fixation points with extraordinary precision. Here's how the eCommerce research lab recorded eye movements on the landing pages that used testimonials: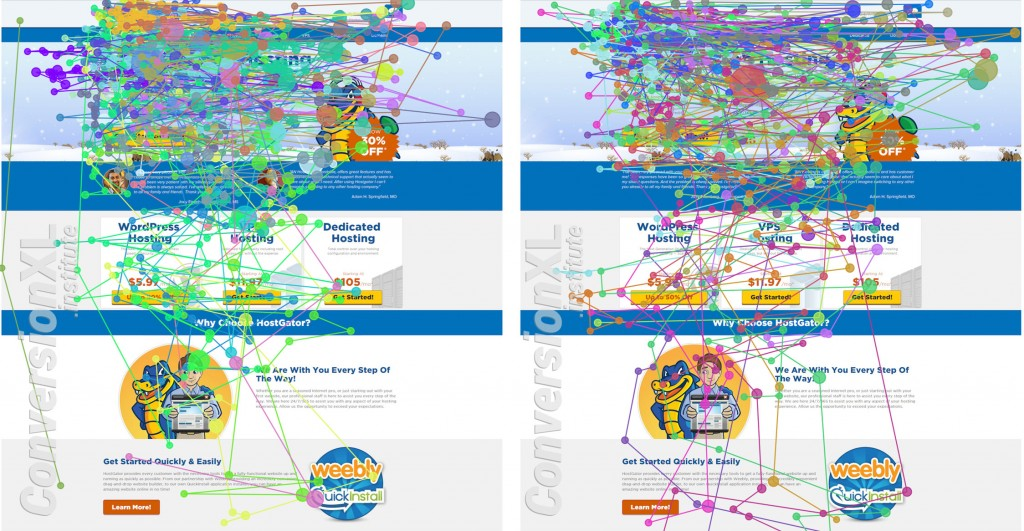 Once the viewer's eyes locked on to the social proof target, CXL recorded how long the participant fixated before eyeing another page element. To the surprise of the researchers, there were no statistically significant differences between the initial lock-on times for each type of social proof.
Fixation times, how long a participant locked on to each element, was a different story. Testimonials combined with a photo claimed first place, while stand-alone testimonials placed second.
After viewing the landing pages, CXL asked survey participants to name the design elements that built trust for HostGator's brand. On this recall test, testimonials with photographs again claimed first place, with well-known corporate logos placing a close second. No participant recalled a testimonial without a photograph. As with Moz's earlier study, the subjects' recollections did not exactly align with their measured behavior.
Limitations and Opportunities
The researchers frankly acknowledge the study's limitations. Among its customers, HostGator serves Fortune 500 multinationals and hobbyist bloggers. In eCommerce lingo, the web host provider operates in the business-to-business space as well as the business-to-consumer market.
Only businesses that operate in the B2B space can take advantage of household name corporate logos. Furthermore, it takes years to earn the business of these giants.
Conversely, even startups can earn favorable user reviews within a few months of operation. With photo testimonials placing highly among social proof methods, it is well worth looking further at user review methods.
From Clicks to Flicks: The Spectrum of Online Reviews
Online reviews can take the form of star ratings, user reviews, articles by industry professionals and even user-produced videos. The efforts reviewers must take can range from making a single mouse-click, on through writing a review and even filming a video.
Star Ratings: The Impact of Single-Click Feedback
Star ratings from a search engine results page are often the first reviews most consumers encounter on the decision path. A web search may turn up star ratings for a product, a seller or both.
On Google, seller ratings reflect consumer reviews contributed on Google Shopping, combined with results drawn from more than 30 independent review sites — including Shopper Approved. While Google does not charge for seller star ratings, this metric can measurably affect how much an eCommerce business will pay on the search giant's globe-spanning ad platform.
On a Google price comparison page, the rating appears as a row of one to five orange stars at the bottom of the item frame. On a product detail page, the seller rating sits below the price. To earn a seller star rating, a vendor must have at least 100 unique views in the previous 12 months and a 3.5 or higher seller score. High-volume sellers also earn a review account to the immediate right of their rating. Google applies this metric on a country-by-country basis, so consumers in different nations may not see a seller score for some international sellers.
Product star ratings for individual items appear on the Google Shopping platform. Google draws its product rating data from a wide base of sellers, averaging them so every item receives the same rating no matter the vendor.
What effect do star ratings have on the buying decision? Two studies point the way.
CXL's Eye-Tracking Conversion Test
With so much information on a single search engine results page, is it possible to glean how the star rating in particular affects eCommerce click-through rates? The CXL Institute, as a follow-up to its social proof survey, applied its eye-tracking method to answer this question.
The study focused on international windshield repair company Beltron and drew participants from both North America and Europe. CXL's goal was to examine the role of star ratings and filter out all other factors that might affect a user's decision to click on a search listing.
The researchers presented participants with two comparable Google search result pages. One page featured star ratings for four of the 15 items listed, and the other SERP displayed comparable listings with no star ratings. For the SERP with star ratings, the second and third-ranked listings featured star ratings, with the other two star-rated listings placed on the lower third of the page.
Starring Roles
When the researchers culled their eye-tracking data, they discovered that the star ratings encouraged viewers to keep their gaze on the two high-ranked star-rated listings. The lower-placed listings with star ratings attracted little attention. On the page with no star ratings, viewers' gaze drifted down to the listings' halfway point.
For eCommerce professionals, the click-through rate is the money stat. Compared to the SERP with no star ratings, the high-placed star-rated listings earned a 35% higher click-through rate.
MarketingSherpa's Survey: How Reviews Improve Conversions
CXL's eye-tracking study measured click-through rates with star ratings. In 2017, MarketingSherpa sought to learn how well star ratings convert to sales. The results surprised the researchers.
For the experiment, MarketingSherpa selected five products from varied market segments. The price points of the test products ranged from low-cost impulse purchases to higher-ticket goods. In graphical form, here's what the survey revealed: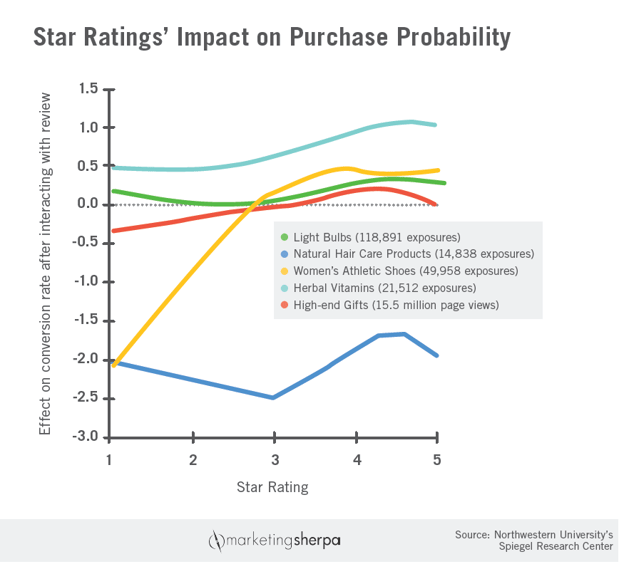 Among the five surveyed products, four exhibited lower click-through rates as the star score moved above the mid-four territory. High-end gifts behaved as expected: Higher star ratings boosted conversion chances until tapering downward at the mid-four level — buyers are suspicious of perfect aggregate scores.
Confoundingly, a star review at any level lowered the conversion rate for natural hair care products. Women's athletic shoes were sharply sensitive to the star rating; a rating below three stars effectively doomed the sale. Shoppers for low-cost light bulbs and pricey herbal vitamins were open to purchases at any star level, with higher scores modestly adding to sales probability.
On further examination, these results make sense. Light bulbs are relatively inexpensive, lowering the stakes for the decision. Conversely, herbal vitamins are often expensive, with health-conscious eCommerce consumers likely to conduct extensive research outside of basic star rankings.
Understand What You Sell
In total, this survey ably demonstrates the complexity of factors that contribute to a consumer's buying decision. The study further hammers home the notion that no review strategy is a substitute for knowing your product and your customers.
An admitted shortcoming of the MarketingSherpa survey is that the study group made no effort to measure other buyer behavior between viewing the star review and making the critical up-or-down buying decision. Many of these consumers likely viewed text or video reviews en route to the purchase. Understanding the potential of these reviews is essential for every online seller.
Battle Beyond the Stars: Changing Attitudes for Online Reviews
Do buyers truly read product and service reviews before making a purchase? Since the dawn of eCommerce, the data says "Yes." For most of the past decade, a steady 85% to 90% of consumers said that they consulted online reviews.
The most recent data indicates that the percentage has moved even higher. Drawing on a survey of local businesses, trade publication Near Media now estimates that 98% of consumers seek out online reviews for at least some of their purchase decisions. The supermajority has now grown to include nearly every consumer.
While the use of online reviews has become nearly universal, trust is another issue. For much of this period, consumers indicated that they valued online reviews nearly as much as feedback from friends or family, with trust levels steadily hovering around 80%. However, according to the same local business survey, that trust level declined dramatically in 2020. Formatted by Near Media, here's a graphic look at this sea change in consumer sentiment: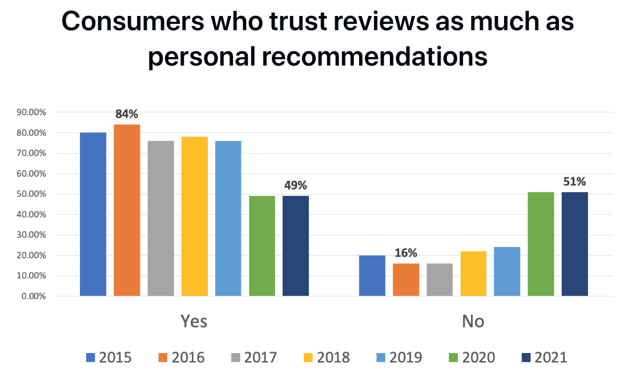 The nation's response to the COVID-19 pandemic in 2020 upended consumer behavior, driving a surge in eCommerce. Mike Blumenthal, the author of Near Media's coverage of the consumer survey, notes that Google searches for the term "fake reviews" began climbing in 2018 and continued higher well into 2020. Even before the pandemic, consumers were eyeing online reviews with increased skepticism.
Credible Reviews: Google Searches for an Answer
Google itself is moving to address the rising perception that many reviews are fakes. Early in 2022, the search giant announced an initiative to harness machine learning for review content moderation. Google openly admits tuning the algorithm is a bumpy process, and businesses are likely to make heavy use of its business support channel. Near Media's Blumenthal advises that businesses should expect to lose reviews to the algorithm and simply move on.
Rolling into the third decade of the millennium, eCommerce businesses now confront a new playing field: Written reviews must earn customer trust before they convert to sales. Happily, businesses can take advantage of a fresh avenue for user-produced reviews: video.
Lights, Camera, Conversions: Video Reviews
A person-to-person review from a trusted friend or family member tops all methods of consumer persuasion. For businesses that sell tangible products, video reviews submitted by a satisfied customer are the next best alternative.
Like an interpersonal encounter in real life, video simultaneously engages the senses of sight and hearing. Best of all, in an era where consumers approach reviews with increasing wariness, a video review that shows a product in action vaults the trust barrier.
A Feature To Dwell On
Video's immersive quality also pays off in measurable marketing terms. As customers research products, they click on a search engine results page item, view a web page, and then return to the SERP. The period spent on the product page is known as dwell time, with longer times indicating greater user engagement. Google refuses to disclose dwell time's effect on search rankings, but nearly every SEO specialist believes the metric plays a measurable role.
Video reviews deliver dwell time and the search rank improvement that follows. If your eCommerce business displays video among your text reviews, you may well score additional dwell time as potential buyers read a few written contributions.
According to a 2020 study cited by software provider HubSpot, 79% of surveyed buyers said that user-generated video contributed to their buying decision. Video resonates across the age spectrum but delivers best among millennials — the cohort born between 1981 and 1996. Research powerhouse Gartner reports that more than eight out of 10 millennials say a user-produced video will influence their buying decision.
Why Video Reviews Deliver
Research analyst Dann Albright summarizes some of video's unique strengths:
Video Makes Emotional Connections: While a well-written text review can spark an emotional response in a reader, a video can spark an even deeper connection. Albright highlights 2013 research on the brain's mirror neurons. When a person witnesses genuine emotion in a video, mirror neurons fire and create the same emotion in the viewer.
Customers Prefer Video: Compared to text, video assumes more of the storytelling burden. Unsurprisingly, research indicates that customers are

happy to let a video carry the load

.
Customers Share Videos: Video can also take on the marketing mission. Albright calls attention to research that finds consumers share videos 12 times more often than text or still images. Sharing turns user-produced product videos into an eCommerce force multiplier.
Video Delivers Conversions: Drawing on 2018 research showing the value of social media marketing, Albright argues that few selling tools are more efficient than videos shared on social media.
Lucasfilm production quality is not necessary for an effective video review. The persuasive value of a user-produced video review derives from seeing a peer, so some rough edges in production can even serve to enhance credibility.
Generating Quality Reviews: A Growing Imperative
A review strategy obviously requires reviews, but gaining credible reviews in an era of rising customer skepticism is a delicate dance.
Consider a Customer Satisfaction Survey
Many businesses have found success by emailing customers a short satisfaction survey before requesting a product or service review. This approach offers your enterprise the opportunity to iron out difficulties and keep the customer onboard with your product or service offering. Deliver prompt attention to your customer's concerns, and you just may earn praise from the customer with a follow-up review.
Limit your survey to five or fewer multiple-choice questions, and finish with an open-ended and optional comment section. Multiple choice questions only require mouse clicks and improve your odds of a reply. An eCommerce business that offers ongoing services instead of selling products may choose to send a survey on a quarterly or even monthly basis.
Ask and Ye Shall — Perhaps — Receive
The most straightforward way to generate a review is to ask. For brick-and-mortar businesses, the review request can happen at the checkout station. With a service enterprise, your technicians can close out a session with a verbal request. Either business type can also place a review request at the bottom of a receipt or invoice.
Nearly every business can use email for a review request. In comedy, timing is everything, and the same is true for emailed review requests. Some marketing professionals recommend a standard of two weeks after the sale, but tracking your request success rate is an even better route. An eCommerce business with comprehensive data can fine-tune the request timing on a product-by-product basis.
Sweat the Request Details
Along with timing, the quality of your review request is vital. Both your prospective customers and the Google algorithm love to see practical details in reviews. Beyond simply asking for a review, offer some product features to comment on. As with the timing decision, online sellers can customize these requests by product line.
This approach brings a trio of benefits:
You personalize the request, thus improving the odds of a reply.
You hike your chances for a relevant review.
You gain actionable feedback to improve your product or service.
Composing an email that requests details from your customers is a high-wire act. A too-wordy email may doom the request outright. Too brief, and you may forego those algorithm-friendly personal details. Use your reply success rate to fine-tune your request pitch.
Understand That the Value of Storytelling Is No Fable
Details build credibility in any user review, but University of Sydney professor Tom van Laer argues that those details are most effective in reviews that tell a story. With three colleagues, van Laer developed a software algorithm to scan reviews for phrases common to narrative storytelling. The professor observes that "Narrative qualities are among the hardest ones to fake," making them valuable for building credibility among wary eCommerce consumers.
The research team found that many effective reviews featured a "who, where and when" structure, making it easy for readers to form a mental picture. These images build engagement with both the product and your brand. The same imagery becomes even more effective when coupled with a narrative.
Marketing as a Journey
Part of van Laer's method was to scan for expressions of positive and negative emotions in the same review. Reviews that take readers on the journey from doubtfulness to success are marketing gems. "I was nervous about the expense, but this walk-in bathtub is such a pleasure to use," tells an involving story in one sentence.
Encouraging reviews that create emotional connections is a cornerstone of effective marketing. Generating such resonant submissions is unlikely to happen overnight. When you have gathered some, giving those reviews featured placement on your landing page or review section will subtly nurture similar contributions.
Once your eCommerce business has earned some favorable reviews, you can take steps to maximize their effectiveness.
Making the Most of Your Reviews
Employing proven graphic design practices and some common-sense marketing principles can turbocharge your hard-earned reviews.
The Basics: Essential Steps for Your User Review Strategy
Get your business's user review house in order with these measures:
Capitalize on Your Google Business Profile: A Google Business Profile costs you nothing to set up, but failing to keep your profile up to date will cost your business vital credibility. Brick-and-mortar businesses should keep their business hours updated, including holidays. The profile offers an easy and reliable route for user reviews, but customers who encounter a shoddy site may decide to click elsewhere.
Leverage SEO in Review Replies: Customers who leave reviews expect an on-site reply. Employing keywords in your reply pleases both your customer and Google's search algorithm.
Tell Your Business Story: Use your About page to revisit the moment that sparked your business's creation and the subsequent journey. Every customer relates to overcoming obstacles, and building this connection improves your odds of earning positive user reviews.
With the fundamentals in hand, your business can take full advantage of savvy marketing techniques.
The CRAVENS Model: A Sophisticated Route for Leveraging Reviews
Marketing consultant Angie Schotmuller established herself as a pioneer in the effective use of reviews in the early days of the eCommerce boom. She notes that when the purchase decision involves substantial buyer anxiety, deploying a landing page is like playing at the high-stakes table in Las Vegas. Irrelevant or low-credibility reviews will cost sales and even damage your brand. Conversely, effective reviews — particularly in those high-anxiety situations — can improve conversion rates by as much as 400%.
In 2014, she distilled her approach into a model with the acronym CRAVENS. Her acerbic advice is still relevant nearly a decade later.
Credible
With social proof, your friends and family rank first in credibility. The CXL social proof survey demonstrated the value of a photograph for building credibility with a user testimonial. Schotmuller advises clients to use a photograph of a recognized expert when possible.
Even with an image, she warns that potential customers can sense a testimonial crafted by a marketer. Her advice: Put yourself in your customer's shoes and see if that testimonial genuinely reads like something a fellow consumer would say out loud.
Schotmuller advises against formatting testimonials in auto-cycling carousels or sliders, arguing that these visual gimmicks undermine a testimonial's credibility. In line with many other eCommerce marketing specialists, she also stresses that a testimonial with a real name dwarfs the effectiveness of an anonymous review.
Relevant
Credible and authoritative reviews mean nothing unless they convey info relevant to the buying decision. Schotmuller notes that clients often focus on following canned best-practice checklists and fail to ensure that their review content aligns with the selling mission. Once again, the antidote is rigorous attention to the customer's needs.
Attractive
Hollywood screenwriters use the phrase "Hit 'em where they live" to describe the mission of making a profound connection with moviegoers. Schotmuller uses the same context when guiding her clients to add attractive elements to a landing page. In her estimation, the most attractive reviews acknowledge a customer's anxiety and couple this empathy with a credible solution.
Visual
With eCommerce website design, Schotmuller's mantra is "Visualize value. Don't distract." On a landing page, reviews of all types are supporting players, not the star. Toward this end, she often advises muting the color of review elements so that client's copy comes to the fore, delivering a user experience that is more than the sum of its parts.
Enumerated
Schotmuller points out that numbers in reviews can either enhance or substantially diminish a page's effectiveness. For starters, she advises that clients avoid including social media follower counts until a business has built a robust cadre of followers. A badge with a low count is a double whammy: It suggests a low customer interest and serves as graphic clutter.
Credible numbers are a different story. Drawn from a believable source, numbers build trust in a product or service. As part of her nuanced tradecraft, Schotmuller puckishly notes that a number with a decimal point can extra credibility: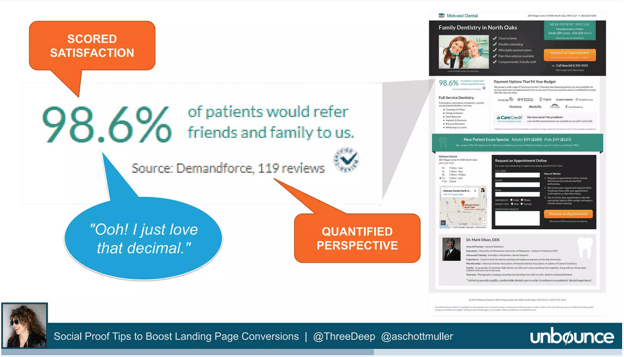 Nearby
Buyer anxiety is the hurdle to surmount on route to a conversion. Schotmuller urges her clients to identify the source of that anxiety and place an appropriate rejoinder nearby the page's call to action. Naturally, the social proof must be credible. Here she scorches a page designer for placing a low-credibility anonymous testimonial near the call to action: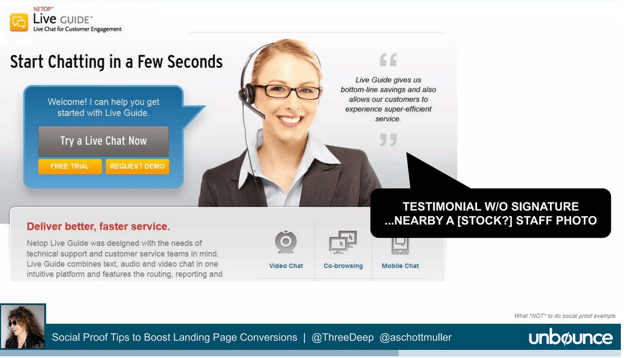 Beyond lacking a signature, the quote also fails to enumerate the savings possible with a vendor's service.
Specific
With eCommerce, your business is selling a solution to a problem. Adding customer-focused details to your social proof builds the case that your business understands your customer's problem and can deliver a solution.
Specifics, as viewed by Schottmuller, extend well beyond credible numbers. She urges clients to get visceral with a landing page's impact by including videos of customers putting the product or service into action.
Review Responses: The Final Frontier
In a 2016 overview of online marketing, trade publication Social Media Today reported that 52% of customers who submitted online reviews to an online seller expected a reply. Fast-forward half a decade, and nearly all online marketing consultants now advise responding to every review submission. Marketing strategist Eric Christopher outlines a basic response strategy:
Respond within 24 hours.
Address your reviewer by name.
Put "thanks" in your first sentence.
Quote or closely paraphrase at least one phrase from the review.
Sign off with another thanks and an invitation to shop again.
The hidden beauty of this approach is that the entire response requires only three sentences. Depending on your market segment, you may also enhance the response with a discount coupon or loyalty points.
Strategic Public Thanks
While every review merits a thank you email, should your business include a public reply for every positive review? For all but the highest volume eCommerce sites, the answer is "Yes." The way you reply to positive reviews can subtly influence the way future customers will structure their reviews.
For customers who respond with a vague but positive review, tack on a playful emoticon to acknowledge their courtesy. When a review offers more detail, reply with a couple of sentences and a reference to a feature the customer admired. When a customer goes above and beyond with a review that engages emotions, your business should reply in kind:
Our team worked overtime on this feature. They were on cloud nine with your review!
Glad to hear that Janet gave you such great service. We could not be more proud of her.
Thanks for using our new parka on Mount Rainier. That photo is breathtaking.
Along with responding by thanking your customers for their praise — and constructive criticism — your team will need policies for unalloyed negative reviews. These responses can enhance or tarnish your brand.
The Hidden Positives of Negative Reviews
LinkedIn's Sean Callahan notes research from 2017 that found 82% of shoppers actively seek out negative reviews as a step in their decision process. With wariness on the rise among online shoppers, that percentage is still holding strong. Buttressing other research, the same study noted that consumers grow suspicious when cumulative star ratings climb above the 4.7 mark. The upshot: A few negative reviews enhance credibility for both products and brands.
For a case in point, consider an Amazon product page. The eCommerce giant allows customers to vote for the most helpful positive and critical reviews. These two review categories in turn crown the review lists. The most helpful positive review on a typical page will nearly always include some constructive criticism. Customers crave credibility; when they find it, they click the purchase button.
Walking the Walk
Negative reviews will never be fun to read, but a resourceful business can mitigate or even reverse the harm. A critical review can be an opportunity to show your concern for your customers. Prompt action can mitigate the damage and even convert an unhappy customer into a loyal customer.
If possible, spell out your solution in your public reply. This step builds additional confidence among on-the-fence prospective customers.
For the happy situations when your eCommerce business earns a positive rejoinder after a negative review, you have two options. One avenue is replacing the original review. A more credible approach is leaving a public thread with the original complaint, your remedy, and the final response from your now-satisfied customer.
Deleting Negative Reviews
Should your business delete unfavorable reviews? In most cases, no.
Abusive language merits automatic removal. If you suspect an organized effort to sully your brand, this situation justifies removal on a case-by-case basis. Otherwise, once your business has made a good-faith effort to deal with legitimate customer concerns, the best response to a few bad reviews is earning an ocean of positive feedback to counter them.
Shopper Approved: Your Partner for Effective Reviews
With consumers growing ever more wary of online reviews, credible and high-quality reviews have never been more vital for online selling. Shopper Approved's uniquely capable tools are the answer to this challenge.
For your seller rating, our platform outshines competing solutions with a successful review collection rate approaching 30%. As a Google Review Partner, Shopper Approved ensures that your seller reviews generate maximum impact.
That commitment carries over to your product reviews. Our know-how leverages your product pages for maximum effectiveness across organic searches, Google Product Listings ads and Google Shopping.
Best of all, our proven onboarding process can put these tools to work for your eCommerce business without delay. Schedule a demo today and see for yourself.
Other posts by DJ Sprague