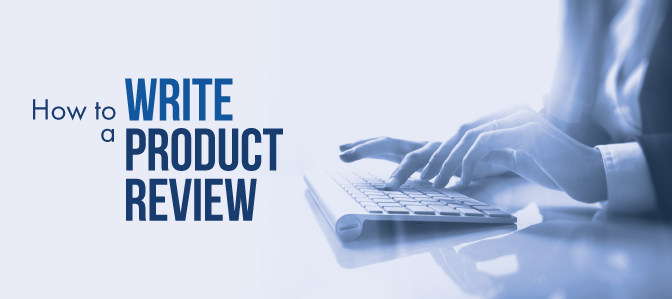 How to Write a Product Review
Did you know, 76 percent of people value online reviews as much as personal recommendations? By writing product reviews, not only are you helping prospective buyers make a decision, but you're also offering feedback for the business, whether you loved or hated their product.
Writing product reviews provides businesses the opportunity to understand where they're excelling and where they're failing to meet expectations. They serve as a guide on how companies can improve, which can help nurture and strengthen their credibility. Therefore, sharing your thoughts and experiences on a product is a vital component of the customer journey. Take a look at some key steps on how to write a product review.
4 Steps to Writing a Great Product Review
Use the right platform
Create a list of pros & cons
Consider the quality of the product
Don't stray away from long reviews
1. Discover the Right Platform
Ninety-five percent of shoppers read online reviews before making a purchase. In this digital age where technology is rapidly evolving, there are countless sites, apps, and platforms, where we can share information. Sometimes it's obvious and easy knowing where to post. For example, if you buy a product on Amazon, you can leave a review on Amazon on the product page.
But, if you've bought a product in person at a retail shop, you'll need to put in a bit more work to post a review. The shop likely has a website, so you can look up the product and leave a review on its page. Or, there may be a Google product page you can post a review on, which can be a better platform. As people often use Google to learn about products and who to buy from, it's a great platform to gain visibility. After all, Google makes up 57.5 percent of all reviews worldwide.
Say you purchased a unique product from a small local shop and they don't have a product page set up in Google nor do they have their products listed on major e-commerce websites like Amazon. In this case, you'll want to try posting a review on their website if they have such functionalities.
Another option is uploading a review on their Google My Business profile. You can check if they have one by doing a simple Google search of the company/shop. If they do, you'll often find a box on the right-hand side of the search results page that carries information like their name, address, hours, and most importantly, their reviews!
Wherever you decide to post a review, make sure it's a valid, trustworthy, and visible platform where customers like yourself can help each other make educated decisions.
2. Create a List of Pros & Cons
Sometimes, it's hard to piece together a solid product review. This is when a classic pros and cons list comes in handy. It helps you think about the positive experiences you've had and any negative ones that may have inhibited you from reaping its full benefits. So draw that "T" on your paper, and jot down your answers to the following questions:
Did the product arrive on time?

Did the product function as advertised?

How easy was it to put together the product, and were there thorough instructions

attached?

Were there any issues or errors with the product? If so, was it the fault of the company, or did the issue occur during delivery?
It's important to be as specific as possible. If you find that the issue was due to an error on your end, be careful not to frame this as a complaint. This will only tarnish the quality of your review and won't provide any value to your fellow consumers.
3. Consider the Quality of the Product
We get it—sometimes, the product looks completely different than what it did online. And this might be because of the poor quality material that's used in the product or the way it functions.
Whatever the case, if there are any disappointments, be sure to note these. That way, potential customers are given a heads up, and the business can (hopefully) make the necessary changes to enhance the quality of its product. And if the products met and/or exceeded your expectations, share this too!
A few questions to help you write up good feedback include:•
Does it meet or exceed reasonable expectations? How so?

How does it compare to other products in the market?
Another good way to reflect on quality is by setting up grading criteria for the product. These criteria will differ across different items you purchase and review. For example, if you recently bought a bike, you'd want to cover key components such as how it rides on different grounds (pavement, dirt, grass, etc.), safety features, durability, and performance.
But if you were to review a pair of sneakers, your criteria would probably entail factors like the quality/durability of the material, how long it takes to break in the shoes, and comfort level.
4. Don't Stray Away from Long Reviews
If you have a lot to say/share, don't be afraid to leave a long review. Expanding on your pros and cons and the quality of the product gives readers more value and insight. Be sure to start with a sentence or two that summarizes your points/thoughts to give readers a general idea before delving into the details.
You can think of writing product reviews as a tool that builds a digital community of trusted experiences; these experiences help people make educated decisions. So be thorough, honest, and objective. As you probably are aware, customers don't want to be tackled with a ton of marketing messages and advertisements—they want to know the real deal before hitting the "purchase" button.
Check Out Quality Reviews
Here at Shopper Approved, we specialize in collecting quality ratings and reviews from customers like yourself. These product reviews help educate and motivate both the buyer and the business. So the next time you make a purchase, be sure to use our tips above to craft a valuable review and check out our certified reviews.