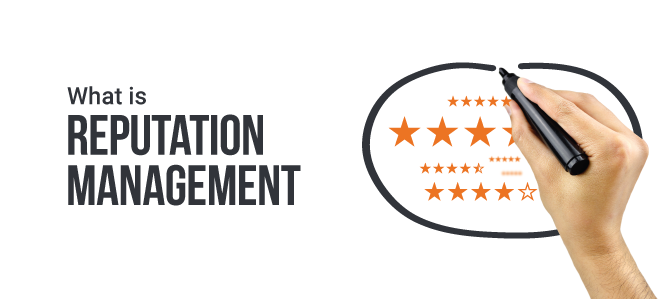 What Is Reputation Management?
Reputation management is the process of creating, maintaining, and repairing your public image. You know what your brand is and what it stands for, but how do other people think of it?
With the numerous apps and technological innovations today, these judgments are primarily based on what people see online. Therefore, reputation management is about using online tactics to influence what and how people think of you and/or your brand.
In today's digital age, with information being exchanged at a rapid pace, it's imperative to keep tabs on your reputation. So keep reading, as we flesh out all the details behind—what is reputation management?
How Can Reputation Management Help Your Business?
The web is an extremely powerful and influential platform that can make or break your brand/business in a second. This makes reputation management a tough but critical job in harnessing control over your public image. Many organizations and brands who incorporate this strategy into their business build a solid reputation that brings:
Higher transparency and trust with their customers
Higher returns

High-quality employees who are willing to stick around for the long-run
Reputation Management and Online Reviews
Reviews play a central role in your online presence and image. One of the reasons why reviews are critical to your online success is because they instill credibility and trust in your customers. According to a survey, 82 percent of consumers said they are more likely to buy a product from a website if it displays positive ratings and reviews. Moreover, 94 percent have expressed that "an online review has convinced them to avoid a business."
Online reviews are the lifeblood of the majority of local businesses like restaurants and mom-and-pop shops today. Reviews are word-of-mouth marketing, so it's crucial to encourage consistent reviews to keep these businesses afloat. It's vital to publish these reviews on critical pages of your website along with business listing platforms such as Google My Business and social media platforms to gain more visibility and organic traffic.
Speaking of traffic, one of the reasons you need online reviews for your local business is that they help boost your SEO. Online reviews help search engines decipher how well your brand is meeting the needs of your customers. So the higher and more rankings you have, the more likely you'll win a prime spot on the SERP page that'll bring you more visibility on the positives of your business.
How to Manage Your Online Reputation
Reputation management often goes by names such as online reputation management, rep management, and brand perception. Whatever you decide to go with, the goal is to shape public perception of yourself, your services, and your products. Not only is it about highlighting the strengths of your business, but also effectively countering any negativity targeted at your brand.
Reputation management often focuses on three key components:
Conducting extensive research

-

Examine

the web for mentions of brand/product names and identify areas for growth opportunities. Setting up Google Alerts is a great way to start

monitoring your reputation online. You'll see what people are saying about you online and when negative articles, blog posts, reviews, or images are being posted.

Burying the negative - Using site optimization, search audit, competitive analysis audit, etc.) to bury negative results/comments about your brand and illuminate the good news and
benefits about your brand.
Growing the positive

-

R

eviewing acquisition and management, SEO, and content strategy to publish and promote what your brand/business is

really

about. Shopper Approved carries key distribution channels, social plugins, and schema codes that will help

seamlessly display your positive reviews.
Grow a Positive Reputation—Contact Us
Though you can conduct this strategy on your own, reputation management is a tough job. Many businesses hire reputation management companies to help them really dig in and strategize innovative ways to secure a better brand identity and a brighter future.
We can be that company for you. Here at Shopper Approved, we value quality above everything else and can provide your business with high-caliber reputation management services at a competitive price. We'll get your Google Seller Ratings and reviews, product reviews, and local reviews up and running to help you gain the positive reputation you deserve. So be sure to contact us today!
Reputation Management articles: