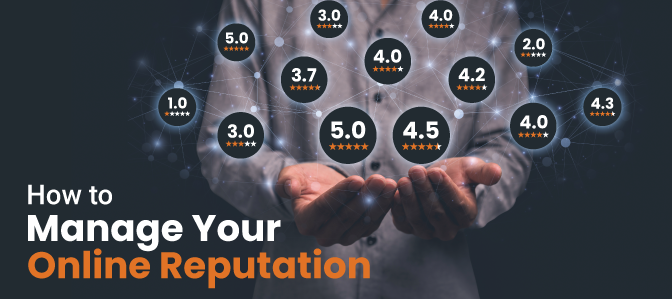 How to Manage Your Online Reputation
Forbes Magazine, Gallup, Harvard Business Review, and Pew Research all say that we are in "nothing short of a trust crisis." People are looking for organizations they can trust, and 31% of consumers polled are even willing to pay more for it.
This means that your online reputation is a crucial part of growing your business because people are actively looking for signals of trust, credibility, and social proof. Customers across the world are spending more time than ever researching the trust signals of their options and competitors before they decide where to spend their money. And as the new form of word-of-mouth marketing, an online reputation can make or break a sale.
Your customers are out there talking about your company on social media and review sites, and if you're not part of the conversation, you're missing a big opportunity to influence your reputation and increase sales. But managing your reputation definitely takes some time and know-how.
If you're wondering how to manage your online reputation, we can help. We've gathered 12 expert tips to help you hone the perfect reputation management strategy, so you can grow your customer base and build greater loyalty with existing customers. Keep reading to learn how to do online reputation management like a pro.
Tips on How To Manage Your Online Reputation
1. Create and Monitor Social Media Accounts
One of the first steps to managing your online reputation is creating social media accounts. People will be talking about you on social media, whether you're joining in on the conversation or not, so it's better to have a presence and see what customers are saying. Start with just one or two platforms that are most relevant to your business, such as Facebook and Instagram. You can expand to Twitter and Pinterest once you've learned the ropes and are consistent with the other platforms.
Now that you have a presence on social media, it's important to capitalize on the opportunity by responding quickly to customer inquiries and comments. Customers might reach out to you directly by sending a message on Instagram or Facebook, or they might tag you in a post on their own feed. In either case, take time to acknowledge their post and give an appropriate response. You might thank them for a shoutout, answer a question, or resolve an issue they have with your product. Designate one person to respond to these comments, and make sure they do it within a few hours to 24 hours.
With your social media platforms under control, it's time to take things to the next level by asking for online reviews. Though a small percentage of customers might leave reviews on their own accord, you'll really ramp up your online presence by regularly inviting customers to write you a review on sites like Google and Yelp.
You can do this by asking in person when customers come to your store or by sending an email blast or promotional text. You can also take a more passive approach by highlighting reviews on your website and posting review site stickers in your storefront window.
4. Incentivize Customers
Asking for reviews is an important step in building your online reputation, but many customers will need a little more incentive to leave a review. Though you can't incentivize customers directly (most review sites, and especially Google, will penalize you for giving away freebies or discounts in exchange for posting a review), there are many things you can do to motivate your customers. Try hosting a party and creating a unique hashtag to go along with the event, or give customers a coupon in exchange for their email address. Once you have their email, you can send them an invite to leave a review.
5. Be Honest
Many businesses get overly concerned with their online reputation and compromise the integrity of their brand in the process. This brings us to the golden rule of reputation management: always be honest! Customers are increasingly aware of brands that have ulterior motives or who only have their own interests in mind. Make sure you admit fault as needed, do what you can to fix problems, and be transparent about your company at all times.
6. Focus on SEO
Another important part of how to manage your business's online reputation is optimizing search engine results. This means incorporating keywords and links into your blog posts, website copy, and social media content. Hiring an SEO expert can help you earn a better rank in search engines like Google. We use and recommend a company called Big Leap.
7. Create Content
Businesses with the best online presence don't just leave their reputation in the hands of their customers—they're out there actively creating content to promote their brand. No matter what type of budget you have, you can dabble in content creation by starting a blog, taking and posting photos of your products, and creating video content to share on social media. Customers will discover this content as they research your brand, and it will influence their opinion of what you have to offer.
8. Partner with Influencers
Another way to create content is by letting influencers do it for you. Influencers are people with a large following on social media or a blog, and they may be the best shot you have at reaching your target audience in a seemingly organic way. Hire an influencer marketing agency or reach out to influencers directly to ask them to partner with your company. Remember that you'll need to pay these influencers for their work, or at least give them free products.
By law, the FTC requires that influencers, experts, affiliates, or anyone else who is paid to promote your brand disclose this fact. As well as anyone who receives free products in exchange for a review. Google also prohibits this, so make sure that there is no payment or compensation of any kind in exchange for a review. It's both illegal, prohibited, and unethical.
9. Invest in Your Website
While it's true that customers will be learning about your business from review sites, your website will be another vital resource for them to make purchasing decisions. Invest in a quality website that's easy for customers to navigate from a desktop or mobile device. Customers are busier than ever before, and they're looking for a shopping experience that is quick and aesthetically pleasing.
The user experience (UX) can make or break your business. People automatically question a slow-loading website, or a website with broken links, poorly written content, low-quality design and graphics, lack of an easy-to-find address and phone number, or when it's difficult to navigate.
Negative reviews don't just go away if you ignore them. Face these reviews head-on by promptly responding to the customer and seeking a resolution that will change how they feel about your business. Acknowledge and validate the feelings of the customer, admit fault if your company was in the wrong, and take the conversation offline. Offer a replacement product, a coupon, and a heartfelt apology.
11. Clean Up Your Reputation
With all the effort you've put into your reputation management strategy, you're ready to start cleaning up the negative information that might be out there about your company. Flag reviews that are profane or untruthful, and you might be able to get them taken down. You can also suppress negative content by creating your own content optimized for search engine results. Though this is becoming more difficult than it was.
Remember that you'll never be able to completely remove every single negative tidbit on the internet—and you won't want to, either. Customers will be suspicious of companies with customers that don't have anything negative to say about them.
12. Be Consistent
The internet is always changing. Now that you know how to manage your business's online reputation, stay consistent. Even a few weeks of letting up on your monitoring could be disastrous if you happen to miss a negative review or viral video about your business. So be vigilant and check in on your social media accounts and review sites every few days. Your consistency will be rewarded with growing brand awareness and a more committed customer base.
Also, be consistent in the delivery of your product or service. Do your best to live up to, even over-deliver your brand promise and advertising claims. If you are setting expectations that can't be delivered, you are setting yourself up for disappointed customers and bad reviews.
Learning how to manage your online reputation can be overwhelming, but Shopper Approved can help alleviate the stress. Our company exists to help businesses like yours get more visibility, clicks, and conversions by establishing the right trust signals at the time along the customer journey. We'll help you exponentially improve your trust signals and social proof, and increase the number of reviews you're getting with our easy-to-use review software. Find a customized approach at the right price to help your business grow. Learn more today.
Other articles related to managing your online reputation: