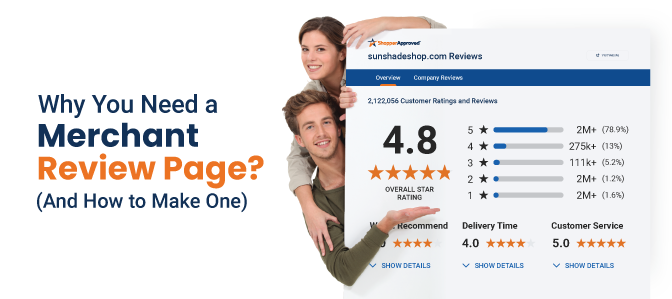 Why You Need a Merchant Review Page – And How to Make One
A merchant review page is a web page created by a company that displays recent reviews left by its consumers. It should be unbiased, displaying both positive and negative reviews. The purpose of this page is to give potential consumers insight into the company directly from the website instead of having to explore other sites for reviews (Yelp, Google, etc.).
How will a merchant review page help my company?
Reviews increase SEO Rankings
Search engines, like Google, favor unique content that is valuable to its readers. Reviews are incredibly unique because they are all written by different consumers about their unique experiences with your company. They are actively sought out by potential customers, increasing their value. Therefore, merchant review pages tend to increase the rankings of a merchant's website.
They help consumers make a purchase decision
92% of consumers read reviews prior to making a purchase decision online. By providing easy access to online reviews specifically about you and your products, you're streamlining their research and making it easier.
Reviews increase your credibility
That you are willing to display reviews, good and bad, makes you seem transparent about your work. In fact, too many good reviews make consumers distrustful of a company or product, so having positive and negative reviews increases the confidence of customers buying from you.
How do I create a merchant review page?
A merchant review page should be developed with the same look and feel as your website, you're really just adding a page. This page should be accessible in the footer of your website, and you can add a link to it in the header as well. If you're collecting through a third party, use a button or widget to display that.
The merchant review page is the ultimate insight into what consumers think of your company. It should include an overall star rating collected from your customers, as well as text reviews describing their experiences.
Shopper Approved creates a merchant review page for each of its clients, and allows merchants to link their websites to these pages. Check out this Shopper Approved merchant review page to get an idea of how yours should look: http://www.shopperapproved.com/reviews/movingaheadservices.com/
However, you can (and should) create your own merchant review page as well as the link to third-party review pages.
What functions does my merchant review page need to have?
Social Sharing
Having social media share buttons for each review allows you and other customers to easily share reviews they find on your page. That's an easy marketing strategy for you, and a fun way to let customers share their experiences with you by word-of-mouth.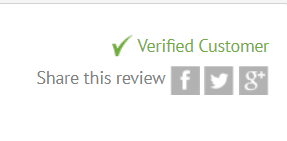 Easily accessed
It should be easy for consumers to find your review page. Having a link in your header is a great way to leave it in plain sight for visitors. For Shopper Approved clients, there's a Shopper Approved button that takes customers directly to all of your Shopper Approved reviews, as well as a widget that will display some reviews directly on the page! If you check out Moving Ahead Services, you'll find the widget loaded to their home page just below the fold.
Automatic updates
Your merchant review page should automatically update every week or two with recent reviews so that customers are seeing up-to-date information. Studies have shown that reviews over a month old are considered outdated by 44% of consumers, so these automatic updates are critical to maintaining a solid online reputation.
Battling Skepticism Head-on
Some consumers just aren't going to trust testimonials that you post on your website. If someone has a bad experience with you and leaves a scathing 1-star review, are you really going to post that to the top of your reviews page? Probably not. You're not going to lie or hide it (in most cases, you can't), but you do have more leniency as to what reviews are displayed front-and-center.
So what's the solution?
Create links to third-party websites that have reviews about your company. Give consumers a way to read reviews that they know are honest and unbiased. You can link to your Yelp page, Google reviews, and other third-party sites so consumers know you're transparent about your reviews.
When you collect reviews through a third-party company (like Shopper Approved), displaying that company's seal on your website gives an increased sense of security for consumers.
The benefits of a merchant review page, coupled with the credibility of linking to third-party sites, are clear. The unique content leads to an increase in SEO rankings, streamlines the review and research process for consumers, and can create credibility if done correctly.