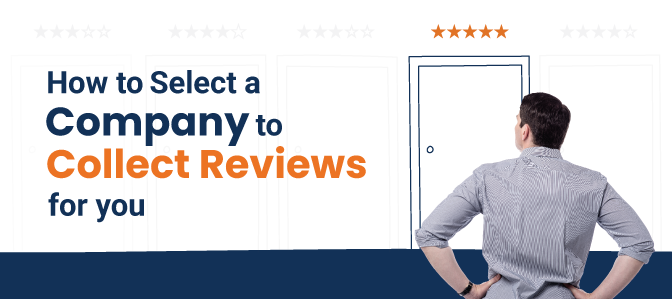 How to Select a Company to Collect Reviews for You
In our post "Three Myths About Online Reviews Debunked", we discredit the negative stigma surrounding syndicated reviews. The benefits are clear: more reviews are collected and more reviews are seen by your potential audience. Hiring a third-party review aggregator is a great strategy for collecting reviews, but it's crucial to find an ethically sound, client-oriented company that will collect the reviews you need.
Here are some major criteria to look for when searching for a third-party review aggregator:
Make Sure They Syndicate to Major Search Engines
Reviews on your website offer unique content, but those reviews aren't going to show up on Google, Bing, or any other search engine if the company you are collecting reviews through isn't syndicating your reviews. Syndication is key. Your reviews need to be visible to consumers.
Make Sure They Don't Offer Incentives to Consumers Leaving Reviews
A recent study of Amazon reviews confirmed that incentivized reviews are skewed. On average, products with incentivized reviews had a rating of 4.74. Unincentivized, the reviews were 4.36. Doesn't seem like a big difference? Well, Amazon felt that the data was skewed enough that they banned the collection of incentivized reviews on their website.
Incentivized reviews leave consumers untrusting of the given perception of a product or company. Incentivized reviewers are 12 times less likely to leave a 1-star rating. This effectively skews the star rating to be more positive than it probably would without incentives.
Think you can't possibly collect reviews without incentivizing them? Think again. You can collect active reviews with companies like Shopper Approved. This software uses micro-commitments to get initial feedback upon a consumer's purchase. Once the product is received, a full survey is sent for an evaluation of their overall experience.
Make Sure They're Collecting the Right Kind of Reviews
Passive and active reviews aside, there are different types of reviews you can collect. You may (probably) fall under more than one category, so choose one or two review types most relevant to you.
Seller
Google Seller Ratings and Reviews are collected for the company and ask about your customer's overall experience. You can read more about seller reviews here.
Product
Product reviews are collected on a per-product basis. Once a customer gets the product, they're asked to give feedback on it. Read more about product reviews here.
Local
If you have multiple locations, local reviews can be collected for each individual location. They can be collected on the go through multiple methods. Read more about these types of reviews here.
---
As with any business investment, do your research and make an informed decision. Reviews drive business, so if you're paying a company to collect reviews for you, make sure it's the right fit.