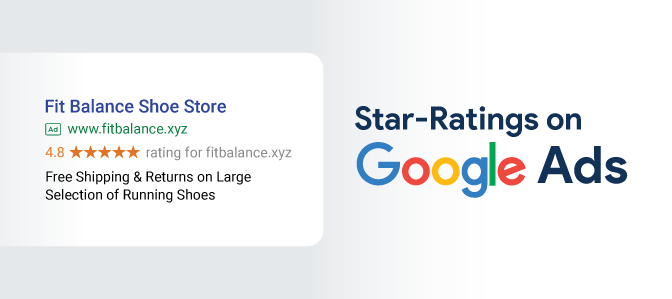 Star-Ratings on Google Ads
By adding star ratings to Google ads, companies see an increase of 20-30% in clicks. However, getting these stars to show up on Google ad campaigns has become more challenging in the last couple of years.
Google has updated its policies for displaying star ratings for sellers while running Google Adwords ads. Before, merchants were only required to have 30 unique reviews posted or syndicated to Google for stars to display in Google search ads. The changes implemented have changed that number to 150 reviews.

This poses a challenge to merchants, especially to small business owners who may hardly be making 150 sales in a month. It makes the pursuit of active reviews more relevant than ever.
That's Not the Only Stipulation
Sellers must have 150 reviews in a rolling 12-month period. The purpose of this rule is to keep up-to-date reviews and information available to consumers.
Merchants must also have at least a 3.5-star rating. Both conditions must be met for your stars to be displayed next to Google ads. Sellers are not charged extra for having stars shown next to their ads! It can just be more difficult due to the number of reviews required. Reviews must also have comments for Google to count them as legitimate reviews.
Why The Change?
Google is committed to providing the most accurate information to those using its services. Increasing the minimum number of reviews to 150 gives more credibility to the seller and makes Google more confident in "recommending" that business to others.
Where can the reviews come from? Seller ratings are pulled from a number of sources, but Google is picky about where those ratings and reviews come from. These sources are listed below directly from Google's support page.
Google Trusted Stores, is a free certification program that helps shoppers discover online stores that consistently offer a great shopping experience.
StellaService is an independent company that analyzes the quality of your customer service through the measurement of your customer care, shipping, and returns.
Aggregated performance metrics from Google-led shopping research.
Ratings from Google Consumer Surveys, a market research platform that we use to collect data for certain domains and businesses.
Shopping reviews for your store domain, which include reviews from various independent sources.
3rd party review aggregators (like Shopper Approved) that are trusted by Google to provide honest feedback for merchants
To check out the reviews Google has for your company currently, go to https://www.google.com/shopping/seller?q=yourdomainnamehere.com and make sure to put in your domain name. This page will tell you what your Google star rating is, the number of reviews you have had in the last 12 months, and where those reviews are coming from.
If you want to check it out for yourself, here is Google's page about Seller Rating Extensions for ads.
Because of these new challenges that retailers now face to display Google star ratings on their ads, it's important to know the most effective ways to get these ratings displayed. Find tips here to get more ratings and reviews to show up on your Google ads!