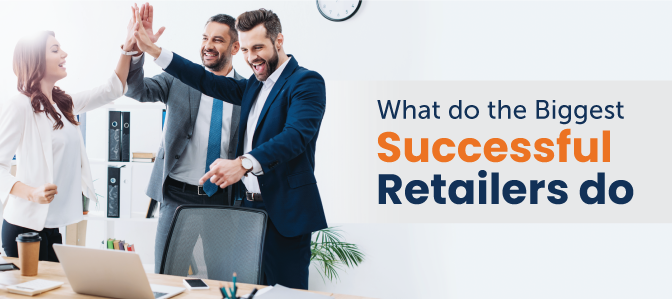 Successful Retailers: What Sets the Best Online Retailers Apart
Dreamed of being as big and successful as companies like Apple and Amazon? Amazon started as an online bookstore, and now competes as the largest e-commerce marketplace in the world! What sets retailers like Amazon apart and makes them so successful?
Innovate… but Not Just New Products
Innovation isn't just about creating a new product. The biggest piece of innovation is finding new ways to provide your customers with more value. Customers follow value.
Amazon is practically the leader in innovation when it comes to finding new ways to appeal to customers. In 2017, the online giant expanded into the grocery market with the buyout of Whole Foods and the roll-out of Amazon Fresh. They offer additional value to their customers with easy returns and free shipping.
Apple offers quality products and adds value to them by making all of their products work together easily. Users can get messages on their laptop, iPad, phone, or watch. This easy integration between devices has proven valuable for many users and has established a strong loyalty base.
Read and Follow the Market
Amazon was one of the first major online retailers to offer free 2-day shipping. That realization of customers' wants, before even the customer knew they wanted it, was wildly successful.
As time has passed, fast and free shipping has become the new expectation. By reading the market and being the trendsetter, Amazon captured and has retained a huge amount of market share. Walmart has been the closest competitor, offering free shipping on orders over a certain $ amount. Other retailers are following suit with about 49% of online retailers offering free shipping.
There is also the transition to online selling that has tripped a number of big retailers up.
Sears has closed over 70 stores, The Limited closed all physical locations, and Toys R' Us are just a few of the most notable companies that filed for bankruptcy or bankruptcy protection recently. Many of these companies failed to reevaluate their online strategy as falling foot-traffic reduced physical store sales. The transition to online stores and customer engagement has become a critical, and often fatal, mistake if not taken seriously.
Analyzing market trends and responding appropriately is something big retailers do to remain successful. It's also key to watch for the next big trend. If you jump on it before someone else does, it could be as successful as Amazon's Prime membership.
Provide Great Customer Service Wherever They Need It
Customer service and engagement have also made their way into the online realm.
Most customers expect to be able to reach out to brands on social media. 80% use some form of online communication to reach out to companies.
Gone are the days that a customer could have a bad experience with a company with few ever learning about it. Online reviews have put the good, bad, and really ugly on display, requiring a whole new level of customer service.
Online reputation management has become a topic of concern and excitement for many companies over the last decade. For many, it's been an opportunity to differentiate themselves from the competition. For some, however, it's proven fatal if not managed properly.
Negative reviews can significantly impact a company's bottom line if they aren't handled appropriately and balanced with positive reviews (you can learn how to effectively manage negative reviews here). However, the best way to manage an online reputation is to actively collect reviews. By actively collecting reviews, you're collecting more honest feedback from real customers, giving an accurate depiction of your company. There's also evidence to show that a higher number of reviews tend to lead to a higher star rating. If you'd like to read more about active reviews, read this post here!
Another key component in creating happy customers is the ease and cost of returns and exchanges. Consumers may feel like they're taking a risk ordering some products online (clothes, for example) and about 79% want retailers to offer free return shipping.
Do your research, watch trends, and innovate to keep up with the largest, most successful retailers.