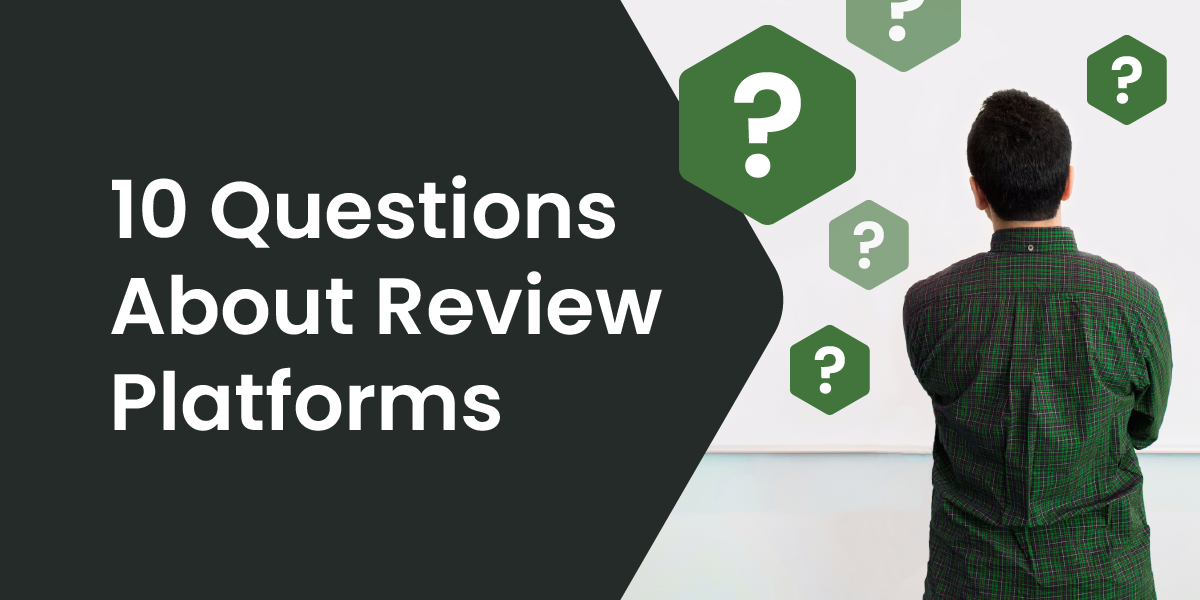 10 Questions to Ask When Considering a Review Platform
Choosing the right review platform for your business can be a daunting task, as there are many options available in the market with different sets of features. However, asking the right questions can help you narrow down what you hope to achieve by using a review platform.

In this way, you can make an informed decision and feel confident moving forward with the review software you choose.
What Ten Questions Should You Ask When Considering a Review Platform?
What is the platform's reputation and credibility?

Research the platform's history, reviews, and ratings (on sites such as G2 and BBB) to get an idea of its track record. Look for indications of how well the platform works for (and with) businesses of your size and with your goals.


Does the platform offer a variety of review collection methods? Look for a platform that offers multiple ways to collect reviews, such as email requests, in-app prompts, or SMS messages. This can help ensure that you collect more reviews from a wide range of customers.



Is the platform easy to use and integrate with your website?

Choose a platform that will integrate with your website and other software you are using. (If the platform's site doesn't say, ask; some review providers will do custom integrations.) In addition, don't underestimate the value of a user-friendly interface. Well-designed UX/UI can save you time and stress in the long run.


What level of customization does the platform offer? Customization can make a big impact when it comes to merging your branding strategies with your review collection efforts. Look for a platform that allows you to customize your review requests, landing pages, seals and certificates, and email templates to match your branding and voice.



What level of security and data privacy does the platform offer?

Ensure that the platform has adequate security measures in place to protect your data and the data of your customers. Look for platforms that comply with data protection regulations, such as GDPR and CCPA.


What level of support does the platform offer? Look for a platform that offers comprehensive customer support with multiple options for contacting them based on your needs. This includes support via email, phone, and chat. This way, when issues arise, you can address those problems quickly and efficiently.



Does the platform offer review monitoring and management features?

Choose a platform that allows you to monitor and manage your reviews effectively. Look for features such as sentiment analysis, review response templates, and review flagging.



How does the platform handle fake reviews or spam?

Ensure that the platform has robust measures in place to prevent fake reviews or spam. Look for features such as fraud detection algorithms, human review processes, and IP tracking. Ideally, your review platform should be dedicated to collecting only reviews from verified customers.


What kind of analytics and reporting does the platform offer? Look for a platform that provides detailed analytics and reporting features. This can help you gain insights into your customer feedback, track your review performance, and identify areas for improvement.



What is the pricing model and is it affordable for your business?

Consider the pricing model of the platform and whether it fits within your budget. Look for platforms that offer transparent pricing plans and no hidden fees. It is also very important to consider what your cost per review will be. In other words, will the platform be collecting enough high-quality, verified reviews for you to create value that matches (or exceeds) the cost.
How Do These Ten Questions Help Guide You When Choosing a Review Platform?
These questions will help you think through what you really need from your review service. You can narrow down options based on what features will most help your business grow. Use this list to evaluate different review platforms and make an informed decision based on your ecommerce business needs, marketing goals, and website requirements.
You can find the answers to many of these questions by reading through the websites of the platforms you are considering, as well as searching for articles from professional reviewers, journalists, and industry groups.
But also, do not be afraid to reach out to a representative of the platform itself to ask your questions. Take notes of their answers and follow up with more in-depth queries as they occur to you.
There is a possibility that not every review software platform will hit the target for your needs in all ten areas, but as you ask questions and gain information, you will be able to weigh the individual strengths and weaknesses of each review company to ultimately find the best overall review partner and value for your ecommerce business.
How the Shopper Approved Review Platform Can Help Your Business Grow
As ecommerce review, traffic, and conversion experts, Shopper Approved partners with small businesses worldwide to help you:
Collect 10x more reviews overall
Collect only high-quality reviews from verified customers
Display your reviews in the most impactful places across the web
Leverage video reviews to turn customers into influencers
Create social proof and trust signals that convert shoppers into buyers
Turn customer questions into content that boosts SEO
Strengthen website security so customers feel confident
Shopper Approved has a full suite of traffic and conversion tools to help ecommerce websites get noticed, build trust and credibility, gain customers, and most importantly, increase sales.

Sign up for a free 45-day trial here; or read the related article below to learn more.
Related Articles You May Find Helpful