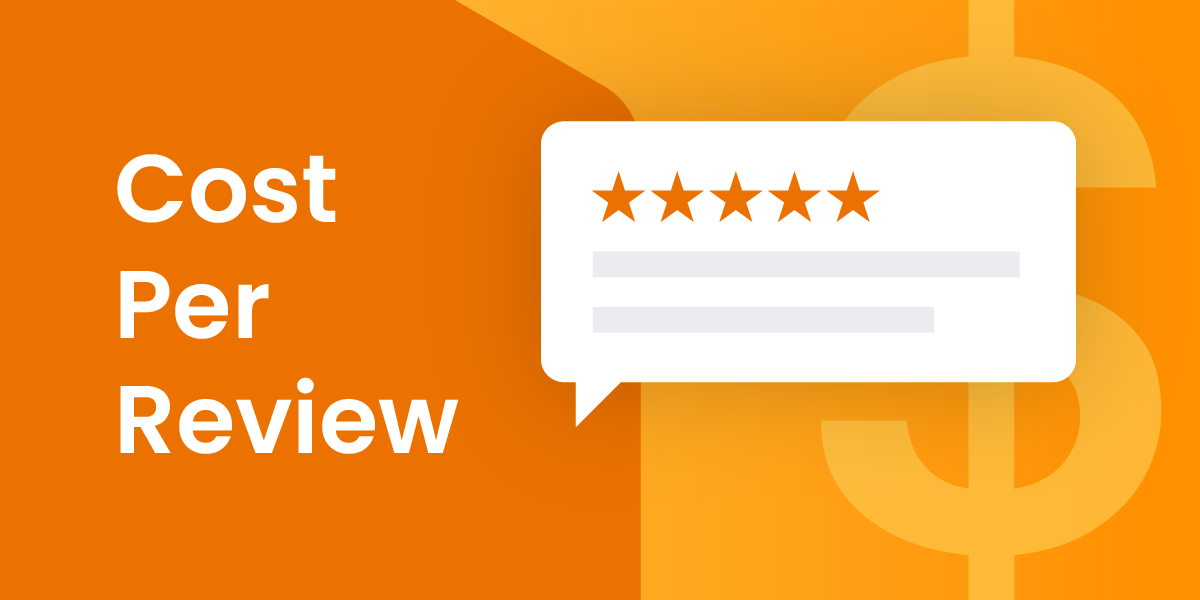 Cost Per Review: The Most Important Overlooked Marketing Metric for Ecommerce
Average Read Time: 8 minutes
What You Will Learn:
What "cost per review" means

The big impact ratings and reviews have on traffic and conversion

How reviews affect PPC ad performance

The eight marketing and sales metrics influenced by cost per review

How Shopper Approved provides the greatest cost per review value
Introduction
There is a little-known marketing performance metric that is catching on for ecommerce marketing. Digital marketers are coming to understand the power of this single metric that helps improve all other KPIs (key performance indicators).
It's called cost per review, or CPR. Keep reading and you'll learn why and how CPR works to impact your entire conversion funnel.
How Do Customer Reviews Help Digital Marketing?
Customer reviews create powerful, free user-generated content (UGC) that serves as social proof (brand endorsements) and heightens the perceived brand popularity. This type of content not only attracts and influences consumers during organic searches— which is exactly what Google is looking for when evaluating content— but it also affects how well a paid search campaign will work.
Knowing this, it's easy to see how this simple strategy of leveraging reviews creates a positive ripple effect on your customer journey across the web.
Is User-Generated Content (UGC) Useful in SEO?
UGC is extremely SEO and Google-search friendly, because it's timely, can come in high volumes, is relevant, often packed with brand keywords, helpful to the consumer, and comes straight from an unbiased source (assuming you collect reviews from verified customers). As a simple SEO and conversion strategy, user-generated content is hard to beat.
In addition to the impact UGC has on SEO metrics, remember that the most effective way to establish consumer trust and confidence is through trust signals. Shoppers look for shortcuts to help them know whether or not they can trust an online business and hearing about positive experiences that other customers have had creates confidence in a brand's website and products.
User-generated content such as ratings and reviews create trust, especially verified customer reviews from a Google Review Partner like Shopper Approved.
What Data Shows That Reviews Create Trust and Help Sales?
Just a few data points here to emphasize how online reviews create trust signals before we move on to the juicy stuff:
Now, as promised, on to the really juicy stuff…
Why Are Ratings and Reviews Such Powerful Marketing Tools?
The reason customer ratings and reviews are so effective at improving your marketing performance is that they are the only form of social proof that positively impacts every single aspect of the sales funnel. This includes off-site, organic search results and SEO, on-site page visits (your homepage and individual product pages), and conversion into a sale at checkout.
What KPIs Do Ratings and Reviews Impact?
Ratings and reviews are the only form of social proof that positively affect every key performance metric which has a direct, positive impact on sales, profits, and margins:
Cost per impression (CPI)
Cost per click (CPC)
Click-through rate (CTR)
Cost per lead (CPL)
Conversion rate (CR)
Average order value (AOV)
Return on ad spend (ROAS)
Customer acquisition cost (CAC)

Why Are Ratings and Reviews So Effective for SEO?
One of the reasons why ratings and reviews are so effective is because Google places a lot of value and emphasis on them throughout their entire search engine— particularly the star rating, the total number of reviews, and the recency of reviews.
These ratings have a direct positive impact on every single organic search listing or paid ad that they are displayed next to. Star ratings also increase visual acuity (visibility), because the human eye is naturally drawn to ads with stars.
According to Google, this directly correlates to an increase in click-through rates by an average of 17% — however, seeing a 30% increase in CTR is not abnormal.
Does Having a Better CTR Affect Paid Ad Performance?
By increasing your CTR, you also increase your ad relevance, which can significantly reduce your cost per click, giving you a double benefit. More clicks for less money means more traffic for a smaller ad spend. You can then use these cost savings— which can range from hundreds to thousands of dollars depending on your ad spend— to buy more targeted ads to drive even more visitors to your website.
So if, as the data shows, reviews drive more online visibility, clicks, and conversions, then more reviews in more places, at the lowest cost per review is a critical marketing performance metric that drives all others.
How Can a Business Generate Social Proof and UGC?
If your goal is to generate a lot of user-generated content and maximize social proof from high-quality, verified customer ratings and reviews, then the best way to achieve that is with the help of a Google Review Syndication Partner who can distribute those reviews far and wide, creating a massive online footprint.
Because Shopper Approved is a Certified Google Syndication Partner, we collect only verified customer reviews, and distribute those reviews across the entire Google search network. This includes:
Google Seller Ratings
Google Adwords
Google Shopping
Google Product Listing Ads
Google Organic Search
YouTube
And because of all this exposure, we help your products stand out in search and increase your click-through rate (CTR) by up to 30%, while simultaneously reducing your PPC bid cost due to more efficient ads that get more clicks.
How Do Ratings Appear in Rich Snippets in Organic Search?
Below are a few examples of how stars appear in your schema markup or rich snippets. (For more examples, and a detailed explanation of Google Seller Ratings, check out our post "What Are Google Seller Ratings.")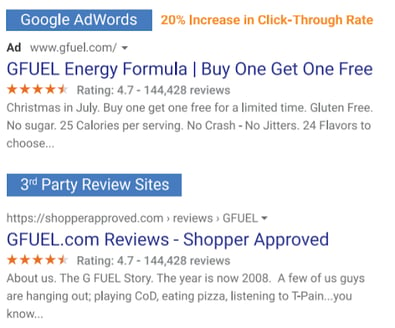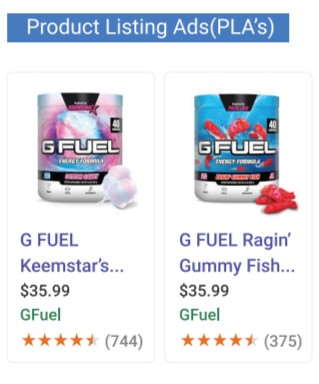 When you use our review widgets and seals, reviews will also appear on your website to help build trust and confidence at the point of sale on product and checkout pages. Showing social proof to shoppers at this critical decision-making juncture has been proven to increase conversions.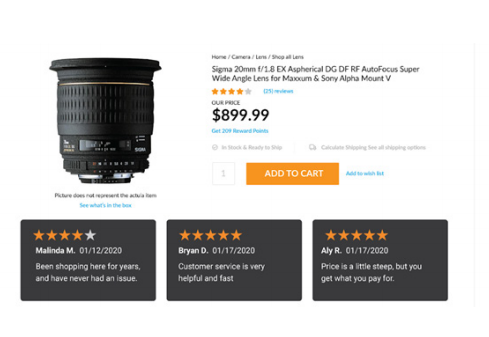 Is There Proof That Ratings and Reviews Have Helped a Business Succeed?
As an example of how marketing with trust signals, reviews, and social proof works to build your business, here is what one of our Inc. 500 clients said about how we helped catapult his success:
"We now have more and better reviews than any of our larger rivals. And with the Shopper Approved Survey Destinations tool we distribute our reviews on other 3rd party review sites, allowing us to collect more reviews and display them in more places, which improves our click-through and conversion rates. We owe our success and Inc. 500 Fastest-Growing Company award in large part to Shopper Approved."
Nelson James, COO, Signs.com
Summary: If You Want to Improve Digital Marketing KPIs, Do This
Ratings and reviews increase the visibility of your brand and products by showing up high on Google's results page, including in featured snippets. This generates trust in shoppers, which increases organic traffic to your page as well as the likelihood of a conversion once the customer arrives.
When consumers continually see positive reviews for your company across the internet, they become pre-converted and predisposed to buy from you, which means that they are likely to spend more per visit, increasing the average order value, as well as return to buy again and again, which reduces customer acquisition cost and overall cost per lead.
The most efficient way to make all of this happen is by investing in a ratings and review platform that gets your reviews out across the web and in front of potential customers. So, if you want to improve all your other marketing performance metrics, start with getting more high-quality, verified customer reviews in more places that count, at the lowest cost per review.
How Shopper Approved Can Help Lower Your Cost Per Review
Shopper Approved's Traffic & Conversion Suite was created to collect more reviews and display them in more high-impact places across the web than any other review platform.
From the timing of our review surveys and reminders, to the simple user-interface which makes it easy for customers to leave seller ratings, product reviews, and even instant video reviews, our platform was designed from the ground up to help you attract, convert, and keep more customers so you can grow your business.
Recommended Further Reading