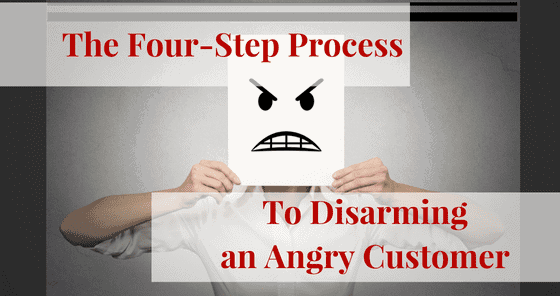 The 4 Step Process to Disarming an Angry Customer
I recently had an issue with my internet service provider adding unusual fees to my bill. As if that wasn't frustrating enough, when I called in, I couldn't get answers from anyone in their customer service department!
How to Flip Angry Customers to Happy Ones
I understand that mix-ups and mistakes happen, I'm not an unreasonable person. But how you handle those issues can permanently alter a customer's perception of the company. Had my conversation been positive and my issue handled professionally, I would have been much less likely to take my business elsewhere.
It's one thing to keep happy customers happy, but making an angry customer happy is an entirely different monster. These steps will disarm your unhappy customer and practically force them to put you on their good side again!
1. First Apologize
If you or the company made a mistake, own up to it. If the customer misunderstood something, apologize that whatever they misunderstood wasn't more clear. Even if the misunderstanding or mistake wasn't the company's fault, apologize. Customers don't want to feel dumb for misunderstanding something or like they are being blamed for a faulty product. And it's up to you to make sure they don't feel that way!
2. Then Understand the Problem
It's frustrating to call a company with a problem where nobody cares enough to understand what the issue is. You need to understand exactly what's wrong before you can fix the problem. Ask questions. Show that you're engaged and that you care.
"Your customer doesn't care how much you know until they know how much you care." – Damon Richards
3. Now Console
If a customer calls you angry about a product or service, console them. "I absolutely understand your frustration; I would be angry if my new (insert product name here) spontaneously combusted too!"
Now you've related to them and shown real empathy. They couldn't possibly still be angry at you, right?! You've become more of a confidant, a comradery against the wrong done to them. At this point, they likely believe you're going to take care of them (next step: do it).
4. Finally Remedy
Make the customer happy. What are they looking for? A refund? Exchange? If it is within reason, give it to them happily. Be a problem solver! If they don't know what the remedy is, offer one. Maybe it's 10% off their next order or a replacement product. If you first apologize, console, then understand, you can find the right remedy for this customer.
While faulty products, returns, and exchanges may mean a small loss for the company, an unhappy customer is guaranteed lost business. You lose them and you'll likely lose people in their network. However, turn their negative experience into a positive one, and studies show that 80% of those unhappy customers will become loyal customers!
To get more customer service and online reputation management tips, subscribe to our blog!