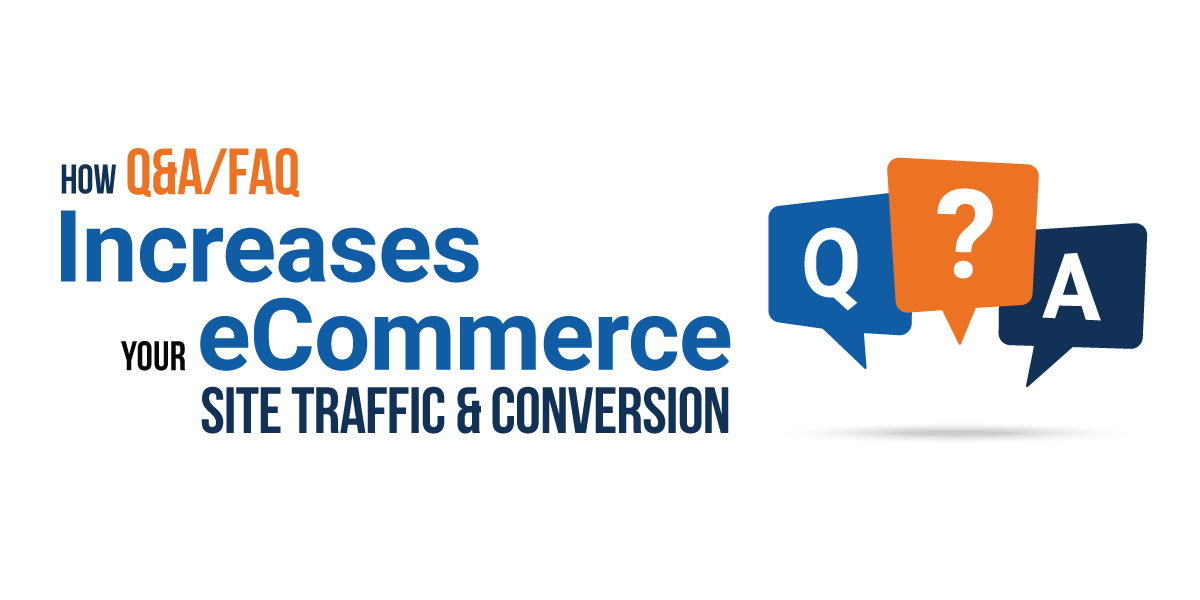 How Q&A/FAQ Increases Your eCommerce Site Traffic and Conversion
Does Q&A improve traffic and conversion to your eCommerce website?
The answer is Yes. Search optimized Q&A can improve,
Overall site traffic up to 2x
Up to 5.5x higher click-through rate (CTR)
Up to a 75% conversion rate (CVR)
There are other financial benefits to using the right, searchable Q&A that include,
40% higher position in organic searches
Up to 35% increase in Google impressions
Average customer lifetime value (LTV) up to 2x higher
In this article, we'll explain how to set up a highly effective and search optimized Q&A on your ecommerce site and give you some tips for making the most of it.
---
Introduction
If you're like most ecommerce store owners, you're always looking for ways to increase traffic and conversion. One way to do that is by using Q&A/FAQ (questions and answers/frequently asked questions) properly on your site. Q&A can help increase traffic because it provides a valuable resource for customers, and it can help increase conversion because it makes it easy for customers to find the information they need.
Search optimized Q&A is a powerful way to improve your SEO, traffic and conversions by providing the best answer to the search query in the top organic search results, while bringing the click traffic directly to your product page where conversion happens naturally.
Continue reading to discover how an optimized and advanced Q&A tool can grow your online sales and revenue.
The Right Q&A Improves SEO
If you're hoping to increase high purchase-intent, high-converting traffic and sales on your eCommerce website, you should know that success is in the details of what your Q&A content is, and how it's structured.
One of the best — yet overlooked — ways online store owners can attract clients and boost sales is with an advanced and sophisticated Q&A app, designed from the bottom-up to find the answers to the questions that your shoppers are asking, and then structure those answers for easy and accurate indexing by the search engines.
Q&A is also known as FAQ or Frequently Asked Questions. And because search engines, including Google, Bing and Yahoo are essentially question and answer engines to help online users solve their problems, answer their questions, and serve up the most accurate and high-quality information they are looking for, search engines naturally prefer a high-quality, easy to find and index answer.
An effective Q&A tool that is designed for SEO and attracting clicks achieves two critical goals: It answers the critical questions shoppers have in the top organic search positions, often times even capturing the coveted featured snippet or Position 0, while also linking the search traffic directly to the answer on your product or category page, which is something a lot of tools cannot achieve.
When your search traffic goes directly to the answer on your product page, the traffic also tends to be more engaged, spend more time on the page, and convert to a purchase at a higher rate.
Have you ever clicked on a search result, expecting to go directly to the full answer, solution, or product, and instead be dropped on to a blog article, a home page, or some other location you did not expect, which did not address your need or question? This is a terrible user experience, and does not help with generating sales.
On the other hand, by giving shoppers and Google quick, easy access to crucial answers to questions they have about the brand, the product category, the specific product, or the solution while online shopping, you create more online visibility through search optimized Q&A, which builds trust, traffic, and sales.
What Is Q&A?
Q&A stands for Questions and Answers, and replaces the old FAQ page that was not built for SEO, or searchable by the site visitor.
Q&A is a searchable database of the most common questions that shoppers may have about your products, your product category, and your website or brand. It's an exceptional SEO and customer service tool that you may already be using but maybe not to its full potential.
Many companies today still rely on link campaigns, backlinks and content creation to help potential customers find their products or services. These are all essential parts of search engine optimization, but there is another proven way to reach your target market: through search optimized Q&A by Shopper Approved. By simply using the right Q&A tool, and answering the frequently asked questions that people have about your product, you'll see larger increases in traffic, conversions and customer lifetime value.
Shopper Approved Q&A is a potent SEO tool that marks up your eCommerce FAQ content with the right code to make them easy for Google to index. This allows your helpful answers to customer queries to become premium content for Google's Featured Snippets, or top organic positions, which not only appear first but also link directly to your product pages.
Having this information easily visible in search results means that Q&A improves your organic traffic, credibility, SEO ranking and conversion rates. It increases profits even more by bringing customers back and reducing support team costs.
Click Here to Watch the Video to Learn How it Works
Why Is Q&A Important to the Consumer?
Q&A/FAQ answers the critical questions potential buyers have and builds their trust in your brand and products. Many online consumers have common concerns, doubts and questions that they need answers to. In fact, the crucial question regarding conversion is: "Can I trust this product?" People looking to buy online want to be sure that the product they purchase will meet their expectations.
You won't make the sale if your answers are shaky, incomplete or unsatisfactory or if the shopper can't easily find the information they need on your site. A potential customer will close the tab and start searching elsewhere.
Potential clients are looking for a smooth, comfortable experience on every landing page. So, if there is a robust, easy-to-find FAQ list available on the main menu for each product, they will likely buy. You can efficiently address most of their fears and objections with thoughtful Q&A information, breaking down barriers to conversions. When shoppers see that you take your product seriously and care about the customer's point of view, they will see you as an authority and ally in their purchase.
Why Is Q&A Important to Google?
We've established that Q&A/FAQ is critical for the customer experience. However, Google takes your Q&A as seriously as the customer, and you should take Google seriously, too.
With nearly 90% of the global search engine market share, Google is the most dominant search engine in the world. As of the end of 2021, Google sites had close to 270 million unique visitors in the United States and was the most used search engine in almost every country, except for China and Russia.
With so much information and SEO manipulation on the internet, Google works hard to ensure that search bar results are relevant and helpful for the user. This is why it highlights important information in Featured Snippets and offers other tools such as People Also Ask.
What Are Google Updates?
Every so often, Google updates the algorithm it uses to determine rankings and visibility. These updates modify the factors that take a website to the top of the rankings. Luckily, Shopper Approved Q&A provides answers to the critical questions shoppers have, helps you create quality content, and addresses the newest Google updates to keep you at the top.
While most of these modifications are minor, Google will occasionally roll out an update that changes SEO forever. You should keep a close watch on these when working on optimizing your site.
For example, the Panda update in February 2011 began assigning quality scores to web pages, which Google began factoring into the rankings. This caused problems for pages stuffed with keywords and low-quality content created to manipulate search results. The following year, Google incorporated the Penguin update, which down-ranked pages and sites that used manipulated backlinks.
Hummingbird was the next big update that again targeted low-quality content. In 2015, the Mobile update ranked pages without mobile versions lower. Over the years, there have been several more updates, and now Google does what it calls Core Updates, which are important updates that are most often improvements to past changes.
Does an FAQ Section Address the Google Helpful Content Update?
In 2022, Google rolled out the Helpful Content Update, which has the goal of helping queriers see the most helpful content "written by people, for people" in their search tool instead of ranking sites using content created with the sole purpose of boosting traffic. It is a sitewide signal, meaning that Google analyzes the website as a whole instead of looking at separate pages.
The update didn't target a specific category or niche; however, Google mentioned that websites with content related to shopping, technology, entertainment, or education would likely see a more significant impact with the update's release.
Overall, to claim a top spot in Google search rankings after the Helpful Content Update, your focus should be on high-quality content, such as a Q&A/FAQ section that answers the critical questions shoppers have, as well as the removal of copy that doesn't perform well, isn't there to help customers, or has poor quality backlinks.
How Can You Stay Ahead?
Google Search Central offers several tips to creators about the new Helpful Content Update. These suggestions include:
Focusing on people first, not search engines
Demonstrating knowledge and expertise
Writing helpful posts for your customers and answering their questions
Avoiding extensive automation
Not giving false information just to attract traffic
Removing unhelpful content
Following these guidelines, Shopper Approved Q&A addresses the Google Helpful Content Update.
How Can You Create Helpful Content?
Customers can easily tell the difference between content that is helpful and content that is only meant to drive traffic, and Google is keeping this in mind now, too. When your Q&A/FAQ answers the critical questions shoppers have in a sincere, helpful way with no sales hype, Google will rank you higher.
A few helpful methods for coming up with useful questions and answers include:
Evaluate your competitor's products and compare them to your own
Think of ways your products provide an alternative to more expensive or popular products
Brainstorm potential or concerns customers might have about your product or similar product
Think through the setup or installation process to see what types of common problems customers might face
When creating valuable content for a Q&A page, remember what your customer is looking for, what language they speak and why they need your product. Ensure that each question and answer is easy to find and understand, even for someone unfamiliar with the product.
What Are the Benefits of Helpful Content and Better Rankings?
By finding the most vital questions people are asking about your products, category or brand and answering them in a complete, objective and honest way, you can:
Double your traffic

Increase your Google impressions by up to 35%

Double your average customer's lifetime value

Rank higher in organic searches

Achieve up to 5.5x higher click-through rate

Increase customer time on site
Creating a great FAQ page that will help your customers is worth it. Not only will Google rank your site better, but you'll attract more shoppers and traffic.
How Does Q&A Improve SEO and Traffic?
When your Q&A/FAQ answers the right questions and applies SEO best practices, you can significantly grow organic traffic and fill your sales funnel.
Q&A Improves Organic Traffic by Dominating Search Results
When someone searches for your product or a question related to it, the first thing that often appears on the page are the Featured Snippets. These little highlights typically include long-tail keywords that give accessible information to the querier and statistically receive almost 50% of clicks.
Shopper Approved Q&A is the only tool available that helps you optimize your FAQs for search engines by making the helpful information from your website indexable and searchable. It ensures that each question has the correct URL structure and schema markup. In addition, Q&A makes you a trusted authority by getting your detailed answers in those Featured Snippets.
Q&A Improves SEO Strategy and Rankings
Q&A/FAQ answers the critical questions shoppers have but also helps you improve SEO. Q&A product pages are text, which presents you with an excellent opportunity to add search-optimized content to your website. Not only will search engines be able to index each product page, but you can also choose to implement a subdirectory or a subdomain for every question and answer on your site, which helps Google find and target this information more easily. Double SEO opportunities can equal better results. You can also opt to include your product descriptions and other documents in these subdirectories, which gives additional relevant SEO copy for search engines to work with.
An additional feature that boosts SEO are Q&A's suggested questions and searches. Shopper Approved Q&A offers you suggestions of common questions that customers search for so that you can address those and add relevant blog posts and other content to your website.
How Does a Questions Page Improve Conversions?
High conversion rates are an indicator of a successful marketing strategy. You may already have a strategy in place for conversion rate optimization, and it might be doing all right. However, eCommerce is tricky, and a well-structured plan including Q&A is essential.
Q&A improves conversion rate because it is subconsciously preparing customers to buy. In fact, three out of four customers that find a product page via Shopper Approved Q&A will purchase the product.
Q&A Makes You a Trusted Authority on Your Product
When a potential customer heads to Google to research a product, there are specific roadblocks sitting between them and a purchase:
Is this business legitimate and trustworthy?
Is this product priced right? Is it good quality?
Does the product fit the customer's needs or wants? Do they need it now?
To remove these barriers, shoppers must perceive you as an authority and feel confident in your products and brand. Q&A/FAQ answers the critical questions shoppers have, which leads potential clients to see that the product is a good fit by providing detailed information and eliminating doubts. The more shoppers see you as a resource, the more likely they will convert and become loyal customers.
It's also important to work toward domain authority. The position of your website, its visibility and the amount of traffic it receives give you domain authority. The contents of your web page are directly related to that. To achieve domain authority, you must have page authority. Google algorithms pick up quickly on quality pages receiving high amounts of traffic, so it's always a good idea to ensure that each product page is as high quality as possible.
How Does Shopper Approved Q&A Work?
Shopper Approved Q&A works in a relatively simple yet effective way. In summary, customers have questions, you provide the answers, and these answers show up in Google for other users to find.
1. The Customer Comes With Questions
The Q&A process begins with the customer. When potential clients are looking to buy, they head to the internet with all of their doubts and concerns, hoping to find the answers. If they feel they find enough detailed information, they will probably purchase the product they were considering.
On the top of each product Q&A page, potential customers can see how many questions you have answered about a specific product, as well as a space for them to ask new questions. This builds trust by demonstrating that you actively answer questions and know your products.
2. The Customer Asks and You Give the Answer
Common FAQ questions should answer the critical questions most shoppers have. When you give detailed and informative answers, the customer feels they have made an informed decision before buying. According to Google, there are specific questions that a perfect FAQ page should always answer:
What does your product cost?
What are the pros and cons of your product? What are the benefits and problems?
How long will your product last? How long will it take to see results?
Are there alternative products and solutions? How does your product compare to competitors' products?
How can the customer maximize the product's benefits?
Are there different payment options?
What delivery times can the customer expect?
What are your return policies?
You should also provide answers to questions about your company, manufacturing process and ideology. Google also suggests adding longer, more complex answers as blog posts that address customer needs and related questions.
To help you build the most relevant Question and Answers page possible, Shopper Approved Q&A gives you insights into which questions shoppers are asking Google and how often. It also shows your competitors' generic questions and answers so that you can provide better answers and outrank them. You can even incorporate essential keywords into your questions and answers.
3. Q&A Optimizes Your Answers for Google Featured Snippets
When you answer repetitive questions using Shopper Approved Q&A, these answers are search engine optimized using the correct coding and formatting to help Google find and index them. As a result, the more answers you give, the more likely it is that your Q&As will show up in Google as Featured Snippets, leading to increased traffic to your site.
4. Your Answers Also Appear as Organic Search Results
The answers provided help your page show up in the organic search results when someone tries to find answers to that specific question.
5. The Best Results Are a Group Effort
Q&A/FAQ answers critical customer questions, but it works best alongside other proven conversion methods. It forms part of Shopper Approved's Traffic & Conversion Stack, which leads your customer through their buying journey using seller ratings, product reviews, Q&A, reputation management, video reviews, social evidence and website security.
What Other Benefits Does the Shopper Approved Q&A Have?
There are plenty more benefits that Q&A can bring to your business. Many of those can increase your profit margins or decrease losses.
Advanced Q&A Search Features
The Shopper Approved Q&A tool uses advanced search features to find the questions and answers to the product you sell that are frequently being asked on Google, as well as other marketplaces. This helps you identify what is already out there, and create a better answer.
Q&A Increases Customer Lifetime Value
One of the pillars of a financially stable business is high customer lifetime value. There are plenty of advantages to paying attention to your CLV.
You pay the acquisition cost every time you sell to a first-time customer, meaning that by focusing solely on attracting new customers your business is less profitable than it would be if you were focusing on increasing your CLV. Brand loyalty and repeat purchases will cost you less in the long run and give you larger profit margins.
The more you make, the more you have to reinvest, and the more room your company has to grow. By paying attention to your CLV, you will have more in the budget to reach out to a specific target audience and draw in those new customers.
One of the best ways of increasing customer loyalty and lifetime value is to show the customer how much they matter to you. While this can include giveaways, public posts of appreciation, or an interactive digital presence through live chat, social media, and other means, it also means incorporating tools such as Shopper Approved Q&A. Improving customer experience in this way can potentially double CLV. Your Q&A/FAQ answers the critical questions shoppers have. The better experience customers have on your online store, the better they'll feel about you and your products and the more likely they will be to recommend you to others and come back themselves.
Q&A Significantly Reduces Customer Support Needs
You can't overlook customer service when working to attract and retain customers. Customers expect you to treat them a certain way and hope to get their questions answered quickly and easily.
Customer service is important enough that three out of four shoppers will pay more for a product that includes excellent service. Conversely, your sales and profits suffer if your potential customers can't get the information they want or need or if your customer service team treats them poorly. So, it's crucial to invest in this area of your business. Fortunately, part of your customer service is already done for you when you implement Q&A on your e-Commerce site. The more answers the customer can find without talking to someone or submitting contact information in support tickets, the better.
Having quick answers to top questions already on the site is a great way to provide instant information and doubt resolution. The best FAQ pages answer the critical questions shoppers have so effectively that you might even decrease your support needs by up to 60%. You could save much time and money on employees, equipment, internet connections and utilities simply by adding basic a table of contents with FAQ information to your e-commerce store website. Q&A does the work for you.
Q&A Reduces Return Rates
The more transparent you are about your products and the more information you can provide through the FAQ knowledge base, the less likely you are to have many returns. When the customer can thoroughly investigate the product on your eCommerce store and feel satisfied with the level of information available, they are likely to feel satisfied with the product. They'll have a realistic idea in mind of what the product is before it even gets to them.
When a customer feels informed during a purchase, the likelihood of a return or negative review is low. This saves you return costs and can help keep your online reputation positive.
How Can You Get Started With Q&A?
While there are plenty of ways to improve SEO and offer a good customer experience, Shopper Approved Q&A/FAQ answers the critical questions shoppers have while simultaneously boosting website traffic, increasing conversions, improving SEO rankings, reducing support needs and return rates and increasing CLV. Every eCommerce company can benefit from the tools and techniques that we offer. If you have any questions or doubts about how Shopper Approved Q&A can work for your business, please reach out. We'd love to talk more with you about getting started with Q&A.
More articles on Q&A