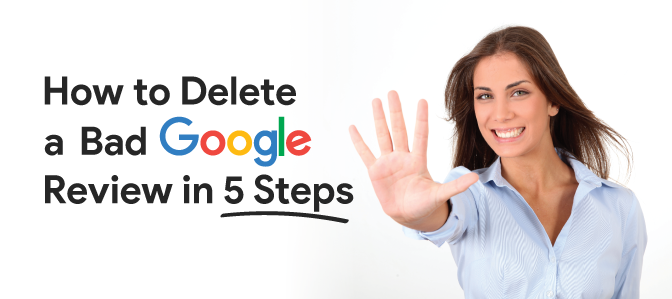 How to Delete a Bad Google Review in 5 Steps
Can Companies Delete Google Reviews?
Yes. Follow these steps to delete a google review:
Sign into Google My Business or open Google Maps and locate your business.
Find the review.
Click the three vertical dots to the right of the review and select "Flag as inappropriate."
Complete a brief report of the issue and submit your email for follow-up communication.
Everyone knows Google is the most popular search engine site in the world. It's even generated its own term, "Googling," which is widely used when referring to searching online. As of September 2019, Google claims almost 93% of the global search engine market share, so it should be no surprise that Google has the most visible review and rating system online.
In today's world, online reviews exert significant influence over consumers. In fact, 95% of people say customer reviews influence their purchasing decisions. Google recognizes the power of online reviews and has adjusted its algorithm and features to use reviews in providing more value to its users.
Since jumping into the review game, Google has become one of the fastest-growing review platforms for several reasons:
Google's scale, visibility, and cross-functionality. For example, as a search engine, Google offers people the option to leave a review every time someone searches for a local business.

Google's native integration into Android devices helps get Google reviews in front of a large percentage of smartphone users.

Google pushes for users to leave reviews, with notifications sent after frequenting a business.

Business owners are more inclined to encourage customers to leave reviews on Google because of its visibility and effect on organic search rankings.
The power of reviews on Google is a double-edged sword; Google reviews can make or break your business. Positive reviews and ratings are one of your company's most valuable marketing tools. But sadly, people do leave negative, downright mean, or even fraudulent reviews. When that happens, businesses need to know how to get rid of bad reviews on Google.
How to Get Rid of a Bad Google Review
The good news is that Google reviews aren't necessarily forever. So when a negative one crops up, don't panic. Above all, don't lash out at the reviewer (that will only make you look bad to other customers). Unfortunately, Google doesn't offer anything as simple as a "delete" option for reviews, but there are things you can do.
1. Evaluate the Situation
The first step in figuring out what to do about a negative Google review is to determine if the review is real. Fraudulent reviews can be left by competitors or just random people who have never even used your products/services. Check your records, review customer support tickets, and do everything you can to find out what you can about the customer and their situation. This will help you in Step Two as well.
If you can't find any indication that the person who left the review has ever frequented your business or used your product/service, then it might be fraudulent. Fortunately, Google has a process for dealing with these situations. Be aware that the process can be slow and doesn't guarantee that the review will be removed.
Most negative reviews, however, will be from legitimate customers. It's important to look with an open mind at how they were dissatisfied with their experience, and decide if there are things your company needs to change in order to do better. What could have been done to give the customer a satisfactory experience instead? Make the needed changes to avoid getting future bad reviews.
2. Respond to the Review
The most effective way to handle a negative customer review is to respond to it. In fact, the most effective way to handle any review is to recognize and respond, and the quicker the better. This benefits your business in two ways: it builds trust with your customers and builds trust with Google itself.
Google encourages businesses to interact with customers. According to the Google My Business support page, "Responding to reviews shows that you value your customers and the feedback that they leave about your business." Google wants to recommend the most credible businesses to their users, and going above and beyond by publicly responding to customer feedback, whether positive or negative, demonstrates credibility and helps you get seen more in Google search results.
Responding to reviews shows your customers—and search engines—that you are committed to customer satisfaction. Today's consumers expect online reviews to open up a two-way flow of communication. Sure, responding is easy when the review sings your praises, but what if the review is negative, or even fraudulent?
You should especially respond to negative reviews. Doing so can actually create positive results. Studies show that 7 in 10 consumers changed their opinion about a brand when the company replied to a review. Specifically, the response made them feel the brand truly cared for its customers (41%), had terrific customer service (35%), and was trustworthy (22%). People who read responses to negative reviews also showed higher sentiment toward the product, and greater intent to purchase.
For some extra guidance on the right way to respond, take a look at these 6 Strategies to Manage Negative Reviews.
3. How to Remove Google Reviews That Are Fraudulent
Even if you know a review is fake, respond to it too. Remember, you're not only appeasing the reviewer, but you're also showing others how you respond to unsatisfied customers. There are ways to reply that show excellent customer service while cluing in readers that a review may not be legitimate. For example, after apologizing for the unsatisfactory experience, you could mention that you'd love to take care of the problem but can't find any record of them or their purchase, and invite them to contact you.
After you've answered the review, alert Google by flagging the review. You always want to respond, though, even if you report the review, because potential customers may still see it, or it may not be removed. NOTE: Flagging a review is for ones you believe are fraudulent, not for ones where you and the customer simply disagree.
How to Flag or Dispute a Fraudulent Review
Flagging a review lets Google know it is fake or doesn't comply with review policies. To flag a review:
Sign into Google My Business or open Google Maps and locate your business.

Find the review.

Click the three vertical dots to the right of the review and select "Flag as inappropriate."

Complete a brief report of the issue and submit your email for follow-up communication.
Make Sure to Follow Up
Don't just sit back and wait for Google to handle everything after you've flagged a review. It's a good idea to keep following up with Google to check on the status.
4. Win over the Customer
Sometimes the answer to the question on how to delete a Google review is that you can't—but your customer can. More often than you may realize, customers are willing to edit or delete their reviews after you've taken care of their problem. Consumers often view their reviews as living documents. Just look at how many reviews are updated to show an evolving experience.
Customers use negative reviews as a way to reach out to a company. When that business responds to the review and works to remedy the problem, many times unhappy customers can switch to happy customers who are ready to use the brand again in the future. So win them over with your excellent customer service, then ask them if they still feel negative about your business. If they have changed their mind, ask them to edit or delete their Google review.
When they agree, make it as simple as possible by giving them the steps to follow:
Open Google Maps on their computer or device.

In the top left, click Menu (3 horizontal lines).

Select Your Contributions.

Choose Reviews.

Next to their review of your business, click More (3 dots).

Choose an option (edit or delete) and follow the instructions.
5. Amplify the Positive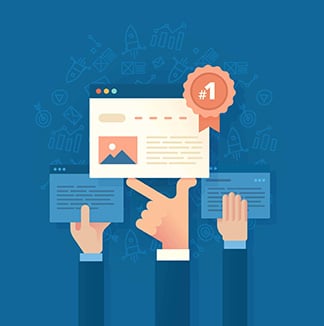 For Google reviews to be the most effective, it's important to have a steady influx of new, fresh reviews. Having current reviews from customers is crucial because 85% of customers won't entertain reviews more than 3 months old. Getting more Google reviews not only keeps that 85% happy, but positive reviews can also help drown out the negative ones as well.
Make an effort to get as many reviews as you can by asking customers to leave you reviews via email, at your business location, on social media, via text, or in person. And then have those reviews do double duty by adding them to your own site's merchant review page.
Stay On Top of Your Google Reviews
As you can see, a bad Google review isn't the end of the world. In fact, with these five steps and a focus on providing excellent customer service, you can turn a bad review into an opportunity to restore an existing customer and attract future customers.
We know it can be challenging to stay on top of what people are saying about you online in order to respond promptly, and immediately begin the process to get rid of a bad Google review. Shopper Approved can help you monitor reviews online, including instant alerts if a customer ever leaves a 1 or 2-star rating. With our award-winning service, you can also put your best foot forward online by gathering 10x more customer reviews. See how Shopper Approved can simplify your review management with our 45-day risk-free trial.