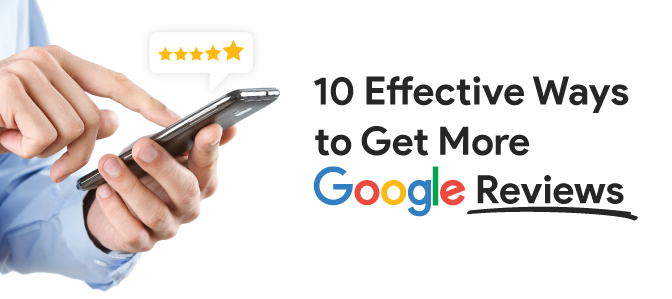 10 Effective Ways to Get More Google Reviews
How to Get More Google Reviews
Claim Your Google My Business Listing
Ask Customers for a Review
Use a Variety of Methods to Ask
Make It Simple To Leave a Review
Respond to Reviews
Offer an Incentive
Use Your Email Signature
Walk Your Customers Through the Process
Ask at the Right Time
Utilize Third-Party Tools
In a world where customers are just a click or swipe away, all business owners must face the reality that these days, online reviews matter greatly. Research shows that 97% of consumers say reviews factor into their buying decisions. Even when shopping in a store, 82% of smartphone users consult their phones first and 45% read reviews before making a purchase.
Reviews hold tremendous power to increase trust, establish credibility, and create popularity (or social proof). Basically, it is incredibly important to learn how to get more Google reviews.
Online reviews matter a lot, especially Google My Business reviews.
What Is Google My Business?
According to Google: Google My Business is a free and easy-to-use tool for businesses and organizations to manage their online presence across Google, including Search and Maps. By verifying and editing your business information, you can both help customers find you and tell them the story of your business.
Google My Business, formerly known as Google Places, is a free tool for businesses that helps customers find your physical location, gives you a place to display useful information like hours of operation and wait time estimates, and provides customer insights and analytics.
All these are extremely beneficial features for your organization, but Google My Business reviews might be even more so.
How Do Google My Business Reviews Help Your Company?
While there are many places online where reviews can be found, Google My Business reviews pack an extra punch. They can be a highly valuable tool for your business. Here's why:
Reach
There's a reason people talk about "googling" something when referring to searching online. As of September 2019, Google dominated all other search engines, with almost 93% of the global search engine market share. Therefore, Google is one of the top go-to destinations when consumers look up business, products, or, really, anything.
SEO
Search engines are in business to bring the most value to their users, so Google is constantly trying to better understand and predict what its users want and then adjusting its algorithm to provide that.
Google sees that users value online recommendations and reviews, and tends to show search results that feature reviews and ratings.
Google My Business reviews are becoming a significant factor for SEO; they not only affect your customers, but they also affect your organic search ranking. And every business knows that ranking well in organic search results is a significant asset.
Click Through Rate (CTR)
Google often shows star ratings (based on reviews) in search results. A 2017 study found that these review stars improved click-through rates up to 35%.
Google My Business reviews are often more trusted, simply because Google has more power to verify the credibility of the reviews. If someone tries to work the system and post fake reviews, Google has ways to discover that. But if someone tries to do it on a site like Yelp, for example, Google can only hope that Yelp manages the situation.
Local Pack Placement
When a search is performed for local search terms, at the top of the search results is a map with a list of local businesses. This is called the "local pack" and is a valuable online real estate for local businesses.
Google My Business reviews are closely tied to positioning in this local pack as one of Google's key factors in determining who ranks and who doesn't.
Google Ads
When users conduct a Google search, paid advertising results often show up at the top and bottom of the page. That's not surprising, since Google owns the world's largest display advertising network.
If your company wants to run Google Ad campaigns, Google reviews help with your seller ratings, which gives an extra boost to campaigns. In addition, adding your star ratings can help you see an increase of 20-30% in clicks.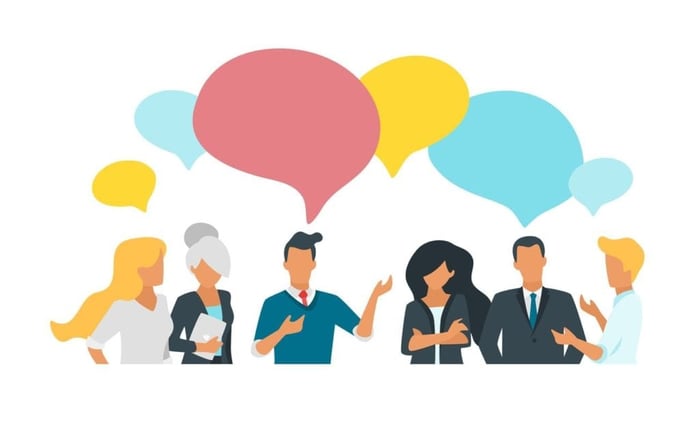 How Can a Business Get More Google Reviews?
As you can see, collecting Google My Business reviews is well worth your time and effort. But are you wondering how to get a review on Google (or several reviews)? Here are ten ways:
1. Claim Your Google My Business Listing
The first step in tapping into the power of Google My Business reviews is to claim or add your listing. Many companies still haven't done this.
2. Ask Customers for a Review
The number one way to get more reviews is more simple than many companies think: just ask. If you give your customers a good experience, they are often willing to share it. Too many businesses neglect to take advantage of this valuable resource. (NOTE: Customers will need a Google account to leave a review.)
3. Use a Variety of Methods to Ask
There are several ways to ask for reviews. Brick-and-mortar businesses can ask on-site with a tablet already set up. You can use email campaigns, text message (SMS), or social media.
Don't shun traditional methods like phone calls or face-to-face requests. Using a variety of communication channels will allow you to reach and gather reviews from more of your customers.
4. Make It Simple to Leave a Review
Many customers are open to writing a review, but not if it's a pain. No one wants to jump through multiple hoops or screens just to leave their opinion. Make the process as simple as possible, and you increase the likelihood of getting more reviews.
For example, share a link to your Google My Business page in emails, on your social profiles, and on your website.
5. Respond to Reviews
Consumers expect more of a dialogue with businesses than in the past. If people know that your company is paying attention to reviews (even the negative ones), they will be more likely to leave them.
Many customers not only read Google My Business reviews, but they also read your responses to those reviews. Responding to positive reviews can be as simple as saying thank you.
Negative reviews may be a little trickier, but ignoring them may hurt you. A recent study showed that 51.7% of customers who leave a negative online review expect a response in seven days or less.
6. Offer an Incentive
You have to be careful how you ask for reviews with certain review sites, but Google wants you to ask for and get more reviews. After all, it makes their searches more valuable to users.
You can offer a coupon or discount for those who leave a review. For example, an appliance repair business could offer 10% off the price of the service if a customer leaves an honest Google review.
7. Use Your Email Signature
Adding a simple call to action in your default email signature can garner several reviews on its own. Add a link and a simple prompt like, Have feedback for us? Leave a review on Google. This is a great tactic because it takes little effort on your part.
8. Walk Your Customers Through the Process
To make it as easy as possible to leave a Google My Business review, educate your customers on how to do it. Don't assume that they know.
Instructions could be in the form of a printout next to the register that outlines the different steps to take, a PDF you link to in an email, or a blog post or separate page on your website.
Step-by-step instructions make leaving a review much less daunting, especially for those who may not be as tech-savvy.
9. Ask at the Right Time
Don't underestimate the power of timing in getting more Google reviews. Pick the right moments, when customers are more likely to be in a frame of mind to leave you positive feedback.
Some good times to ask for reviews include:
After a purchase

For local businesses, before a customer walks out the door

When a customer re-purchases or re-orders

After a customer tags your brand on social media

After a product has been delivered

When customers are browsing your site for other products/services

If they refer another customer
10. Utilize Third-Party Tools
There are several third-party tools that can make gathering Google My Business reviews simpler for both you and your customers. They are widely used and can offer several convenient benefits, including:
Email features to create campaigns

Distribution of reviews across different sites

Integrations or widgets for your site

APIs or apps for social sharing

Monitoring of reviews online so you can respond

Text messaging to customers

Analytics and reporting so you can monitor and adjust review request campaigns
Shopper Approved is one of the most robust review and distribution tools out there. Our simple, cloud-based application curates ratings, reviews, and video testimonials from verified customers, then distributes the collected reviews across a wide network that includes Google and many more sites.
Where Should You Start If You Want to Get More Reviews?
Gather more Google My Business reviews with these ten tactics, and start enjoying the many benefits. But if it feels like a lot to do on your own, Shopper Approved can help you get started right away. When it comes to how to get Google reviews, there is no easier solution.
Start your 45-day risk-free trial today—no credit card, no obligations, no contracts. If you're not satisfied, you can cancel at any time.