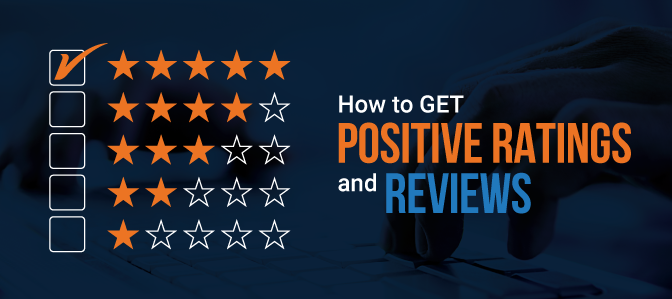 How to Get Positive Ratings and Reviews
4 Ways to Improve eCommerce Ratings and Reviews
Today's Internet is largely driven by peer-to-peer interaction. When making a purchase, consumers seek out the experiences of others. This includes reading online ratings and reviews posted by other consumers, which can increase overall engagement and drive sales.
With that in mind, here are four ways merchants can improve their ratings and reviews.
1. Include Review Forms on Product Description Pages
Providing customers with the option to write a review directly on the product description page is one way to encourage such activity. A number of companies provide easy-to-use rating and review software designed for use on product description pages. Here are three suited to the needs and budgets of smaller ecommerce merchants.

Shopper Approved is a rating and review software that boasts increasing the results of those who participate by more than seventy times. They offer a free trial and a one-size-fits-all low monthly price for unlimited pages, views, and reviews so you can easily get positive rating and reviews on your products.
2. Ask for a Review
The simplest way to get customers to write a review is to ask them. One way is to conduct periodic customer surveys. You can always entice customers to participate by offering them a special discount or entry in a free drawing or sweepstakes.
3. Make It Simple to Submit a Review
Simpler is better when it comes to ratings and reviews, even if that is nothing more than a comment box accompanied by a request to write a review. Most rating and review software companies have a three-step process.
First, site visitors see a button on the product page encouraging them to rate the product.
Second, clicking the button takes visitors to a page, showing previous reviews and a five-star rating scale, along with a statement requesting that the visitor submit a review. Sometimes step two reveals previously-written reviews and ratings.
Third, once the link is clicked, the visitor is taken to a form where he or she can rate the product and write a review. It should only take a few minutes to do all of this once consumers log onto the site.
4. Make Reviews Social
There are a number of ways to leverage the use of social media to increase reviews. For example, if you use Facebook or Twitter, occasionally ask Fans and followers to submit reviews and include a link to the review form.
Facebook Pages include an app called "Reviews," which allows Fans to write reviews for display directly on the Fan page. However, I would be reluctant to use the app for this reason – the Page owner has no editorial control over reviews. In other words, once a review is submitted, there is no way to edit the content or delete the review.
Increasingly, rating and review software providers are including the ability for users to share reviews with friends on social networks, or bookmark reviews using Digg, Reddit and other social bookmarking sites.
In today's social Internet, the power of consumer-generated ratings and reviews to influence purchase decisions is very strong. Rather than fight the trend, merchants should embrace it. The benefits can lead to increased trust by the consumer and, subsequently, increased sales as a result. Learn how shopperapproved.com makes getting positive ratings and reviews simple and easy with product reviews.
Other articles on getting positive reviews: