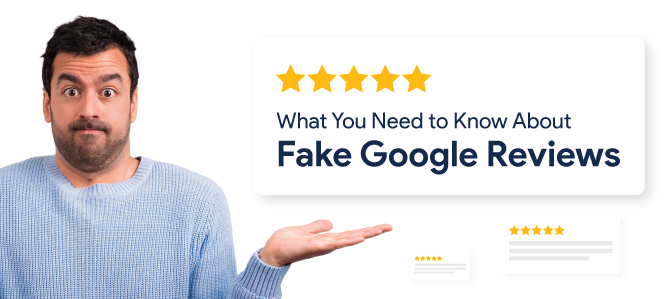 What You Need to Know About Fake Google Reviews
People like to voice their opinions. And thanks to online reviews, that's incredibly easy to do now. But every now and then, a fake review that is either overly positive or overly negative can cause various online reputation issues.
Fake Reviews Can Cause Significant Losses
People like to voice their opinions. And thanks to online reviews, that's incredibly easy to do now. But every now and then, a fake review that is either overly positive or overly negative can cause various online reputation issues.
If you've run into a fake Google review, you know it can be somewhat frustrating to deal with. But we want to help. Here is everything you need to know about fake reviews.
How to Spot a Fake Review
Fake reviews come in troves on review websites. For example, it's estimated that nearly half of all reviews are faked in certain categories on Amazon. So it's important to know how to spot a fake review. Here are a few ways to tell:
They Don't Appear in Your Customer Records
You can check your customer records to look up the reviewer's name. This way, you can actually confirm whether or not the reviewer purchased the product or service they reviewed. Customer records are more easily verified in certain industries, like medical and contract-based services, as a client's information has to be recorded.
They Exclusively Write Bad Reviews
There are many accounts that write only bad reviews about businesses. If you've received an inflammatory review, you can go to their account to check their review history. You might find they write similarly negative things about a wide variety of products.
They Have No Other Reviews
Sometimes people will create accounts for the sole purpose of leaving a negative review. These accounts will often have no other reviews published and were created recently, usually the same day they published the review
Their Review Lacks Detail
Usually, dissatisfied customers will explain why they're upset. But if a review only has a low star count (generally less than 2 stars) and no elaboration of their complaints, it's probably fake.
Their Reviews Have False Information
Highly inflammatory reviews will often include accusations that are completely false and have nothing to do with your product or service. While these exaggerated comments should be addressed, they should not be taken seriously.
What to Do about Fake Reviews
There are three steps you should take when dealing with Google Reviews:
Evaluate the Situation
First, you need to determine with decent certainty that the review in question is in fact fraudulent. You can figure this out using the tips included above.
Respond to Them
You have to respond to every review, even if you determine it's fake. That's because both Google and potential customers will trust your company more, as you respond to a greater number of reviews. Your responses will show customers that you care about customer satisfaction, especially when you're responding to negative reviews.
The truth is, the average customer may not be as good at spotting fake reviews as your company, so not responding to them can make it seem like you don't prioritize your customers. And while you should be consistent in your excellent customer service, that doesn't mean you can't call out fake reviews. For example, after offering a solution to a fake review, you can mention that you can't find any record of their purchase. This clues your potential customers that the review is fake.
Delete Them
Unfortunately, there's no "delete" button on Google reviews, but there's still a way to get rid of them. You can flag the review, which will alert Google to take action and remove it. Flagging should only be used for fakes and not just for any review you disagree with.
To flag a review, you need to:
1. Sign into Google My Business or open Google Maps to find your business.
2. Find the review.
3. Click the three vertical dots to the right of the review and select "Flag as inappropriate."
4. Write a report of the incident and leave an email you can use for follow-up communication.
You'll need to check back in with Google to see the status of the review. It may take a while for the search engine to process the request and remove the review from your site.
Get More Positive Reviews
The best marketing strategy with Google Reviews is to bury the negative and highlight the positive. Getting as many reviews as possible will help keep a constant flow of new and reliable reviews while improving your brand's credibility.
Shopper Approved makes it easy to manage your online reviews, keeping you up to speed when new reviews come in, so you can respond to them promptly. It's one of the easiest ways you can properly manage your online reputation and keep glowing reviews at the top.