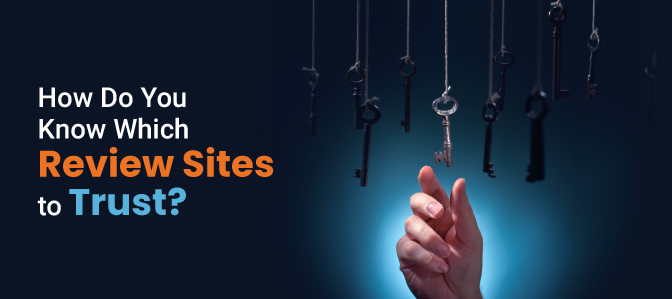 How Do You Know Which Review Sites to Trust?
Online reviews have completely changed the way consumers make buying decisions, and, in turn, changed the business marketing industry. But now that there are so many places to find online reviews, how do you know which review sites to trust?
3 Checks for Trusted Review Sites
The quality and reliability of reviews vary drastically across the scope of the internet, with some review sites allowing "review bombing" and fake reviews. This makes it more important than ever to make sure you're getting your reviews from a trustworthy source.
But it can be overwhelming to know where to turn for reliable online reviews. Luckily, our expert team at Shopper Approved can help you sort through all the options. Check out our guide to help you know which review sites to trust (and which sites to steer clear of.)
Are the reviews verified?
Are the reviews accurate?
Use verified reviews
Are the Reviews Verified?
The first thing to check for when seeking out trustworthy reviews is to make sure the reviews you're reading are verified. A verified review gives you proof that the consumer actually purchased the item and used it as intended.
If a review isn't verified, you have no way of knowing whether or not the customer has actually used the product. And even if they have used the product, they may have purchased it from another company that offers a different customer service experience, shipping speed, etc.
Not every online review site allows the consumer to verify their review, but some platforms will indicate whether or not the review is a verified purchase. This is a very helpful tool that gives you proof that a review is reliable.
Are the Reviews Accurate?
Though it's important to find verified reviews, there are still a few things to look out for when you're seeking the most trustworthy review site.
Reviewers with an Agenda
Many reviews are left by people with an agenda unrelated to the function of the product. These "review bombers" leave reviews of a product or company. They might express strong opinions about the leadership of the company or complaint about the delivery company, etc. These types
of reviews are usually irrelevant and should be dismissed when trying to determine if a product is worth buying.
Shipping Errors
You might also notice consumers leaving bad reviews due to shipping errors. Since this is the fault of the shipping company and not the company that made the product, these bad reviews can unfairly skew the product ratings. For this reason, it's best to discount a few bad reviews relating to shipping mistakes.
User Errors
Sometimes consumers leave bad reviews that ultimately can be chalked up to user error. For instance, a customer might have ordered one product when they meant to order two, then left a bad review—even though they are obviously to blame for the mistake. Or a customer might be angry that they ordered something without noticing it was back-ordered, even though the company made it clear on their website. Take these types of reviews with a grain of salt—bad reviews relating to user error are not a reflection of the product quality.
Get More Verified Reviews Today
The best review sites have the ability to sift reviews and make sure consumers have access to the most reliable, accurate, verified review sources. This is what makes Shopper Approved one of the best options for trustworthy reviews. From Google seller ratings to product reviews to local reviews, we can help your business collect any type of review. We ensure each review is a verified purchase, so consumers know they can trust the information they're getting from our review site.
If you're a business owner wanting to build trust online, contact us today. We've helped a wide range of electronics companies exponentially grow their verified reviews, and we can help you do the same. We have one of the largest distribution networks available and can help you collect up to 10 times more ratings than our competitors. Contact Shopper Approved today.
Related Articles on Trust