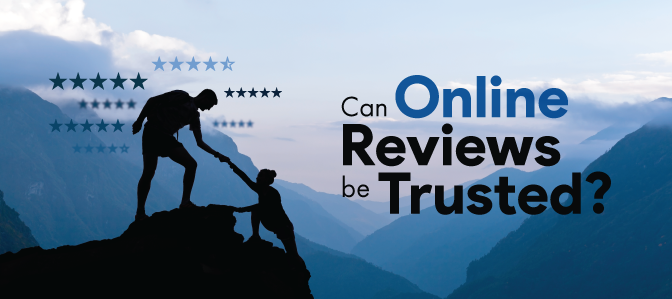 Trusted Reviews: Can You Establish Trust in Your Reviews?
Everyone looks at reviews. It's a natural step in the buyer's journey, as it gives potential customers a trust signal or proof that the product is what it says it is. But can online reviews be trusted? The short answer is yes, though there are some things you should know to avoid fake or unhelpful reviews.
Are There Such Things as Trusted Reviews?
More often than not, you can trust that online reviews are reliable. Plus, reviews aren't just revealing about a certain product, they can also give a glimpse into how companies interact with their customers and provide greater insight into the product or service you're interested in.
Customer-Company Interaction
How a company interacts with its customers through online reviews can be very revealing of its character. There are really three different ways a company could respond to a review:
Positively

- When customers leave a positive review, the company thanks them.

When customers leave a negative review

, the company reaches out to see what went wrong. They will acknowledge when they were in the wrong and apologize, often offering reparations in the form of a refund or a discount on the customer's next purchase. A positive response will show that a company sees customer satisfaction as a top priority and is looking for ways to improve.

Negatively

- A negative response to a customer review could show that a company isn't accepting responsibility for its error. Or they could simply ignore the issue and offer the disgruntled customer a link to their product page to browse their other products. Essentially, these are responses that illustrate the company's indifference towards its customers.

Not At All

- There's that age-old advice, "if you don't have anything nice to say, don't say anything at all." Wise, yes, but not responding to any reviews can actually be incredibly harmful to a brand's reputation. Not responding to anything can give the impression that the company doesn't care what anyone has to say and is unlikely to ever change its habits.
It's always in a company's best interest to respond to reviews since it can help improve its credibility and reputation.
A Better Perspective of the Product
Checking reviews is an easy way to see if the product is actually as advertised by reading trusted reviews.
Companies generally don't talk about any downsides to their product. They'll list as many features and benefits as possible to try and sell people on it. And while many people will still be satisfied with the product, there may be a few details that are deal breakers for someone else.
For example, say a company that sells bed frames delivers on the promise that their frames are easier to assemble, sturdy, and have a clean design. However, they left out the part about the frames being pretty squeaky. People upset about this seemingly minor inconvenience will write about it in their reviews.
So, looking through reviews can give customers a more holistic view of a product, allowing them to make more informed purchases.
Beware of Highly Subjective Topics
Everything is reviewed in the digital world. People are able to voice their opinions about vacuum cleaners, restaurants, toothbrushes, and even loofahs. Then too, there are specific review sites for certain industries, and it can be hard to know which of these sites can be trusted. But all of these reviews should not be treated equally; there's a big difference between explaining an experience with a toothbrush and giving an opinion about a new movie. That's because a movie review is entirely subjective, and hinges on the personal taste of the reviewer.
While there is a little bit of subjectivity in any review, some products are much more prone to it than others. Products from the entertainment industry, like video games, movies, music, television, etc., are highly subjective. This is also true for specialty restaurants since certain types of cuisine will not appeal to everyone. Customers should take these reviews with a grain of salt.
Use Your Best Judgement
Sometimes you'll run into a review that's too good to be true. Everything they say makes the product seem like the greatest thing on the planet. Or the opposite could be true; a review could be the most scathing critique and make you wonder why anyone would ever want to buy the product.
It's possible these reviews are fake. The overly positive ones may come from people hired by the company to leave glowing reviews to boost the product's ratings, and the awfully negative reviews may be from a competitor.
How to Spot a Fake Review
It's important for both the company and potential customers to recognize fake reviews and act accordingly to maintain the strength of your trusted reviews.
If you're the company, look for the name of the reviewer in your customer records. This is a way to verify that the reviewer actually purchased the product or service they claimed to. If they aren't in the customer records, that review is likely fake and can be deleted.
You can also look at the reviewer's profile. There are some signs to indicate whether or not the reviewer is legit, like:
The reviewer has left similar bad reviews about other businesses.

Their account was only recently created and has no other reviews.

They only gave a poor rating without any elaboration.

Their review has false allegations and is purposely misleading.

The reviewer mentions a competitor's product in their review.
When you see reviews on either end of the spectrum, be sure to do some research and use your best judgment.
Earn Customer Trust with Better Reviews
Every company should be focused on acquiring their customers' trust, and one of the easiest ways to do that is through online reviews. It's even better when you have more online reviews in more places. That way, people have a better chance of reading about first-hand experiences with your company. So contact Shopper Approved today if you're ready to improve your online visibility.
Other articles on trusted reviews: