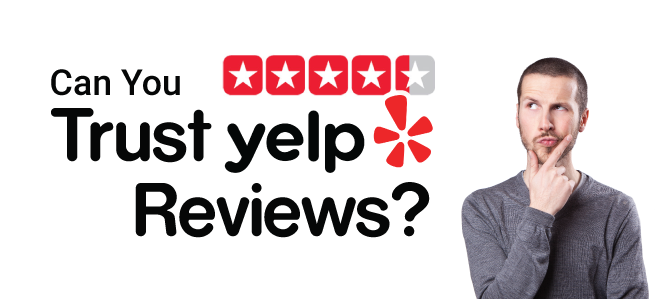 Can You Trust Yelp Reviews?
Did you know 20 percent of restaurant reviews (negative and positive) are fake? Reviews directly impact a business's revenue, and unfortunately, some companies take extreme and dishonest measures in boosting their review pages to reel in those dollars. And sometimes, it's competitors who post fake reviews to put you at a disadvantage.
It's easy for modern consumers to open up Yelp when considering dining options, but can you trust Yelp reviews? The short answer is not always. Keep reading as we hash out all the details.
Why Should You Be Concerned about Fake Reviews?
No matter how who created them, fake reviews are harmful to your online reputation. As a business owner, the trust you have with your customers is pivotal to your success. Fake reviews threaten this trust, which will negatively impact your brand and bottom line.
It can be a little tricky to spot fake reviews (although sometimes it's obvious), and you'll find them in other places besides Yelp. Like fake Google reviews, fake Yelp reviews often:
Lack detail.

Carry false information about the product or experience.

Come from someone who has only written reviews about

your

business.

Come from someone who has a track record of writing negative reviews about businesses.

Are too extreme, being either super favorable or unfavorable.
Yelp carries an algorithm that identifies suspicious or fake reviews and then filters them. Approximately 16 percent of Yelp reviews are filtered. The same studies have shown that when restaurants are doing particularly well and becoming more competitive in the industry, they're more likely to get hit with negative fake reviews.
Though it's helpful that Yelp is actively addressing the situation, it isn't enough. To combat fake reviews, you need to take ownership of your business's reputation and monitor them yourself. You want to be able to identify them right away before they add a dent to your reputation.
What to Do about Fake Yelp Reviews
Fortunately, there are ways to flag fake reviews on Yelp. Log into your business account and take the following steps:
Find the fake review and click on the flag icon. This should be in the bottom right-hand corner of the review.

You'll then be provided with various reasons for flagging. Click on the option that best aligns with your situation.

Provide a description of why you've reported the review. Take a look at

Yelp's content guidelines

and reference them when you can to

help support your case. The Yelp team will then review your case, which usually takes three to five business days.
While you wait for the Yelp team to get back to you, it's worth responding to that fake review. Since customers can see your responses, it's better to take control of the situation as soon as possible.
You can politely point out false information and ask questions to get more details. Be professional and sincere and apologize where necessary. If the fake review ends up staying on your page, at least your customers will notice you took the time to address their concerns. Aim to respond back within 30 minutes to a few hours after the review has been posted.
What to Do about Real Negative Yelp Reviews
It's inevitable that you'll have negative reviews at some point that are from legitimate customers. So what do you do when you see a real, negative review pop up on your Yelp page? In all negative review situations, it's essential that you acknowledge their concerns head-on by responding to their reviews. Here are some tips:
Respond ASAP.

No one likes to wait around for an issue to be solved. Responding quickly will show that your team and business value customer service.

Thank the customer for their feedback.

No matter how serious their complaints are, always start with a "thank you" to illustrate that their voice matters to your business.

Offer ways to have them connect with you offline.

This gives you the opportunity to make it up to them. And you never know, that customer might just leave a follow-up review, explaining how you diligently solved their issue.
Remember that negative reviews happen to even the best companies. It's about how you handle the situation that really defines your brand and how consumers will perceive your business. So take the right measures and be prompt, genuine, and understanding.
Why You Need More Positive Reviews Everywhere
By taking ownership of fake and negative reviews, you can make way for more positive reviews. Companies with trustworthy and positive reviews connect more with qualified customers. Not to mention, as 93 percent of consumers note that online reviews impact their buying decisions, it's vital to collect as many reviews across multiple platforms. That way, your business gets more visibility and credibility.
Collecting reviews should be a continuous process. The more current and relevant your reviews are, the more value they will provide to your audience. Forty Percent of consumers only care about reviews from the past two weeks, and 85 percent of buyers believe reviews older than three months are irrelevant. In our rapidly evolving digital world, it's important to stay up-to-date.
Get the Verified Reviews You Deserve with Shopper Approved
Here at Shopper Approved, we specialize in collecting verified reviews that will give your business the visibility it deserves. By working with us, we'll ensure all of your reviews are trustworthy and they preserve the long-term viability of your business. Learn more about why your business needs Shopper Approved today.
Other articles on trusted reviews: