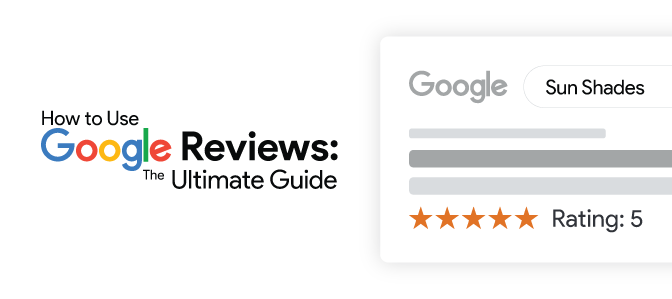 How to Use Google Reviews: Your Ultimate Guide
Did you know a product with five reviews is 270 percent more likely to get purchased than a product with no reviews? As technology evolves at a rapid pace and our lives become more digital, it's more imperative than ever to have a robust online presence. A crucial part of this is having relevant and recent reviews to help your visitors navigate through the customer journey.
So to amplify your online visibility and revenue, we're giving you all the fine details on how to use Google reviews to fuel your business with a competitive edge.
How Do You Use Google Reviews?
Make Your Total Star Rating Visible
Respond to Each Review
Encourage Customers to Post Reviews
Why Use Google Reviews?
Google owns approximately 83 percent of the search engine market share. And with nearly 3.5 billion searches made every day, you can garner the attention of these users and reap great rewards.
Increases Your Conversion Rates
The Spiegel Research Center found that 95 percent of consumers read online reviews before making a purchasing decision. A large part of conversion rate optimization (CRO) is crafting relevant content that provides insight into your services and answers pivotal customer questions. Reviews and customer testimonials fulfill these components, serving as key benefits in accomplishing your CRO and sales goals.
Instills Trust with Your Target Audience and Customers
Positive ratings and reviews are one of the top trust signals in determining whether or not to buy from a website. The same survey reports that 82% of people from the US, UK, and Australia expressed that "they are more likely to buy from a website if it displays positive ratings and reviews."
Not to mention, Google reviews help improve your search rankings and overall SEO efforts. According to the almighty search engine itself, Google reviews are factored into local search rankings, and if you incorporate SEO best practices, even better. More reviews and positive rankings tell Google that your site/service carries authority and legitimacy, and both point to trust.
Boost Your Online Visibility: 3 Ways to Use Google Reviews
Now that you understand why Google reviews are critical to the success of your business, how do you use them to your advantage?
1. Make Your Total Star Rating Visible
If all of your reviews bring you a stellar total-star rating, you want to show it off. Studies show that businesses that earn between 3.5- and 4.5-star ratings produce more revenue annually than any other ratings.
Here are a few ideas to help make your star rating more visible:
Place a running banner of positive reviews in a dedicated spot on your home page.

Feature a positive and recent review on your other web pages such as your blog or product pages that carry the most traffic.

Have a sidebar on your home or about us page that features company reviews.

Use the best reviews in your pop-up messages to attract attention and encourage your visitors to take action.
2. Respond to Each Review
Crafting an engaging and personalized experience always wins, and reviews are a great gateway to doing this. Take time to interact with your customers by responding to each review. Not only does this illustrate how you value their feedback, but it's a great way to build trust and retain your customers. Take TripAdvisor for example; a study of responses to TripAdvisor reviews found that responding to customer reviews increased a hotel's ratings by 0.12 stars and brought in a 12 percent increase in reviews.
You might be wondering, well, how do I respond to a negative review? This requires tact and discipline. Craft your response around the following essential points below:
Address the reviewer/customer by name.

Apologize for what went wrong.

Explain what you did or what you will do to resolve the situation.

Thank them for their honest feedback.

Don't pick a fight.
It's always daunting replying to angry messages but remember, responding to negative reviews is an opportunity for customer recovery.
3. Encourage Customers to Post Reviews
Eighty-five percent of consumers find reviews that are older than three months to be irrelevant. Therefore, it's important to remind yourself to post reviews on a consistent basis. This gives your visitors valuable and up-to-date information to help them make purchasing decisions. To encourage people to submit reviews, you can offer incentives and reminder pop-ups/emails to leave a review. Be sure they can do so on both mobile and desktop devices for a better user experience.
Earn a Competitive Edge—Contact Shopper Approved
Garnering attention is especially challenging in the online landscape where you're competing against numerous sites and businesses. Here at Shopper Approved, we will have your back and help your garner quality Google reviews for your company.
We have years of experience under our belt helping our clients use their best Google reviews to their advantage. So be sure to contact us for our expert advice to help you make the most of your reviews.