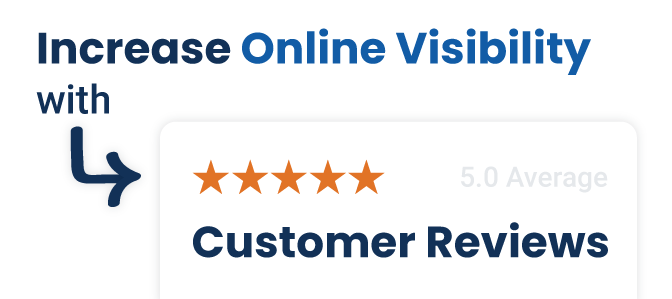 Increase Online Visibility with Customer Reviews
Getting found is a challenge for many businesses, especially in today's digital age. Online visibility plays a major role in customer acquisition. When someone is looking for a product or service you provide, of course, you want them to see your business as a prominent option. But if you have poor online visibility, it will be harder for new customers to find you.
So how to increase your business visibility online? There are several ways, but one, in particular, has been shown to also have a direct impact on sales: online reviews and star ratings. Nearly 95% of shoppers read online reviews before making a purchase, products with positive reviews sell 200% more than those without, and displaying reviews can increase conversions by 270%.
Online reviews are now essential for business success. Not only do they wield a tremendous amount of influence on customers, but they also increase online visibility. Both are valuable for your business.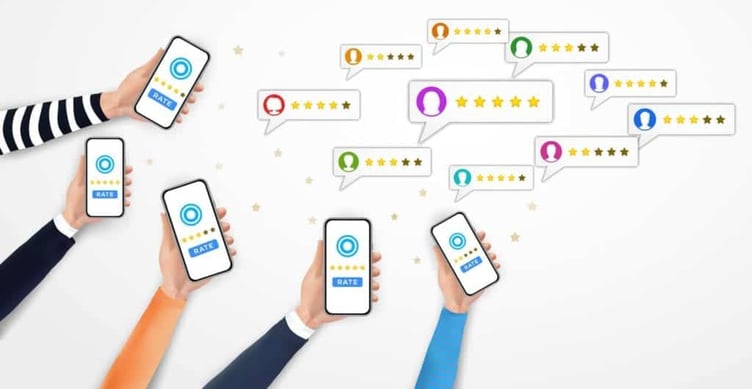 What Is Online Visibility?
Online visibility is your overall presence online. It's how easily online searchers can find your brand, products, or services. At the basic level, visibility is about getting found wherever your customers are looking online. It means:
Your website comes up when people go online looking for solutions to a problem.

When people want to buy a product, your website shows up as an option.

Your business shows up for keywords that people use when researching your industry.

When a person looks for the best product or service, they will find reviews and ratings for your business.

When people search for local businesses, yours shows up.
Online visibility gets bodies in your door or eyes on your site.
How Customer Reviews Increase Online Visibility
Since online visibility impacts customers so much, every business should seek to improve theirs. There are three main reasons your visibility in online marketing can benefit from customer reviews and the star ratings that are often a part of them.
Better SEO
Search engines factor reviews and ratings into how your site ranks. You're in business to sell a product or service to customers; search engines are in business to bring the most value to their users. They spend tremendous effort, time, and research in learning what their users want and then finding ways to provide that. More and more, when users are looking to spend their money, they value online recommendations and reviews. Google knows this and often shows review ratings in both paid and organic search results.
Increased Trust
In a crowded market, it can be hard for customers to know which brands to trust. Studies show that 88% of customers trust online reviews as much as recommendations from people they know and trust them 12 times more than manufacturer product descriptions.
Online ratings have a similar level of influence on consumer trust. Studies show that 72% of consumers consider buying a product/service with a 3-star rating, but only 27% will feel the same for a 2-star rating.
Think about it. If your business is listed next to a competitor in the search results and you have more positive reviews and/or a higher star rating, which link is the average consumer going to click on? More trust means more traffic, which is a fundamental ingredient for SEO, clicks, and conversions.
Star Ratings on Google
You might associate star ratings most closely with review sites like Yelp, TripAdvisor, and countless other individual sites that your potential customers may or may not go to. But nearly everyone goes to Google, and so the presence of ratings in search results and Google Maps listings becomes a very big deal indeed. Ratings left via Google My Business are important and can show up in the search results, but search engines may also pull from popular review sites like Yelp. Even if your star ratings don't currently appear near your search engine results, there's a good chance they will in the future as your business grows, so investing in encouraging your satisfied customers to leave ratings is well worth your time.
More Social Proof
It's a fact: consumers are influenced by other people, probably more than they think. Most people are more likely to buy something, use a service, or frequent a business if others agree that it's a good idea. Online reviews are a potent form of social proof. And the more people visit your site, buy your products, and leave reviews, the more visible you become.
Customer reviews and ratings generate a repeating cycle that increases your online visibility: Your business ranks better with SEO, which helps increase trust and social proof, which leads to more clicks and traffic, which in turn leads to better SEO results, and so on.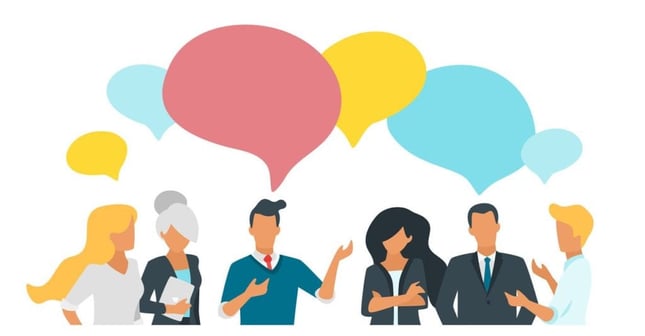 Types of Customer Reviews
You may not realize that all reviews aren't the same. Your business may benefit more from certain types of reviews. The three main kinds of reviews are:
Google Seller Ratings and Reviews

- These are important if you sell products or services online.

Product Reviews

- Product reviews are important if you sell physical products.

Local Reviews

- Local businesses will benefit the most from these customer reviews.
Reviews and online ratings are found in several places:
Review sites like Yelp, TripAdvisor, and Glassdoor

Google

Amazon

Facebook

Angie's List

Foursquare

Google Maps

Get More Online Visibility
Understanding the power of online reviews in increasing visibility in digital marketing is one thing, but getting more reviews from your customers and putting them in the right places online is another. Shopper Approved can help you stand out from the competition. Flexible pricing options fit any budget, but we're so certain you'll love Shopper Approved, that we offer a risk-free, 45-day trial. It's time to get your business more online visibility, clicks, and conversions with Shopper Approved.