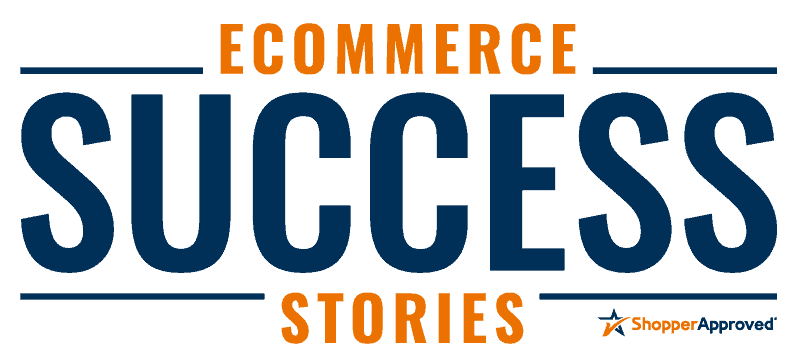 RobertsCamera.com - An Ecommerce Success Story
60 years, 6,300+ 5 Star Reviews of Satisfied Customers
When it comes to RobertsCamera.com, it's all about family. As a multi-generational business, they have grown from selling different types of products to specializing in all things related to cameras, and are now one of the premiere sources for photo, video, audio, and electronics equipment.
They work with everyone, from newbies to professionals, and love to teach people how to take great pictures. This success story proves that families can come together and work hard to create an amazing legacy that can last for generations.
---
Tell Us About You and RobertsCamera.com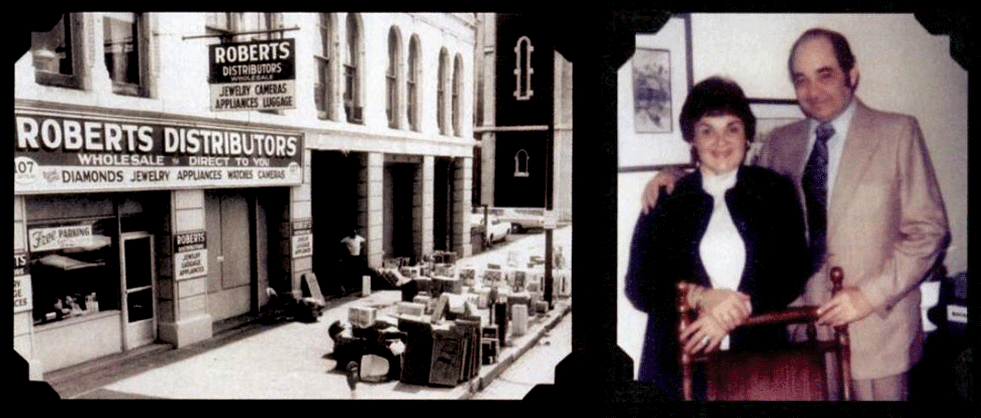 Q: Tell us about yourself.

A: Roberts Camera was started in 1957 by my grandparents, Bob and Rose Pallman. Over the last 45 years, my dad has grown our business from a small mom-and-pop catalog showroom to a specialty e-commerce business. My husband and I have been involved with the business since 2011 and have helped to propel our brand in new directions like used camera gear with our sister company, UsedPhotoPro. Our industry continues to see a significant amount of change and we are always looking to evolve what we do and how we can best serve our customers in this changing landscape. We are so proud to be a third-generation, locally owned and operated, retail and eCommerce photo specialty store based in Indianapolis, Indiana.
Q: What does RobertsCamera.com do?
A: Roberts and UsedPhotoPro sell digital and analog photography equipment. We have a beautiful retail store in Indianapolis, Indiana where we offer a great selection of new and used camera equipment. We also offer classes, a rental department, and a photo lab that still develops film! Our mission is to 'keep photography available to everyone.' We have become a national brand and are fortunate to work with photographers all over the country and internationally as well. We have a great e-commerce presence and you can find us at robertscamera.com, usedphotopro.com, and on eBay and Amazon!
Q: How did you get your big business idea?

A: Our mission at Roberts and UsedPhotoPro is to keep photography available to everyone. We do this by offering a huge selection of new and used equipment at price points that work for everyone. We sell everything from vintage film cameras to high-end cinema cameras and everything in between, so no matter what your creative vision is - we are here to help you achieve it. Customer service and education are two of our top priorities and we are always working to grow our offerings and product knowledge to provide value to our customers.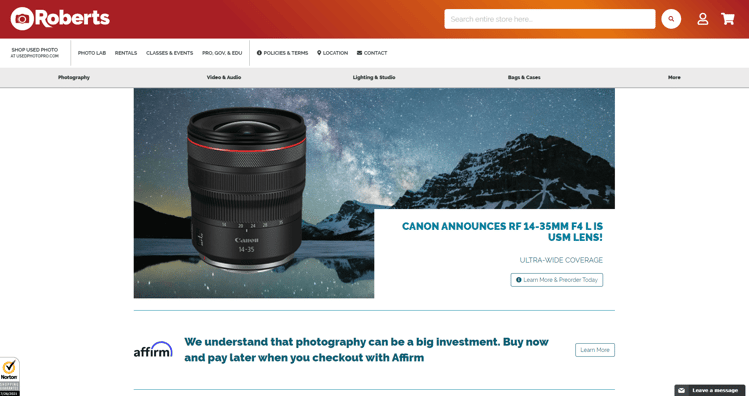 RobertsCamera.com website. Premier source for new and refurbished cameras & camera gear as well as a variety of photography equipment.
Q: You vs. the competition?

A: Why buy from Roberts and UsedPhotoPro? We have an entire web page dedicated to that question: https://robertscamera.com/why-choose-us Most importantly, you are important to us. We are a small business, but we believe that lets us care more! In a world of automation, we are a human voice you can't find elsewhere. We answer our phones when you call and you talk to a real person! Our customers are not a number on a spreadsheet, but lasting relationships that we will work hard to build. We are passionate photographers that love what we do and love to support and educate our customers - not just sell them gear. We also offer a best-in-the-industry warranty on used camera gear because we stand behind what we sell. At Roberts and UsedPhotoPro, being small is our advantage.
Q: How do you successfully market your business?

A: Because we have both a retail and e-commerce presence, we market our business in multiple ways. We use things like Google Adwords, email marketing, social media, and affiliate programs to reach customers online. For our local retail store, we still utilize some traditional advertising like television and radio in addition to social media. We are also an integral part of our community and try to participate in as many community events as we can like photo contests, sponsorships, and more!
Q: How do you attract customers to RobertsCamera.com?
A: We see success in many different avenues, but I think social media and building our online reputation have been one of our most successful avenues. We want customers to be able to connect with us in a variety of ways while also showing them what we are all about. Facebook, Instagram, and Twitter allow us to connect with our customers in that way while keeping our personality and having some fun along the way.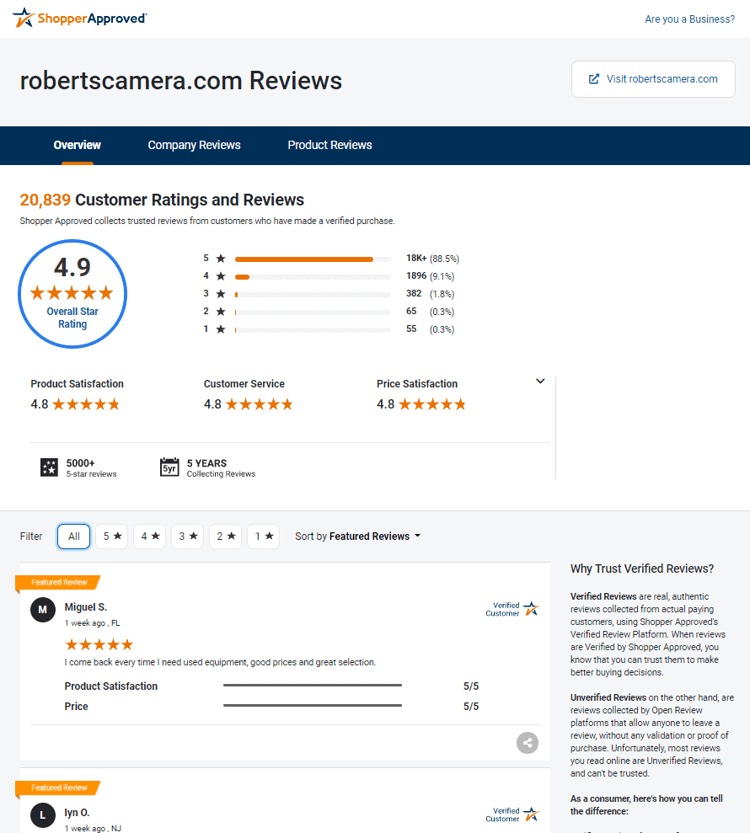 RobertsCamera.com does an incredible job on their reviews.

Q: What do you do to 'Wow' your customers?
A: When our customers shop with us, they are like family. We always go the extra mile to provide service, education, and an overall incredible buying experience, whether you are shopping with us in-store or online. We understand that mistakes may happen, but we will always make things right for our customers. Customers appreciate our honest and down-to-earth approach to doing business and know that they can count on our quality and be there for them throughout the lifecycle of their photographic journey.
Q: Tell us about RobertsCamera.com.
A: At Roberts, we treat our customers like family and we work to build a relationship with you so that we are truly understanding and meeting your needs, and serving as a resource for you throughout your photography life cycle!