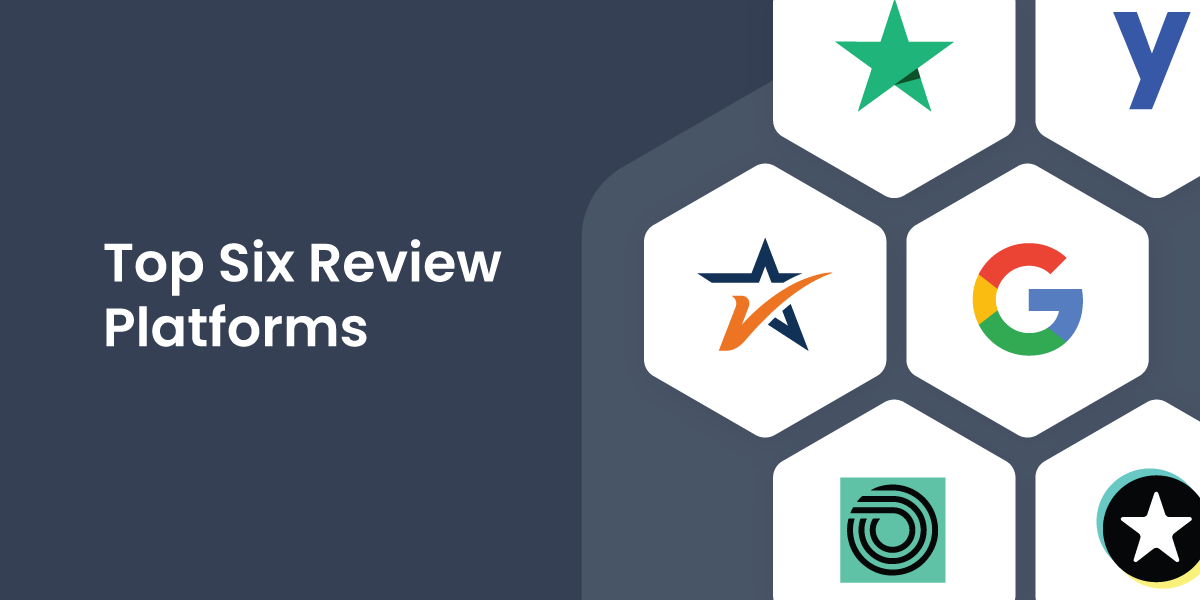 Comparing the Top 6 Ecommerce Review Platforms
Why Are Online Reviews Important for Ecommerce?
Collecting ratings and reviews has become an essential part of running an ecommerce business. When 99% of online shoppers have been shown to read reviews before buying , you can't afford not to have reviews for your online store (seller ratings), as well as reviews for your products (product reviews).
Because reviews are so important to ecommerce businesses, there are numerous companies offering review services across the web, from open to verified review collectors, industry-specific platforms, and even services based around specific marketplaces such as Amazon or Walmart.
There are also a very few review collection services that have earned the distinction of being Google Review Partners, while the majority of review platforms have not. This is a critical distinction, because if you want your review stars from your seller ratings and your product reviews to show in paid and organic search results, they must be collected either directly from Google reviews, or from a Google Review Partner who is certified by Google for both seller ratings and product reviews (as they are two different certifications).
This can make it difficult to know which platform is best for your ecommerce business, especially as various packages of services and pricing come into play, clouding up any easy one-to-one comparison.
Fortunately, with a little bit of research, it doesn't take long for six main contenders to rise to the top. That's why we put this chart together—to make it simple for leaders to compare the top ratings and review platforms and find the best option for their ecommerce business.
What Are the Top Six Review Platforms for Ecommerce?
When all options are compared and put in perspective, the six main ratings and review platforms for ecommerce websites to consider are: Google Customer Reviews, Okendo, Reviews.io, Shopper Approved, Trustpilot, and Yotpo.
These are the review companies that have been around the longest and have built the most reliable software, services, and platforms to help ecommerce businesses to collect, display, and syndicate ratings and reviews. They are also certified Google Review Partners for seller ratings and product reviews.
As you will see from examining the comparison chart, many of these companies provide a similar slate of services to one another, with the biggest variables usually being price and whether or not certain product options come built-in to the main review service or are only included as add-ons.
If you are searching for a reviews provider for your online store, you can easily use this chart as a jumping off point for deciding which of the top six platforms you want to explore further by visiting their website to learn more.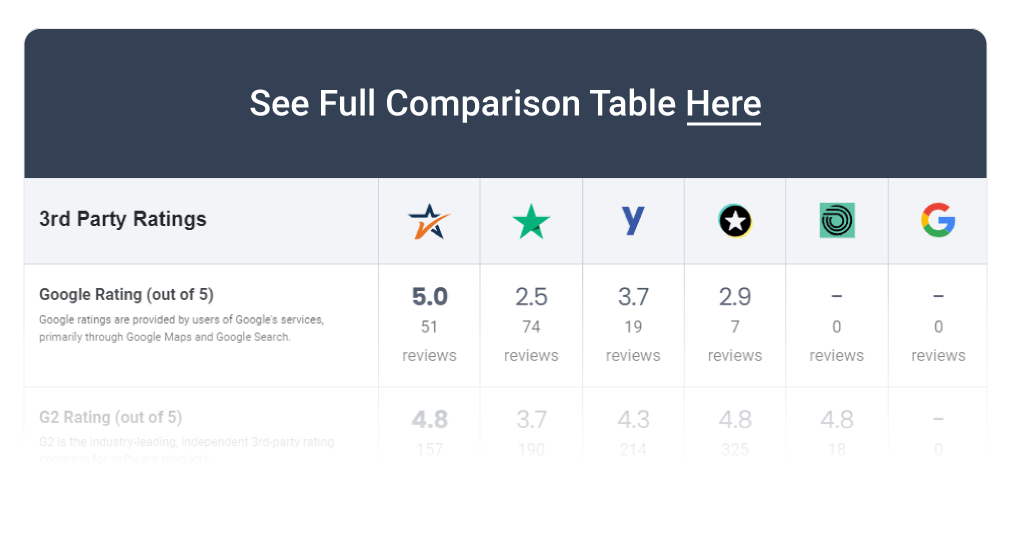 3rd Party Ratings

Google Rating (out of 5)

Google ratings are provided by users of Google's services, primarily through Google Maps and Google Search.

5.0

51
reviews

2.5

74
reviews

3.7

19
reviews

2.9

7
reviews

-

0
reviews

-

0
reviews

G2 Rating (out of 5)

G2 is the industry-leading, independent 3rd-party rating company for software products.

4.8

157 reviews

3.7

190 reviews

4.3

214 reviews

4.8

325 reviews

4.8

18 reviews

-

0
reviews

Capterra Rating (out of 5)

Capterra is an independent 3rd-party rating company for software products.

4.9

116 reviews

4.5

980 reviews

4.6

331 reviews

4.6

8
reviews

4.9

165 reviews

-

0
reviews

BBB Rating (Letter Score and Rating out of 5)

The BBB, or Better Business Bureau, is the oldest independent 3rd-party rating company in the US.

A+

4.9
30 reviews

F

1.2
59 reviews

F

1.0
1
review

-

-

-

Trustpilot Rating (out of 5)

Trustpilot is an independent 3rd-party open review platform and a direct competitor to the platforms listed here.

4.8

455 reviews

4.3

225k+
reviews

1.6

32
reviews

1.9

223
reviews

2.9

2
reviews

-

0
reviews

Search Engine Partnerships

Google Seller Ratings Partner

Google Seller Rating Partners have a special partnership with Google that allows them to display their client's company reviews directly in Google Ads and Google Shopping.

Google Product Reviews Partner

Google Product Review Partners have a special partnership with Google that allows them to display their client's product reviews in Google Product Listing Ads, Google Shopping, and Google organic search results.

Bing / Yahoo Seller Ratings Partner

Bing and Yahoo are search engines that offer advertising platforms similar to Google Ads. These platforms allow businesses to display ads on search engine results pages, partner websites, and other online platforms.

Bing Product Reviews Partner

Bing Product reviews are an essential aspect of ecommerce and online shopping. They provide customers with insights into the quality, features, and user experiences of products.

Available Solutions

Seller Ratings

Seller ratings (also known as merchant reviews or company reviews) are collected and then strategically displayed in various locations online. Only Google Seller Rating Partners can display seller ratings in Google.


(add-on service)

Product Reviews

Product reviews are collected and strategically displayed in various locations online. Google Product Review Partners have direct feeds into Google.

Video Reviews

Video reviews are collected after a purchase. If the client is happy with the video review they can approve it and add it to their website.

Review Comments

Review comments are written responses left by users alongside product, service, or content reviews. These comments offer more detailed insights, opinions, and experiences beyond just ratings.


(upgrade)

Display Reviews on Product Pages

Displaying reviews on product pages involves showcasing feedback and opinions from customers who have purchased or used the product. These reviews offer insights, build credibility, and assist potential buyers in making informed decisions.

Customer Product Images

Customers are invited to take photos of their purchases and add them to their review.

Reputation Management

Reputation management is a tool that allows you to send a portion of your customers to various open review platforms to leave a review after they buy.


(add-on service)

FOMO (Social Evidence)

FOMO (or "fear of missing out") is a software tool that shows site visitors what other customers purchased recently. FOMO can also show quantity in stock or item availability.

(via app integrations)

Website Security

Website security is one of the most trusted forms of social proof, and adding security seals to your website is proven to increase sales.

Q&A

Q&A (also known as FAQ) is a tool that can be added to a client's product pages to answer questions that customers have before making a purchase.

Q&A for Advanced SEO

This refers to special SEO techniques that, when utilized, help Q&A to be more prominently displayed in Google organic search results and featured snippets.

Q&A Crawls the Web

Q&A crawls the web looking for and suggesting additional questions and answers from Amazon and Google.

Content Widgets and Trust Seals

Strategically display attractive review widgets and seals on your website to build customer trust and credibility.

SMS (Text Messaging)

Using SMS as a way to collect reviews can be very beneficial, thanks to high SMS open rates.

(via app integrations)

(via app integrations)

(add-on
service)

(via app integrations)

Loyalty Programs

Adding a loyalty program to your business can increase repeat sales. Many companies provide loyalty points in exchange for reviews.

(via app integrations)

(via app integrations)

(add-on
service)

(add-on service)

(add-on service)

Review Management and Moderation

This allows you to manage and moderate your reviews in your control panel with a few clicks.

Search-Optimized 3rd-Party Reviews Page

A review page displays your ratings and reviews on the review platform's actual website, which makes reviews seem more trustworthy. It also helps reviews rank well in search, which can increase traffic to your website.

Analytics

This refers to the amount of data that each company analyzes and reports on in their control panel.

Standard

Standard

Advanced

Standard

Advanced

Standard

Syndication Partners

Walmart.com Syndication

Send your product reviews directly to products that you sell on Walmart.com. You can even create a free Walmart merchant account.


(add-on service)

YouTube Syndication

Automatically send videos you approve to your YouTube channel to display in both YouTube and Google search results.

Facebook Syndication

Send your reviews to Facebook to show up in your company's Facebook feed and/or create a tab in Facebook with all of your reviews.

Instagram Syndication

Send your reviews to Instagram to show up in your company's Instagram feed.

Twitter Syndication

Send your reviews to Twitter to show up on your company's Twitter feed.


(via app integrations)

Bazaarvoice Syndication

If you sell products in certain large brick & mortar locations, you can send reviews to those online locations which will show up on products that you sell there.


(add-on service)


(add-on service)

Additional Information

Verified or Open Review Collection

Verified review platforms collect solicited reviews from their client's customers after they buy; whereas, open review platforms passively collect reviews from anyone who wants to leave a review.

Verified Reviews

Open Reviews

Verified Reviews

Open Reviews

Verified Reviews

Verified Reviews

Review Volume

Shopper Approved uses a two-step process instead of the traditional one-step process, which provides the opportunity for more customers to leave reviews.

*****

***

***

****

****

***

Survey Customization

Survey customization involves tailoring various aspects of a survey, such as questions, design, branding, and distribution methods, to fit specific research goals or organizational needs.


(upgrade)

Number of Survey Questions

The quantity of inquiries posed to participants in a survey.

Multiple

-

-

Multiple
(upgrade)

Multiple

One

Number of Trust Badges

The quantity of symbols or seals displayed on a website, often representing security certifications, affiliations, or endorsements.

Multiple

One

One

Multiple

One

One

Shopping Cart Integration

The seamless incorporation of an online store's shopping cart system with its website or platform. This allows customers to easily add, manage, and finalize their selected products for purchase.

All Shopping Carts

Multiple
(but not all)

Multiple
(but not all)

Multiple
(but not all)

Shopify only

3rd-Party Integrations

This involve incorporating external software or services into a primary application or system.

US-Based Support

Refers to customer assistance provided by a company or service located within the United States.

Depends

Depends

Depends

Depends

Unknown

Setup Assistance and Ongoing Support

Involves providing initial guidance and help to users during the setup phase of a product or service, as well as continuous assistance to address issues, answer questions, and ensure smooth usage over time. This comprehensive approach ensures a seamless and satisfying user experience from start to finish.

*****

***

***

***

****

**

Knowledge Base

A centralized repository of information, resources, and documentation that provides users with access to valuable insights, instructions, troubleshooting guides, and frequently asked questions related to a specific product, service, or topic.

Limited

API Access

This allows developers to integrate, manipulate, and exchange data with the application programmatically, enabling the creation of custom applications, automations, and interactions that extend the software's capabilities beyond its standard features.


(add-on service)


(upgrade)


(add-on service)

Privately Owned or Investor Funded

Shopper Approved is one of the only privately owned, independent review platforms online.

Privately Owned

Investor Funded

Investor Funded

Investor Funded

Investor Funded

Investor Funded

Pricing

Unlimited Reviews

Review platforms typically offer an unlimited review pricing model based on a fixed price, or a limited review model based on pricing tiers that increase over time.

Limited Free Version

Refers to a scaled-down or restricted version of a product or service that is offered to users at no cost.

N/A

Free Trial

Shopper Approved offers a free 45-day trial of their Seller Ratings service with Google syndication.


(45 days)


(14 days)

N/A

Pricing

Refers to the structure and cost associated with products, services, or offerings. It encompasses the various options, plans, and fees that customers need to consider when purchasing, subscribing to, or using a product or service.

$$$

$$$$

$$$$

$$$

$$$

Free
Is There One Review Service That Provides the Best Overall Value?
When evaluating the chart of the six top review platforms, it does not take long to notice that even though there is a lot of crossover among services and offerings, there are also plenty of differences. With a closer look, it can be seen that one company seems to provide an overall better value, based on not only the level of support, the number of services and features offered, but also ease of use and the number of reviews it collects and syndicates across the web. That platform is Shopper Approved.
At the bottom of the page, you will find links to detailed, one-on-one comparisons of Shopper Approved and each individual competing review platform.
Why Does Shopper Approved Provide the Best Value Among Review Platforms?
First and foremost, as noted above, Shopper Approved provides the best value among review platforms by simply achieving the best results in the most important area: Shopper Approved is able to get ecommerce retailers 10x more seller ratings than the competing platforms collect. When you are paying to collect reviews from your customers, then the company that provides the lowest cost per review easily provides the best return on your investment.
In addition to collecting more reviews, there are three main areas where Shopper Approved outshines the competition:
Traffic and Conversion – Shopper Approved is one of just two review platforms that is an Official Review Partner of the two largest search engines, Google and Bing, for both seller ratings and product reviews. This is an important distinction, because 81% of consumers do online research before a purchase; and 96% of searches take place on either Google or Bing.

Yet Shopper Approved goes further in gaining better results on search engines by offering two other highly-valuable tools that complement their ratings and reviews services to help ecommerce websites dominate SEO and search results:


Q&A – A search-optimized FAQ solution that makes it easier than ever to get featured snippets and organic search results at the top of the search engine results page (SERP).
Review Destinations – An online reputation management solution that sends a portion of a company's reviews to the leading open review sites. This puts the ecommerce brand in more places online, maximizing their reputation, visibility and reach.



Free US-based Support – Among the top six review platforms, Shopper Approved is the only one to offer free US-based support to all users, regardless of the solutions they have bought or the pricing tier they pay for. This means that webstore owners do not have to spend time figuring out how to implement the review solution on their own after purchase, as well as that they will always have help leveraging the platform's features as their business grows and needs change.


More Features, Functionality, and Integrations – Overall, Shopper Approved offers the widest range of features and integrations to help ensure that any ecommerce company can take advantage of the platform to collect and display reviews and increase traffic and conversions on their website.

In addition to matching most other platforms service for service, just a few of the exclusive benefits Shopper Approved gives to their clients include:




A simple, easy-to-understand pricing structure
Unlimited reviews
A dedicated review certificate in addition to reviews on your site
Integration with all webstore shopping carts
YouTube syndication for video reviews
The longest free trial period (45-days)
The highest volume of reviews collected
And a low overall price for all these services



The Highest Overall Rating – Not willing to lose at their own game, Shopper Approved has the highest overall rating among the big six review software platforms, and this holds true with trusted expert aggregators like G2 and Capterra, as well as on the sites of direct competitors like Trustpilot.
How Should I Use This Comparison Chart?
We suggest you start by looking down the list of solutions, features, and ratings of each review platform. Use this guide to make your own list of what features matter most to your company and the goals you'd like to achieve with the help of your ratings and reviews solution. Once you have that list, prioritize which of those items are must-haves, nice-to-haves, and that you could live without.
Once you know your priorities, you can use the chart to learn which providers offer those particular solutions and features. This will help you narrow down which websites to visit in order to learn more and research pricing. In this way, you can decide which review platform is right for your ecommerce business and feel confident in your decision.
Of course, if you have any questions along the way, we are here to help. Please don't hesitate to reach out to us at 888-497-3270 to learn more about how reviews can help your business grow. You can also schedule a free one-on-one consultation with our ecommerce traffic and conversion experts, where we'll be happy to show you exactly how reviews can work on your website, along with any other related solutions you are curious about.
Full Comparisons of Shopper Approved versus Individual Competitors
Shopper Approved vs. Google Customer Reviews
Shopper Approved vs. Reviews.io
Shopper Approved vs. Trustpilot