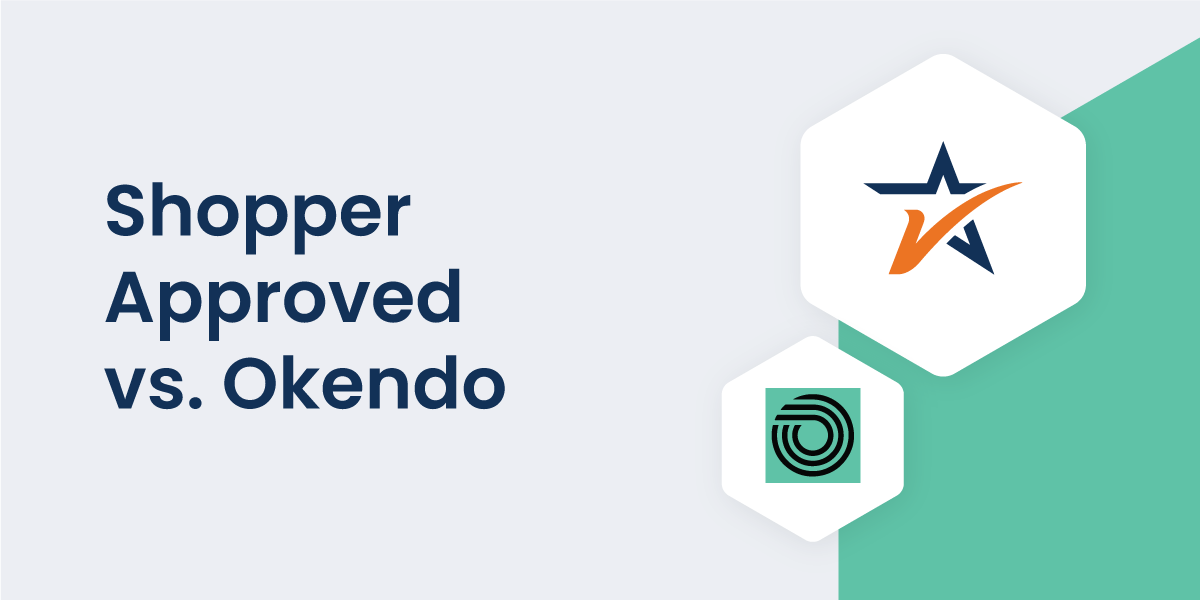 Okendo vs. Shopper Approved - A Complete Guide for 2023
Introduction
I have a confession to make: I'm the CEO of Shopper Approved and I wrote this Okendo comparison guide.
As an expert with over 13 years in the review industry, I can provide valuable information and insights that you wouldn't get otherwise.
And while you might find it strange that I'm willing to highlight our competitor's strengths and point out our weaknesses, ultimately I would rather that you choose the review platform that best suits your business's needs, even if it's not Shopper Approved.
So I decided to create the most comprehensive comparison chart that exists between Shopper Approved and Okendo, where I do my best to share the good, the bad, and the ugly from both companies equally.
I also include unbiased third-party results from reputable sources such as G2, Capterra, and even Trustpilot (yes they are a competitor—you can read my official Trustpilot vs. Shopper Approved comparison here).
Finally, I provide you with direct links to both Okendo and Shopper Approved, allowing you to easily connect with both companies and ask any additional questions that you might have.
I truly hope that this comparison guide helps you in your research. If you have further questions, please reach out. My team and I are here to help in any way we can.
Scott Brandley
Founder and CEO
Shopper Approved
---
Quick Highlights
To get started, here's some interesting information about Shopper Approved and Okendo:
Okendo and Shopper Approved are both high-profile, well-known online review platforms that

specialize in providing

ratings and review services for ecommerce

websites involved in online sales of product and/or services.
Shopper Approved is one of the older, more established review platforms, having launched in 2010. Okendo opened its doors in 2017 and thus is relatively new, but it is quickly earning a name for itself.
Shopper Approved and Okendo are both

verified review platforms

, which means that they actively solicit reviews from actual paying customers after they buy. Alternatively, most review platforms are open review platforms, which means that anyone can leave a review. Open review platforms often generate unverified reviews that tend to be negatively skewed, making them less trustworthy.
Both Okendo and Shopper Approved are Google Seller Ratings and Google Product Review partners, giving them special access to both types of review feeds. These feeds enable them to display star ratings in Google Ads, Google Shopping, and Google Product Listing Ads, setting them apart from many other review platforms that lack one or both of these partnerships.
While both companies offer seller ratings and product reviews, there are some key differences that I will outline in more detail later in the guide. These include things like shopping cart integrations and limitations, Google certificate pages, support options, and reputation management tools.
Comparing Shopper Approved and Okendo
This comparison chart was created in July 2023 using the most up-to-date information available at the time. Below each item is a short description to give you an idea of why that item is important to either Okendo, Shopper Approved, or both companies.
3rd Party Ratings

G2 Rating (out of 5)

G2 is the industry-leading, independent 3rd-party rating company for software products like Shopper Approved and Okendo.

4.8

157 reviews

4.5

18 reviews

Capterra Rating (out of 5)

Capterra is an independent 3rd-party rating company for software products like Shopper Approved and Okendo.

4.9

116 reviews

4.9

165 reviews

Trustpilot Rating (out of 5)

Trustpilot is an independent, 3rd-party open review platform.

4.8

455 reviews

2.9

2 reviews

Search Engine Partnerships

Google Seller Ratings Partner

Google Seller Rating Partners have a special partnership with Google that allows them to display their client's company reviews directly in Google Ads and Google Shopping.

Google Product Reviews Partner

Google Product Review Partners have a special partnership with Google that allows them to display their client's product reviews in Google Product Listing Ads, Google Shopping, and Google organic search results.

Bing / Yahoo Seller Ratings Partner

Bing accounts for nearly 10% of all search traffic. It is a great (ang growing) source of traffic that is often overlooked.

Bing Product Reviews Partner

Shopper Approved is one of only two official Bing Product Review Partners in the world.

Available Solutions

Seller Ratings

Seller ratings (also known as merchant reviews or company reviews) are collected and then strategically displayed in various locations online. Only Google Seller Rating Partners can display seller ratings in Google.

(add-on service)

Product Reviews

Product reviews are collected and strategically displayed in various locations online. Google Product Review Partners have direct feeds into Google.

Video Reviews

Video reviews are collected after a purchase. If the client is happy with the video review they can approve it and add it to their website.

Product Images

Customers are invited to take photos of their purchases and add them to their review.

Reputation Management (Review Destinations)

Reputation management is a tool that allows you to send a portion of your customers to various open review platforms to leave a review after they buy.

FOMO (Social Evidence)

FOMO (or "fear of missing out") is a software tool that shows site visitors what other customers purchased recently. FOMO can also show quantity in stock or item availability.

Website Security

Website security is one of the most trusted forms of social proof, and adding security seals to your website is proven to increase sales.

Q&A

Q&A (also known as FAQ) is a tool that can be added to a client's product pages to answer questions that customers have before making a purchase.

Q&A for Advanced SEO

This refers to special SEO techniques that, when utilized, help Q&A to be more prominently displayed in Google organic search results and featured snippets.

Q&A Crawls the Web

Q&A crawls the web looking for and suggesting additional questions and answers from Amazon and Google.

Content Widgets and Trust Seals

Strategically display attractive review widgets and seals on your website to build customer trust and credibility.

SMS (Text Messaging)

Using SMS as a way to collect reviews can be very beneficial, thanks to high SMS open rates.

(via app integrations)

(via app integrations)

Loyalty Programs

Adding a loyalty program to your business can increase repeat sales. Many companies provide loyalty points in exchange for reviews.

(via app integrations)

(add-on service)

Review Management and Moderation

This allows you to manage and moderate your reviews in your control panel with a few clicks.

Search-Optimized 3rd-Party Reviews Page

A review page displays your ratings and reviews on the review platform's actual website, which makes reviews seem more trustworthy. It also helps reviews rank well in search, which can increase traffic to your website.

Analytics

This refers to the amount of data that each company analyzes and reports on in their control panel.

Standard

Advanced

Syndication Partners

Walmart.com Syndication

Send your product reviews directly to products that you sell on Walmart.com. You can even create a free Walmart merchant account.

(add-on service)

YouTube Syndication

Automatically send videos you approve to your YouTube channel to display in both YouTube and Google search results.

Facebook Syndication

Send your reviews to Facebook to show up in your company's Facebook feed and/or create a tab in Facebook with all of your reviews.

Instagram Syndication

Send your reviews to Instagram to show up in your company's Instagram feed.

Twitter Syndication

Send your reviews to Twitter to show up on your company's Twitter feed.

Bazaarvoice Syndication

If you sell products in certain large brick and mortar locations, you can send reviews to those online locations in order to feature your revies on products that you sell there.

(add-on service)

Additional Information

Verified or Open Review Collection

Verified review platforms collect solicited reviews from their client's customers after they buy; whereas, open review platforms passively collect reviews from anyone who wants to leave a review.

Verified Reviews

Verified

Reviews

Review Volume

Shopper Approved uses a two-step process instead of the traditional one-step process, which provides the opportunity for more customers to leave reviews.

*****

****

Shopping Cart Integration

Shopper Approved has direct integrations with multiple platforms and can be installed on virtually any site, whereas Okendo can only integrate with Shopify.

All Shopping
Carts

Shopify Only

US-Based Support

Okendo's support team is located in both the US and UK. Shopper Approved's support team is US-based.

Depends

Setup Assistance and Ongoing Support

The difference here is due to Okendo not offering phone support.

*****

****

Knowledge Base

Both companies offer an extensive knowledge base to help answer common user questions.

API Access

API (Application Programming Interface) access gives you the ability to pull your review data and use it in creative ways.

(add-on
service)

Privately Owned or Investor Funded

Shopper Approved is one of the only privately owned, independent review platforms online. Okendo is investor funded.

Privately Owned

Investor Funded

Pricing

Unlimited Reviews

Review platforms typically offer an unlimited review pricing model based on a fixed price, or a limited review model based on pricing tiers that increase over time.

Free Trial

Both Shopper Approved and Okendo offer a free trial.

(45 Days)

(14 Days)

Pricing

Both services charge about the same for their main services, but Okendo's add-on services may push your costs higher.

$$$

$$$
Summary of Okendo vs. Shopper Approved
What Are Okendo's Strengths?
Okendo is a great tool for collecting and displaying product reviews on your website and social media.
They are also very innovative and creative when it comes to graphic design and display, which helps them to get better-than-average results for their clients.
In addition, their loyalty and survey software products can be bolted onto their review solution for added benefits.
What Are Okendo's Weaknesses?
While Okendo is pleasing on the eyes, they do have a few shortcomings:
They are exclusively built for Shopify, which excludes a lot of websites based on other ecommerce platforms from using Okendo for reviews.
They do not have a dedicated reviews page to display their client's reviews in Google search results. This severely limits brand visibility for those clients.
They do not have a reputation management tool. This means that Okendo clients have no way to combat open review platforms that are notorious for negative reviews.
They charge add-on fees for some really important tools, including Google Seller Ratings, Walmart Syndication, and API access.
In addition, Okendo's tiered plans have review limits that, when combined with their loyalty and survey add-on solutions, can quickly increase the overall cost. Finally, Okendo does not offer phone support, so plan accordingly.
What Are Shopper Approved's Strengths?
Shopper Approved's greatest strength is our unique collection process that helps our clients collect up to 10x more reviews. We also excel in helping display those reviews in more strategic locations online than any other review platform.
Some other notable strengths of Shopper Approved include:
Review Destinations, our reputation management tool, which allows websites to send a percentage of their customers to leave reviews on open review platforms, helping the brand to manage their online reputation effectively.
Our dedicated client review pages, which prominently appear in Google organic search results, boosting brand awareness and visibility.
Direct integrations with Shopify, BigCommerce, and WooCommerce, and custom integrations for all other shopping carts (which our service team will install for free).
Our one-of-a-kind search-optimized Q&A tool, which helps answers show up prominently in rich snippets and organic search results on Google.
In addition, our unlimited review model ensures that our client's prices don't change over time. Finally, we offer U.S.-based phone support.
What Are Shopper Approved's Weaknesses?
While Shopper Approved is great at improving both traffic and conversions, we currently do not offer advanced analytics.
While our surveys and graphics are clean and attractive, they are not quite as polished as Okendo's.
Also, because Shopper Approved focuses primarily on achieving search engine results for our clients, our social media tools aren't as robust.
Final Thoughts on Shopper Approved and Okendo
When it comes to choosing between Okendo and Shopper Approved, both are great options. Both companies are very innovative and do a good job of playing to their individual strengths and areas of focus.
Ultimately, when choosing between Shopper Approved and Okendo, it really depends on where your customers are and who you want to target.
If you're currently on Shopify and your business heavily relies on social media, and you primarily want to target clients on Facebook and Instagram, or leverage social media content on your website, then Okendo is probably the best option.
However, if your business depends on getting more online visibility, traffic, and social proof on Google, and reputation management is important to you, then Shopper Approved is your best option.
In my opinion, you really can't go wrong with either choice—it really just depends on your target market.
Contact Information:
To visit Okendo, go to https://okendo.io
To visit Shopper Approved, go to https://www.shopperapproved.com
Other Comparisons and Further Reading:
Trustpilot vs. Shopper Approved
Reviews.io vs. Shopper Approved
Google Customer Reviews vs. Shopper Approved