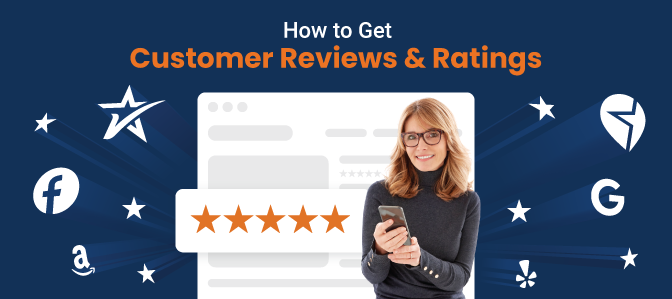 How to Get Customer Reviews & Ratings: Top Tips for Your Business
In today's digital and e-commerce age, customers hold more power than ever before over the choices of other consumers. In fact, studies show that customer reviews influence the purchasing decisions of 95% of consumers and 88% of customers trust online reviews as much as recommendations from people they know. Therefore, satisfied customers could actually become your best salespeople.
Business ratings show a similar impact on shoppers, with 72% of consumers indicating they would consider buying from a merchant with a 3-star rating, but only 27% feeling the same for businesses with a 2-star overall rating. People like being able to see at a glance what others think of your company.
Online reviews and ratings not only influence customer buying decisions but also impact search results. Search engines use online reviews as an SEO factor, and to gauge how well your brand is meeting the needs of consumers.
With this kind of significance, gathering customer reviews and ratings should be an essential component of every business plan. So how do you ask customers for reviews? Use these 10 tips to start getting more reviews and ratings from your customers.
Types of Reviews
First off, it's important to understand that all reviews aren't the same. There are three primary kinds of reviews:
Google Seller Ratings and Reviews - These are the most visible reviews online and usually speak to an overall shopping experience with a merchant.
Product Reviews - Reviews specific to a product or service that often goes in-depth, including the quality and functionality of the product, and delivery. (See What Product Reviews Are and How They Increase Your Sales.)
Local Reviews - These are reviews for local, brick-and-mortar businesses like restaurants, hair salons, repair services, etc.
Tip 1: Make It Possible
If you want to generate online reviews, there needs to be a place for people to post them. Facebook, Google My Business, and Amazon are some of the top places where consumers go to look at, and leave reviews. Reviews on Google play into search engine rankings as well, and the following tips can help you know how to get more Google reviews.

Facebook
With Facebook's reach and influence, it has become a powerful marketing force. Make sure to claim your business' Facebook Page so potential customers can learn about you without even having to leave the platform.
Google My Business
Take advantage of the world's largest search engine by claiming your business on Google My Business. Potential customers can find you through Google searches or when using Google Maps. This is particularly crucial for local businesses looking to attract foot traffic.
Amazon
As the world's largest online retailer, Amazon presents a lot of results for many different searches, so make sure to claim and customize your Amazon page.
Tip 2: Optimize Your Content
Customers will most likely post reviews on third-party sites, but you want to make sure it's easy for them to leave reviews on your own site as well. Optimize your website, social profiles, emails, and blog posts to provide quick and easy ways for them to write reviews.
You can set up website badges that direct to your Facebook and Amazon pages to read and leave reviews, include links to various ways to leave reviews in emails, add CTAs for reviews on order confirmations or receipts, or even ask for reviews on physical goods with QR codes.
Tip 3: Ask
It's unfortunate that the potentially business-changing power of reviews can go untapped because companies hesitate or forget to solicit reviews. The good news is, that your customers are usually more than happy to help you out—all you have to do is ask.
How to Ask Customers for Reviews
Asking your customers for reviews can be easier said than done, and how and when you ask are both important factors. As for what to ask, take a look at the three questions you need to ask your customers.
You should first decide if you want to ask for a product or a company/Google Seller Rating and review. Individual product reviews are valuable if you sell on an external site like Amazon, you have many different products, or the product your customer purchased is a new release. It may be better to request a company review if you only sell a few products, the products you sell are big-ticket items, or you're a new company.
You can also ask for reviews via social media. If someone tags your company or product, respond and say you'd love to hear more about it, and include a link to a place they can leave their review. When you share reviews from customers on your own social media (see Tip 8), add a CTA for other customers to write their own reviews.
Remind your customers to review your business, product, or service as often as possible. They may not have the time on the first request, but might the second or third time. You also want to make sure your review profile is always fresh, with regular, new reviews.
Tip 4: Make It Easy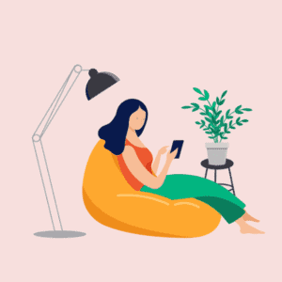 If you were asked to name one company that dominates the e-commerce space, chances are it's Amazon. They have done all they can to remove obstacles for their customers, and have reaped the rewards
Take a page out of Amazon's book and get as close as you can to 1-click reviews. No one wants to jump through all kinds of hoops to express their opinion. (And if they do wade through multiple steps, their opinion may not be as positive as when they first started.) The easier you make it for customers to leave reviews, the more likely you are to get them.
Reviews need to be easy to find and easy to leave. Above all, the process must be mobile-friendly. In 2018, over half of the total internet website traffic was through mobile devices, and the numbers are only projected to grow. With mobile e-commerce activity projected to hit over 67% of all e-commerce by 2021, you will see better results in gathering reviews where your customers are: on their phones.
Tip 5: Time It Right
Timing may be everything in getting more reviews from your customers. You want to pick the right moments to ask in the customer journey, preferably when they are satisfied enough that they would leave a positive review.
The right time will be different for different companies. For example, the right time to request a review for a service like Uber or Lyft may be right after the service was used, whereas the right time for a skincare product is more likely to be after the customer has used it for a while.
Here are some good times to ask for reviews:
After a purchase

After a product has been delivered

For local businesses, before a customer walks out the door

When a customer re-purchases or re-orders

After a customer tags your brand on social media

When customers are browsing your site for other products/services

If they refer to another customer
Tip 6: Start a Conversation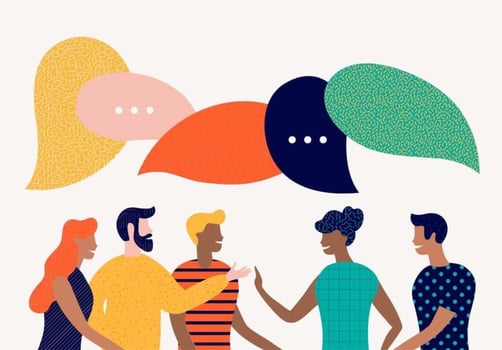 Rather than coming right out and asking for a review, consider starting a conversation with customers first. You can ask open-ended questions to get feedback and see how happy the customer is before soliciting a review. This approach has a couple of benefits: 1) You acquire feedback from your most valuable and honest resource: the customers, and 2) It helps humanize your brand and foster a better relationship with customers, which may result in more reviews down the road.
Another way to engage your customers and start a conversation is to ask them for help. Amazon capitalizes on the fact that, in general, people like to be helpful. Thousands of their customers jump in to answer product questions. In email newsletters, you can add a Help with a Question section to solicit responses from your customers for popular shopper questions, then highlight answers on your site.
Tip 7: Respond to Every Review
An effective review strategy really has two parts: 1) getting customer reviews, and 2) making sure customers know you are listening and want to continue the conversation. For positive reviews, this may mean just thanking every reviewer with one or two personalized sentences referencing what they wrote (no generic thumbs-up responses).
You should respond to negative reviews as well. In fact, bad reviews can actually be good for your company. They can provide insight into ways to improve your website, store, or products. They also give you an opportunity to engage with a customer directly and offer excellent customer service. Responding to bad reviews not only provides a better experience for the reviewer but also has a powerful effect on other customers who will read that review and your response.
Here are some good rules of thumb when dealing with negative reviews:
Respond promptly

Apologize

Admit your mistake (if there was one)

Correct inaccuracies

Write like a person, not a business

Let the customer know how to reach you to take it offline

Explain how you will make it right
Tip 8: Share Positive Customer Reviews You've Already Received
When you do get positive reviews, capitalize on them. They offer valuable marketing material, so display them on your site. This helps provide social proof because other shoppers can see that people are enjoying your products/services. It also contributes to SEO and rankings for your site. Double up on the benefits by making it so customers can share reviews, ask questions or make comments on reviews, and mark reviews as helpful or unhelpful.
Reviews that stand out—particularly complimentary or entertaining ones, for example—offer perfect opportunities to share on social media in creative ways. Give a shout-out to the reviewer and you've also created a personal connection.
Sharing positive reviews help get them in front of more people and helps spark the idea for other customers to leave their own reviews as well, especially if you include a CTA.
Tip 9: Use Review & Rating Tools
There are several tools out there to help you gather and manage your reviews, and these e-commerce rating and review tools are widely used across the industry. They can offer several convenient benefits, like: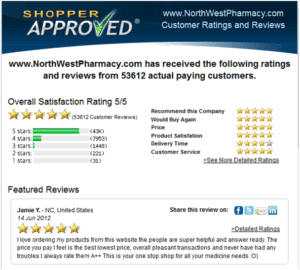 Monitoring of reviews that pop up online so you can respond

Email features to create campaigns

Distribution of reviews across different sites

Integrations or widgets for your site to gather reviews

APIs or apps for social sharing

Text messaging to reach customers

Analytics of how customers are engaging with emails and other review request campaigns
One of the most robust review and distribution tools is Shopper Approved. A simple, cloud-based application curates ratings, reviews, and video testimonials from verified customers, then distributes the collected reviews across a wide network that includes Google, Facebook, Twitter, Yahoo, YouTube, Bing, and more.
Get Started Gathering Your Reviews
According to a global Nielsen survey, internet users trust consumer recommendations more than other forms of advertising. Use these 10 tips, to tap into the gold mine of customer reviews and ratings for your business.
But if it feels like a lot to do on your own, Shopper Approved can help you get started right away. Shopper Approved collects up to 10x more ratings and reviews than competitors, and with their simple setup, completely automated processes, and large distribution network, you could be up and running in no time. Start your 45-day risk-free trial today.