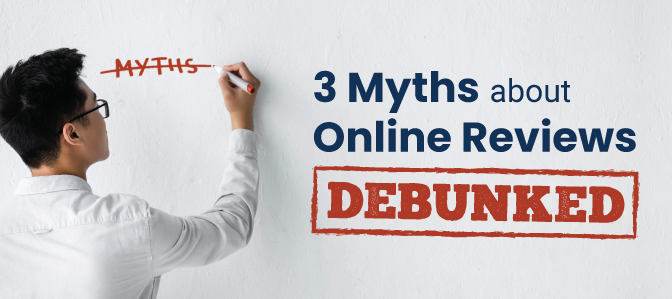 3 Myths About Online Reviews Debunked
Just two weeks ago, I came across the arduous task of purchasing a new screen cover for my phone. Thanks to Amazon, I had a million different brands, installation kits, and screen materials to choose from.
Fortunately, this overwhelming decision was made easy by star ratings and a quick glance at a few product reviews.
Consumers depend heavily on online reviews when making purchase decisions for just about everything. In fact, a 2021 study found that 99.9% of shoppers read reviews when they shop online.
It's not just that customers read reviews. They trust them. Overall, 88% of customers trust online reviews as much as they trust a personal recommendation. That number rises to 91% among 18 to 34-year-olds, which is quickly becoming the most powerful demographic among consumers.
So, it's obvious that reviews are crucial to bringing in new business, but collecting online reviews doesn't always seem easy. That's why there are companies like Shopper Approved that offer solutions for collecting reviews for e-commerce companies.
Surprisingly, in some circles, there's a negative stigma behind paying companies to collect reviews from their customers. In reality, soliciting reviews is one of the best actions you can possibly take to improve your business and increase your bottom line.
Here are three myths about soliciting online reviews that we would like to put to rest.
Myth #1: Solicited Reviews Are Fake
This is false. Solicited reviews are not necessarily fake; and many trustworthy, prominent companies ask their customers for reviews after a purchase.
While some open review platforms will allow anyone to leave a review without verifying that a purchase was made, there are a few companies, like Shopper Approved, that will only allow active, verified reviews to be collected.
This means that the software will only ask for and collect reviews from users that they can verify have purchased a product or service. (Read more about active and passive reviews here). It isn't an open link available to the public for anyone to use, it is customized specifically to each buyer. Those reviews are as real and honest as it gets.
Are non-solicited reviews better than solicited ones?
Ironically, while non-solicited (passive) reviews are sometimes seen as more trustworthy than active, solicited reviews, in reality, non-solicited reviews are much more likely to be negatively skewed than active ones due to the fact that the majority of consumers won't go out of their way to leave a positive review. This fact alone makes solicited reviews much more credible and accurate.
Myth #2: Solicited Reviews Are Biased to Be Positive
Again, this is false. As long as there are no incentives offered to the consumer to give a rating or provide feedback about a product or purchase experience, there's no reason for the consumer to be biased in a positive or negative way.
People often mistake solicited reviews for incentivized reviews, something all the large review platforms, including Amazon, Yelp, and Google have taken a stand against.
What does it mean to solicit a review?
To solicit a review simply means to ask a verified customer to share their opinion regarding their experience with fellow shoppers and viewers. The customer is then left to decide on their own whether they would like to leave a review, and if so, what to say and what level of star rating to give their experience.
Companies like Shopper Approved integrate their review technology directly into your purchase process. This ensures that every customer gets an equal opportunity to leave a rating and review, regardless of their experience. This means that the company's overall rating will be as accurate as possible.
Some people are skeptical because they see the reviews of companies that use a third-party review service with a higher star rating than companies that don't. Don't worry, these reviews are legitimate, and are actually more accurate than companies that don't actively collect reviews.
Think about it; if a buyer has a negative experience, they are more likely to go out of their way to leave a bad review, even if the company didn't ask for a review.
When soliciting reviews, every customer is asked for their opinion, so you're getting both good and bad. For most companies, the positive customer experiences tend to naturally outweigh the bad. So when you're asking for reviews from a higher volume of your customer base, your ratings will reflect that.
Myth #3: Solicited Reviews Don't Show Up in Popular Search Engines like Google
Definitely false. While there are rules about how and when you may solicit reviews, if you you are following these parameters set up by Google, reviews will show up on the search results page as part of a search for your products or company.
The purpose of collecting reviews is so your reviews show up where they can be easily seen by consumers. It's crucial that your reviews not only show up on your website but that they also have a presence on major search engines like Google, Yahoo, and Bing.
Reviews collected with a credible software company are directly syndicated to these major search engines, and show up in pay-per-click (PPC) ads. This can also significantly increase your traffic and click-through rates.
There are, however, several rating and review websites that do not have syndication agreements with the major search engines, and therefore, do not syndicate your reviews.
So, before you sign up for any rating or review services, make sure you find out if they have syndication agreements in place-- or even better, if they are an official Google Review Partner. Otherwise, you may as well be collecting reviews on an island.
Who are the credible Google Review Partners?
There are many certified Google Review Partners in the United States that we consider to be the most credible. Here is a short list:
Shopper Approved
Yotpo
Reviews.io
Sitejabber
The Truth: Solicited Reviews Are the #1 Way to Collect Reviews for Your Business
The truth is that consumers are incredibly dependent on online reviews when making a purchase, and they are becoming more dependent all the time. Remember, 88% of consumers trust online reviews as much as they trust personal recommendations.
What does that mean? It means that if your company has more reviews than your competitor, then you are more likely to attract more buyers-- especially if those reviews are from a trusted source.
These reviews accurately reflect your customers' experiences with your company and will have a significant impact on traffic and sales-- much more than any passive approach will ever have.
The bottom line is that a higher number of unbiased, solicited reviews typically correlates to a naturally higher, more accurate star rating, and a more credible online presence for your business.
Bonus Perk
Having reviews on your website can increase your organic search engine ranking because of the unique, user-generated content that is added by each new reviewer. This, combined with off-site reviews on third-party review sites and other syndication channels, helps to increase your online reputation and presence in multiple locations.
More reviews in more locations = more traffic and more sales!
Anxious to learn how Shopper Approved can help you create greater visibility for your brand, increasing traffic to your site and pre-converting your visitors so they are primed and ready to buy? Click below, or learn about our Traffic & Conversion Suite here.