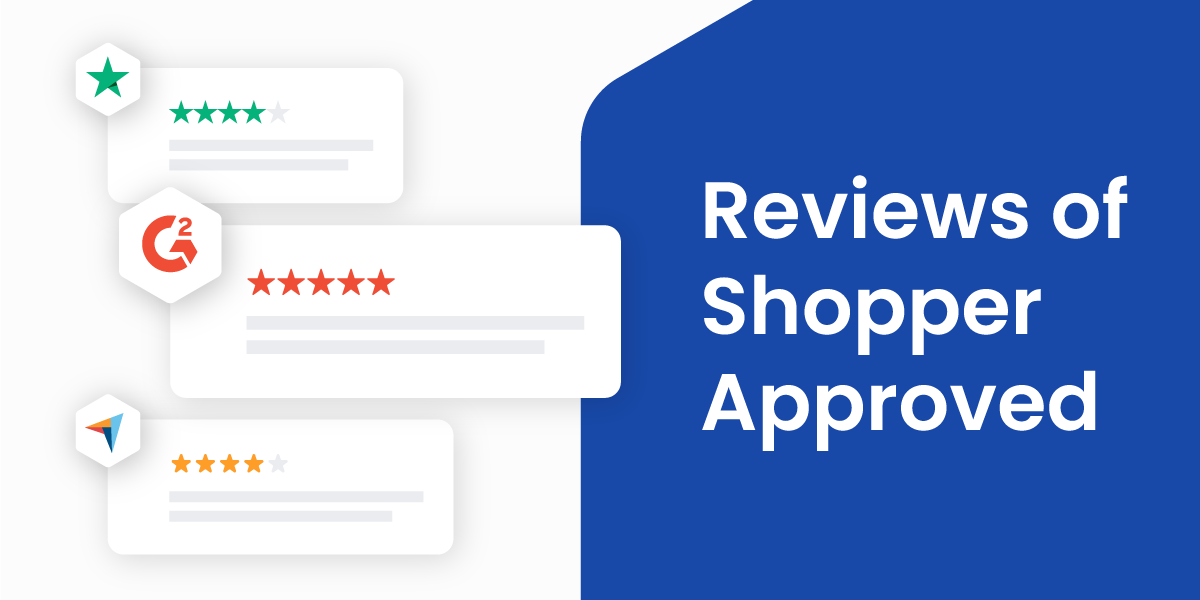 What Real Shopper Approved Customers Say About Us
Do Reviews Exist for Shopper Approved?
Yes, many Shopper Approved users and clients have left reviews about their experience with us on review sites such as G2, Google, BBB, Capterra, and more.
Shopper Approved Gets Reviews, and We Get Reviewed
At Shopper Approved, we don't just preach the importance of getting reviews to our clients, we encourage them to leave a review of our services, as well.
Just like with the reviews we help small businesses gain, we ask for honest, unbiased opinions that accurately reflect the experience our clients have. After all, we want to know the unvarnished truth— good and bad.
If we get a negative review, this gives us a chance to respond to the bad and make things right, whether individually or by improving processes or services that aren't up to our highest standards.
And when we get positive reviews, we want those testimonials to help show other business owners and leaders who aren't yet using Shopper Approved a full picture of what our software and services have done to help them collect and leverage reviews to grow their business.
Here is a sampling of reviews that users have left for Shopper Approved. (Editor's note: Nothing has been omitted from the original review at the linked source as of May 25, 2023. Spelling, punctuation, and spacing was corrected for sake of readability.)
---
"Amazing review services for my website. Very impactful features."
5 STARS – Michael T., Small business owner; via G2
What do you like best about Shopper Approved?
I love the fact that they offer if you get over a certain number of reviews per year you can get an ad extension on your paid ads and organic ads. I also really like how they made getting video reviews possible and easier.
What do you dislike about Shopper Approved?
I like everything about shopper approved website. I would potentially like it better if they had a way to go straight to leaving a video review for customers I want to only leave one as opposed to having to leave a written review before leaving a video review.
What problems is Shopper Approved solving and how is that benefiting you?
They are giving me the opportunity to make my paid ads stand out with their ad extension and my organic ads stand out on Google. They are also making it easier to get customers to leave video reviews.
---
"Shopper Approved has helped me share thousands of consumer reviews!"
4 STARS – Kevin B., CEO, consumer services; via Capterra
Overall: I'd say it's worth the cost, I know it helps us generate more sales than we would if we didn't have it.
Pros: I love the stars integration that my Google ads would get. The badge icon really does look good and help validate our legitimacy, we always refer our clients to our Shopper Approved to see our validity.
Cons: I'd like more to do, and if they have a more user-friendly dashboard. It is a bit clunky, kinda hard to find what I'm looking for sometimes. But, it works fine.
Alternatives Considered: Trustpilot
Reasons for Choosing Shopper Approved: I found ShopperApproved first, I also like their badge. Trustpilot looked like all those other lesser-known, lesser-legitimate reviews websites. Shopper Approved stood out the most out of all of those other ones looking similar to each other.
---
"Gathering and displaying customer reviews was so simple."
3.5 STARS – Verified user in recreation services; via G2
What do you like best about Shopper Approved?
It was easy to set up. I only had to paste a few lines of code to some source files for my website.
What do you dislike about Shopper Approved?
I notice that sometimes the number of reviews shown by Shopper Approved differ from the amount shown on Google, and I haven't quite figured out the reason for that.
What problems is Shopper Approved solving and how is that benefiting you?
We have a large selection of products where having reviews displayed underneath really seems to drive home the quality of the products we sell. I feel it makes our website appear more trustworthy.
---
"Shopper Approved has been great for our website."
5 STARS – Matt Schloss; via Trustpilot
Shopper Approved has been great for our website. From the day we set up our account several years ago, they have been helpful whenever we had issues or needed some guidance. From sales to support, we are happy to recommend them to anyone that asks. Thank you!
---
"Great tool for boosting ecommerce websites."
4 STARS – Jason L., President, marketing agency; via Capterra
Overall: At our marketing agency, we recommend Shopper Approved merchant reviews to all our clients. While there are some other options on the market that have pros and cons, we like the inexpensive and well-thought-out merchant review system from Shopper Approved. We do not typically recommend product reviews, as we prefer to retain those in whatever ecommerce CMS we're using, and we do not have an opinion about their local reviews offering (none of our clients are local businesses). We find that the Shopper Approved rating badges and Javascript snippets showing recent reviews are very beneficial to conversions. We also find that when Shopper Approved merchant reviews are syndicated to Google Ads, they have a positive effect on ad performance. We like the way the survey content and timing can be customized, and we love the ease of install too— just one JS snippet on the order confirmation page is enough to start collecting merchant reviews. If we have any complaints, it's that pricing is not consistent. Many of our clients have reached out to Shopper Approved and received vastly different price quotes. Also, the user interface for the service is dated and clunky. It's not at all unusable, however, just a little confusing. Still, these are minor issues.
Pros: Easy install, decent configuration options, merchant review data syndicated to Google, good selection of widgets to promote reviews, great tool for marketing ecommerce websites
Cons: Clunky user interface, inconsistent pricing
Alternatives Considered: Trustpilot, Reviews.io and Yotpo
Reasons for Choosing Shopper Approved: We have clients using Trustpilot, Reviews.io, and Yotpo. While each of these services has positives over Shopper Approved, we find that they're all either a) much more expensive, or b) not syndicating reviews to Google Ads, at least at the lower pricing levels. For many of our clients, we provide a reviews system as part of our package. In that situation, we always provide Shopper Approved, as it is the best value. We have also trialed Google Merchant Reviews. While you can't beat the price, the marketing benefits are limited. What's more, it can take a very long time to obtain a rating. For those reasons, we do not currently focus on Google's offering.
---
"Impartial third-party reviews that actually mean something."
5 STARS – Verified small business user; via G2
What do you like best about Shopper Approved?
We've been using Shopper Approved for years and it has always been an excellent and reliable service. It works as advertised and our customers like it. While this may seem counterintuitive, I particularly like that reviews cannot be removed or hidden. It makes me trust Shopper Approved reviews on other websites more than other "reviews" from dubious sources.
What do you dislike about Shopper Approved?
I wish follow-up emails were more customizable. Some customers are confused by the request for feedback.
What problems is Shopper Approved solving and how is that benefiting you?
Presenting customer with real feedback they can trust and rely on.
---
"Good review package. Responsive teamwork."
4 STARS – Bob; via Trustpilot
Shopper Approved offers a good combination of review-related services at a competitive price. In our case, they also combined that with personal attention to get our reviews displayed exactly as needed on our custom site.
We did run into an implementation glitch, which is when the personal touch became essential. The team pitched in together to resolve everything, and now we're perfectly set for collecting and displaying product and service reviews.
---
"They are committed to keeping consumers happy."
5 STARS – Ben W.; via BBB
Have been a customer of ********************** for 8 years now, and over time I have come to appreciate the choice I made to go with them for our review aggregation services. While we still get very pushy and unwanted sales calls and emails from competitors like Trustpilot regularly, we've decided to stick with Shopper Approved, primarily because when we have had any questions or issues, Shopper Approved has been responsive and helpful. There are real people working there and responding to inquiries from within in the US. I was most impressed when I made a feature request and they actually implemented it. Can't say that about a lot of companies these days— willingness to go above and beyond when they already have your money. They are committed to keeping consumers happy. So, if you need reviews collected for your website, I can tell that we have been happy with our choice and we have now collected ****** legitimate reviews— not bad for a small/mid-sized company. Recommend!
---
"One of the best and most trustworthy review services anywhere!"
5 STARS – Verified user in retail; via G2
What do you like best about Shopper Approved?
I especially like that reviews are only allowed to be submitted by verified customers. Other review sites let anyone leave scam reviews and can't always be trusted. This one is legit!
What do you dislike about Shopper Approved?
They sometimes get the billing mixed up, which can be a hassle to deal with, but the staff has always been very helpful in getting things worked out and corrected.
What problems is Shopper Approved solving and how is that benefiting you?
Shopper Approved allows our company to be sure that the reviews we get are from bona fide customers and not just random users. It's too easy for a customer with a minor problem to get everyone in their family, their cousins, people that follow them on Facebook, their hairdresser and even their dog groomer to take up their cause and leave negative reviews anywhere they can find. And there are lots of places that thrive on unverified negative reviews. Since implementing Shopper Approved, we mostly ignore all other review services as illegitimate because the reviews cannot be verified. Even Google reviews are often bogus.
Additional Reading About Shopper Approved and Review Platforms