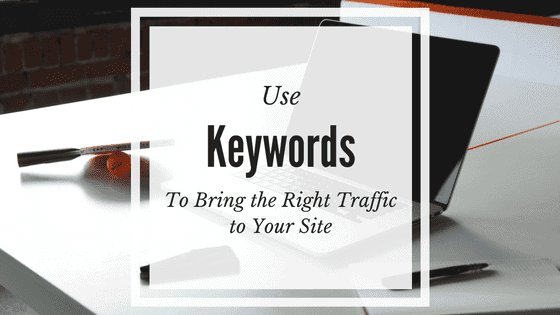 Use Keywords to Bring the Right Traffic to Your Website
The purpose of SEO is to use keywords to bring more traffic to your website. Proper SEO usage ranks your website higher in searches run through search engines like Google or Bing. However, SEO does nothing for you if those clicks don't bring the right traffic to your website and lead to purchases.
Using the right keywords can bring your target audience to your website and ultimately increase sales!
Use Broad Keywords
Great SEO implementation techniques include both broad and targeted keywords throughout your post or website. While more online content from other sources will fall under broad keywords, potentially hiding your content, it's still necessary. Why? Because these keywords are still related to your company and your product or service. And the more your page is visited, the higher your page is ranked even in these broad searches.
Broad keywords should be generic words that are related to your company or product. Generic terms like "shirt" or "clothing" are great examples for a webpage selling a shirt on a clothing website. Use these descriptions in the meta-tag and product description!
Use Targeted and Long-Tail Keywords
Targeted keywords are more specific to what your website or page is about. They can also bring people to a specific product page. A great example of a long-tailed keyword for a clothing company product page is "women's long-sleeved black t-shirt".
Because these strings or words are more targeted, fewer people are likely to be searching for them. However, the people that are searching for them are more likely to buy because that's exactly what they are looking for, creating a better ROI.
To get ideas for keywords you should use in your meta description, product description, blog post, or web page, I recommend using Google Adwords Keywords Planner or SEMRush.
Use Variations of Terms When Purchasing Keywords
Misspellings of common words, different spellings of the word t-shirt (shirt, T-shirt, tees, etc.), and other accommodations to variations in wording can help bring traffic to your site. Make sure to put yourself in the shoes of your consumer. Think of the varying ways words can be spelled that would help them find what they are looking for.
You can also use concatenation tools (like merge words) to more efficiently find different combinations of words or strings relevant to your website.
Use Competitor Terms When Purchasing Keywords
Your competitor's names should be keywords that you pay for that will pull up your website in search engine results. Purchasing PPC ads for competitor names tends to be more expensive, but it puts your website in front of your competition's site. This is potentially redirecting customers to you that were likely planning on purchasing from them.
Use Negative Keywords
The Google AdWords tool is the most popular keyword tool currently on the market. It includes a couple of useful features, including a negative keywords tool. This is more specific to those that are paying for advertising, but it helps to keep your ads shown to a relevant market. So, if you sell high-end shoes and people search "cheap", your ad isn't displayed.
Don't Force It
This is key! Google's algorithm has been updated to recognize when someone is trying to overload a webpage with keywords instead of letting the content flow naturally. Don't overuse keywords, and don't make the content sound unnatural to include or reuse keywords. It's cheating and Google knows it! Your website will be dinged and ranked lower in search engine results for poor-quality content if you do this!
Properly using SEO and optimizing keyword usage has proven benefits like higher rankings in search engine results as well as ads displaying online where your competitors are. It also gets the right targeted traffic to your site, creating a much higher ROI when paying for online ads.