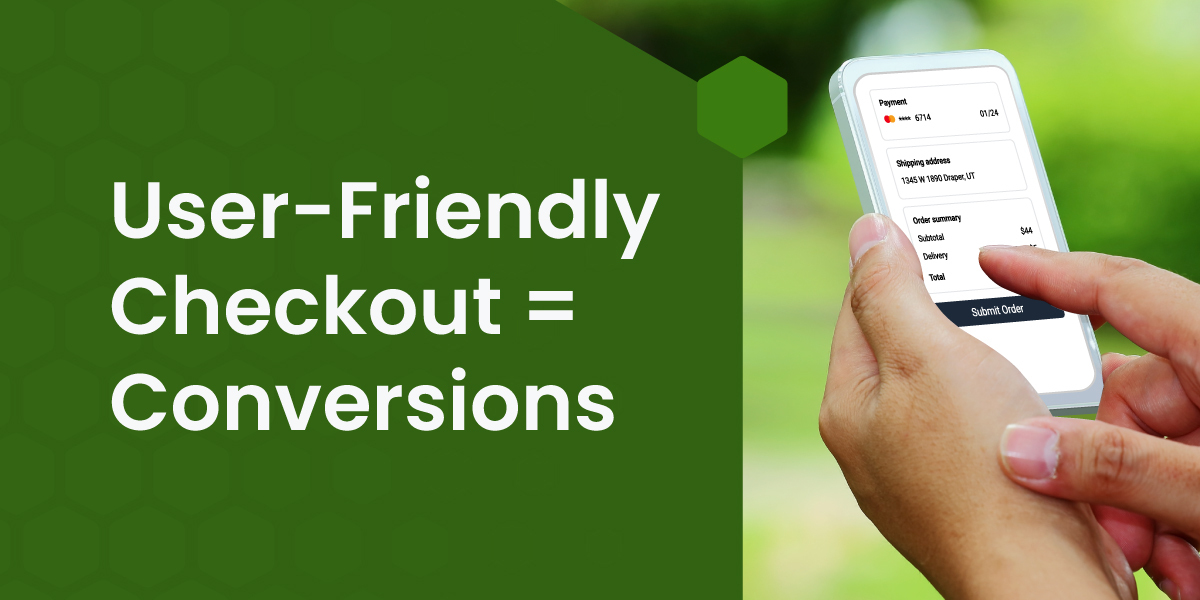 How a User-Friendly Checkout Process Increases Conversions
Business owners spend a lot of time, money, and effort to get customers to their website. Fine tuning the front-end experience makes sense; after all, this is a customer's first impression and you want them to stay, browse, and ultimately make a purchase.
So why, according to the Baymard Institute, is the average shopping cart abandonment rate a staggering 69.99%? Why is the customer changing their mind at the last minute?
It all comes down to the checkout experience, an area that is often overlooked by business owners. Just because a customer got all the way to checkout doesn't mean you've got the sale. If the process is too hectic and difficult to navigate, the customer will change their mind and decide they actually don't want your product.
First, let's acknowledge that some folks like to window shop, and in a digital age that means loading up the shopping cart with "wish list" items and then leaving.
But a 69.99% abandonment rate is quite a substantial percentage. It's more than just the meandering window shopper, which begs the question: Why are customers spending the time to visit, browse, and add items to the shopping cart… to just leave?
The Top Ten Reasons Customers Abandon Their Shopping Cart
Baymard Institute's research breaks out the top ten reasons why customers abandon their carts during checkout:
Extra costs too high (shipping, tax, fees) (48%)
The site wanted me to create an account (24%)
Delivery was too slow (22%)
I didn't

trust the site with my credit card

information (18%)
Too long / complicated checkout process (17%)
I couldn't see / calculate total order cost up-front (16%)
Website had errors / crashed (13%)
Return policy wasn't satisfactory (12%)
There weren't enough payment methods (9%)
The credit card was declined (4%)
Let's explore how we can eliminate most of these problem areas and increase the conversion of full shopping carts to completed sales in a way that leaves customers happy and ready to leave a 5-star review.
Customer Concern: Extra Costs Are Too High
Business owners have to cover their costs, otherwise there wouldn't be a business to manage. If you are going to be charging shipping, tax, or other fees, make sure this is clear and visible prior to the checkout page. Customers appreciate the straightforward pricing and it helps them make a more informed decision. (This also covers #6, "I couldn't see or calculate total order cost up-front.")
Add an estimated shipping widget to your product page or indicate if tax is included or not. This can go a long way to providing transparency to your customer, building trust, and getting that purchase across the line.
Customer Concern: The Site Wanted Me To Create An Account
Business owners want to have registered customers so that they can foster a relationship with the customer. Plus, registered accounts mean customers can leave reviews. They also provide targeted marketing opportunities. But requiring an account for checkout can make customers make a quick exit.
Requiring registration brings about a few issues that reduce your conversion rate. It slows down and interrupts the shopping process. If someone is in a hurry, that extra step can mean you losing the sale. Plus, in a digital age, some customers don't feel comfortable having their information stored. Requiring it can make them question your trustworthiness.
So what's the solution?
Allow guest checkouts. There are other ways to collect your customer's contact information that do not require them to register prior to checkout.
Convert guest users to registered customers on the order page. Here you can put a clear explanation of the benefits a registered customer receives by simply adding a password (ex. online order tracking, member rewards, coupons/promo codes, etc.)
Customer Concern: I Didn't Trust the Site with My Credit Card Information
The customer should get trust signals all throughout the buying experience. From first entering the website to getting to the checkout page, there are things you can do to build trust so that they feel comfortable providing their credit card information.
Posting customer reviews and ratings directly on the product page provides quick and easy information that can make someone feel more at ease. Not only do these reviews speak to the quality of your product, they also show that your business is reputable and that people have had a positive experience.
Make your contact details easily viewable. People do not want to have to search for a customer service phone number or wonder what your refund policy is. Have these items clearly stated in the footer of the website and on the checkout page.
Make sure your entire website has an SSL certificate (not just your checkout page). An SSL certificate can show as the padlock symbol located in the browser bar or the website address prefix is https (vs http).
SSL protects your website from scams and data breaches and assures customers that their connection is secure. Having this visible prior to checkout helps build trust with your customers and encourages them to shop with you.
Customer Concern: Overly Long or Complicated Checkout Process
Only choose fields that you truly need for checkout. If some fields are required (not optional), make sure this is clearly shown. For example, if the CVV from their card is required (which it should be to increase the integrity of the transaction), make sure this is marked as required.
If customers have filled out information on the registration page, have the checkout remember previously entered data to avoid double entry. Also allow auto-fill features to speed up the checkout process.
Offer a "save card on file" to simplify future purchases. Be sure to take advantage of the auto card updater service with your merchant provider. This will improve your acceptance rate and minimize unnecessary credit card declines (see reason #10 above—"The credit card was declined").
Your checkout should be easy to navigate. There are four main ways you can simplify and achieve this.
Make sure your checkout is

mobile optimized

.
Most customers will be using their phone to browse and make purchases on your website. If it isn't mobile optimized, it will make it difficult to see and fill out fields.
Make sure the keyboard option makes sense for the field.
For example, if you are requesting a phone number, have the keyboard show the number pad instead of defaulting to the alphabet keyboard.
Remove any unnecessary clutter on the checkout page.
You want customers focused on completing the sale.
Make CTA buttons easy to see so that customers are easily led to the next step.
And last, but definitely not least, thoroughly test your own checkout page to look for bugs or other things that are not working well. (This covers #7 on our list, "Website had errors or crashed.")
It also doesn't hurt to have a few other people test it out and provide feedback on their experience. What may have seemed obvious to you may not be as obvious for someone else.
Conclusion: Simplicity Is Key
Don't fall victim to losing sales due to your checkout process. Keep things simple and convert those full shopping carts to completed sales. Minimize the hoops customers need to jump through, keep the experience clear and concise, don't hide fees, and allow guest check out.
If you have gone this far to market to customers to buy your product, the last thing you want is for them to change their mind right at the end. Don't give a buyer a reason to abandon their cart. Give your checkout experience a makeover and improve your overall customer satisfaction leaving you with higher review ratings and repeat business.
Related Articles