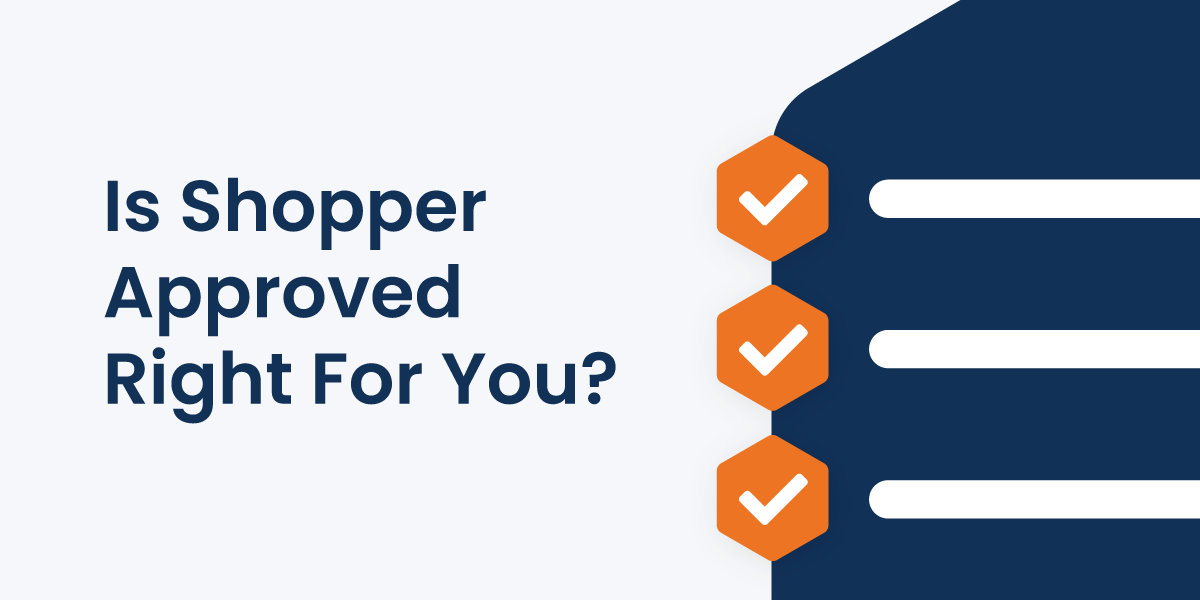 Is Shopper Approved Right for Your Business?
Shopper Approved is a leading ratings and review solution for ecommerce websites, but you may be wondering what we do and how we differentiate from other review providers. This article will teach you more about Shopper Approved and help you decide if we're a good fit for your business.
What Does Shopper Approved Do?
Shopper Approved collects reviews for ecommerce websites. We are a Google Review Syndication Partner, which means that we collect both product reviews and seller ratings (a.k.a. merchant, or website, reviews).
These reviews are syndicated to Google for display in Google Ads (Seller Ratings) and Google Shopping (Product Reviews). These reviews can also show up in organic search results, on your website, and on other review sites such as Google My Business, Trustpilot, Sitejabber, ResellerRatings, Facebook, the BBB, and more, depending on where you want your reviews to display.
We also collect video reviews for syndication to YouTube. Video reviews can also be displayed on your website and on your Shopper Approved review certificate page.
In addition, we offer a highly effective, one-of-a-kind, search-optimized Q&A tool with AI-powered features, as well website security seals and social proof widgets.
Our tools help improve your online visibility in paid and organic search results, while also creating greater trust and social proof, which directly improves both your search traffic and your website conversion rates.
What Are the Advantages of Shopper Approved?
When you purchase Shopper Approved's Traffic & Conversion Suite, you are literally getting six business growth tools in one:
A Google review platform for your seller and product reviews
A video review tool
A Q&A tool
A website security tool
A search engine optimization (SEO) suite
A conversion rate optimization (CRO) suite
Some other unique benefits Shopper Approved offers include:
Our exclusive initial survey collects up to 10x more seller reviews than any other review platform.
Our exclusive full survey combines three types of surveys in a single email, including questions asking for the seller rating, the product review, and a video review.
Our Video Reviews are automatically search-optimized for YouTube.
We have a search-optimized review certificate that normally appears on page one of search engine results for searches seeking reviews of your brand as well as search terms asking if your brand is "legit."
We have an exclusive search-optimized Q&A tool that can significantly improve your search results for product, brand, category, or industry search terms. There is nothing else like it on the market.
These powerful features and benefits work together to build and grow your online reputation, traffic, and sales.
Who Does Shopper Approved Serve?
Shopper Approved specializes in serving the online ecommerce industry (what some call "etail," as opposed to retail). Rather than trying to be all things to all businesses, resulting in being a master of none, we decided to focus exclusively on serving webstores and other ecommerce websites.
This sharp area of focus gives us the benefit of leveraging reviews and Q&A to be SEO and conversion tools for your online store.
Our core customer is typically achieving online gross sales revenue of between $2 million and $10 million per year. Although this is our sweet spot, we also serve hundreds of smaller websites, and dozens of much larger ones.
What Type of Business Is Shopper Approved Ideal For?
Countries: Shopper Approved is best suited for ecommerce websites in the USA, Canada, the UK, Australia, and New Zealand. This is primarily due to currency exchange rates and the fact that not all languages are supported in the back-end of our control panel. That said, we do serve websites in many other countries where English is not the native language.
Company size: Shopper Approved is typically used by online stores and ecommerce businesses transacting about $2 million to $10 million per year in gross annual sales. However, we also have many clients among multinational enterprise companies and small startup businesses alike. (These entrepreneurs benefit from our Emerging Merchant plan for brand new startups.)
Type of company: Although we can collect reviews with websites that do not have a traditional shopping cart and check-out process, it is easier to collect reviews from sites using a shopping cart.
Shopping cart integrations: Shopper Approved can integrate technically with any type of custom-built cart, and we have tested, proven integrations with shopping cart apps for:
Shopify
WooCommerce
BigCommerce
Magento 2 (Adobe Commerce)
ShopSite
Miva
nopCommerce
Volusion
X-Cart
Wix
Shift4Shop
OpenCart
PinnacleCart
Squarespace
Zen Cart
Custom integrations are handled with our US-based support team, usually at no extra cost.
Marketing, social media, and other integrations: Shopper Approved also integrates with many of the most popular marketplaces, marketing tools, and social media sites, such as:
Walmart
Klaviyo
Google (Google Ads, Google Shopping, Google My Business)
Bing Ads
Yahoo
Facebook
Webflow
Drupal
ASP.NET
Lootly
LoyaltyLion
YouTube
Twitter
When Is Shopper Approved Not the Best Solution?
Enterprise: If you are an enterprise website looking for extensive analytics and social media aggregation features, Shopper Approved may not be the best fit.
Startup: If you are a startup operating on a shoestring budget, and you don't need your reviews to appear in Google Ads or organic search results, and you also don't have a use for a search-optimized Q&A SEO tool, we may not be your first option.
What Are the Disadvantages of Shopper Approved?
While Shopper Approved offers several benefits, it's important to consider potential disadvantages as well. Here are a few possible drawbacks some businesses may associate with Shopper Approved:
Cost: Shopper Approved operates on a paid subscription model, and the cost may vary depending on factors such as the size of your business and the features you choose. For startups, the cost of using Shopper Approved may be a consideration.
Third-party integration: There are certain situations when Shopper Approved may not offer seamless integration with the third-party system or platform you are using. If your business relies on specific software or ecommerce platforms, it's essential to ensure compatibility and seamless integration with Shopper Approved before committing to the service. To see which shopping carts and apps we integrate with check out our integrations page here.
Limited customization: While Shopper Approved offers nearly unlimited customization options, the level of customization available may not meet the specific design or branding requirements of your business.
Learning curve and support: Like any new platform or software, there may be a learning curve associated with using Shopper Approved effectively. Depending on your level of technical expertise and familiarity with similar tools, it may take time to fully understand and utilize all the features and functionalities.
Price: Shopper Approved pricing plans start at $119 per month, and can go up to $1,299 per month or more, depending on the size of your business and the features you choose. However, keep in mind that our tools also improve both organic search visibility (SEO), paid ad click rates, and conversion rates (CRO), making the end result a significantly positive ROI.
Shopper Approved is a powerful review management, SEO, and CRO platform that can help businesses collect and manage customer reviews and drive more traffic and conversions. However, it's important to meet with one of our experts to tailor the product offerings to your budget and goals.
If you'd like to learn more, we recommend checking out our website here. On the Shopper Approved website, you can learn more about our individual products and services, as well as schedule a demo with one of our knowledgeable and friendly sales representatives.
Further Reading
Is Shopper Approved Legit & Trustworthy?
Top 10 Reasons to Choose Shopper Approved