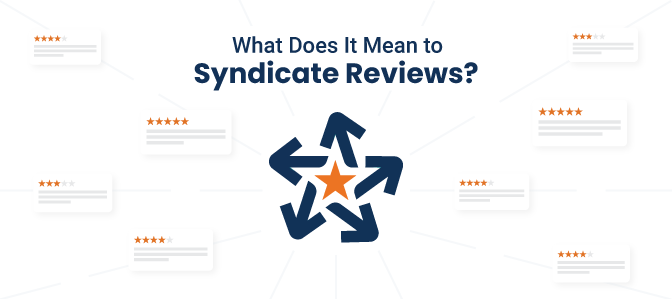 What Does It Mean to Syndicate Product Reviews?
Collecting reviews is only half the battle when it comes to managing your online reputation. Your reviews are only valuable if potential consumers are reading them. The best way to get consumers to read them? Put the reviews right in front of their eyes!
What Is Product Review Syndication?
Product review syndication is the act of pushing reviews out from your review software platform to be published on review sites, search engines, social media, and other high-traffic places online. This increases the potential audience who will see your reviews while they are shopping for the products and services you sell.
The most popular places to syndicate include Google, Yelp, Facebook, the BBB, Consumer Affairs, and other sites consumers use to research brands. Google is obviously the most popular with 40,000 search queries per second, and merchants should be syndicating their reviews to Google regularly.
You can read about the latest requirements for small businesses to display reviews on Google here.
Is It Worth Having Syndicated Product Reviews?
Absolutely. Collecting and displaying real reviews from your customers across multiple platforms and online outlets is an excellent way to enhance your reputation online and grow your business. Syndicating reviews will
Strengthen your brand's visibility
Improve SEO and help you rank higher in search results
Create trust with consumers
Establish social proof across numerous channels
Increase your click-through-rate (CTR) and send more traffic to your website
Pre-convert shoppers who read your positive reviews
Boost the conversion rate (CVR) on your website
Contribute to sales and revenue growth
How many new customers will be driven to your site if your reviews can only be seen on your website? Not many. By displaying your reviews across the web where consumers already are, you can introduce new customers to your products and show them solutions they may not have known about before.
How Do You Syndicate Product Reviews?
The easiest solution is to use a third-party review aggregation and syndication company that has established syndication rights with multiple websites. These vendors will also have software that first collects reviews and then pushes them out to the syndication network.
Shopper Approved syndicates to all major review sites and search engines. We take care of adding and maintaining the necessary code on your website that connects your reviews to those other sites.
What Happens If You Don't Syndicate Product Reviews?
You'll simply have to house your reviews wherever they show up. However, most reviews that are collected tend to be passive reviews (people leave them without being asked on open review sites such as Yelp or Trustpilot that do not verify a purchase).
These reviews tend to skew negative more often than active reviews, which result from asking verified costumers to leave a review after a transaction. (Read more about the difference between passive and active reviews here.)
The reason for this is that, unfortunately, most satisfied customers do not tend to stop and leave a review. Unhappy customers are much more likely to write a review in order to voice their dissatisfaction. Therefore, if you are not actively collection reviews, you risk ending up with a lower overall star rating.
Syndication pushes reviews that are actively collected out to those websites that collect passive reviews, which gives a more accurate, favorable outlook on your company and products.
How Does Shopper Approved Help Online Businesses Collect and Syndicate Reviews?
Shopper Approved's automated software invites your customers to leave a review at multiple points after they buy, including at the point of purchase and after delivery. This catches consumers at their most satisfied and engaged, while also increasing the quality of the rating because the customer will have the product in hand when they leave their review.
With decades of experience, Shopper Approved has established the largest review distribution network to make sure that your reviews are seen by potential customers wherever they are searching and shopping online. We are a certified Google Reviews Partner and also send reviews to the largest reviews hosts, such as YouTube, Facebook, Bing, the BBB, Reviews.io, and many more.
The upshot of our proven system is that Shopper Approved clients tend to have higher star ratings, better brand visibility across the internet, and appear higher in search results. The end goal of collecting review is ultimately to generate sales and increase revenue, and Shopper Approved's Traffic & Conversion Suite is designed to help get you there.
Other articles on syndicated reviews: