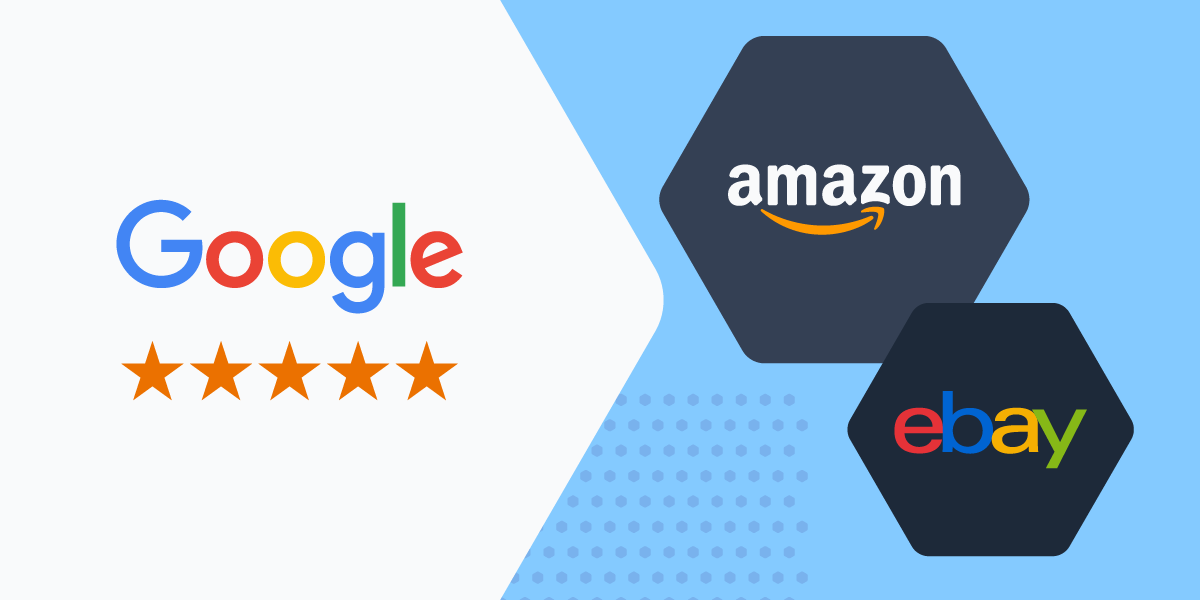 Why Google Reviews are Essential for Success on Amazon and eBay
Online Shopping Starts at Google
There is no argument about the most popular places consumers flock to for everything from the latest Nintendo Switch game to a new pair of Air Jordans. If you want quality online shopping, you're going to visit Amazon and eBay.

Amazon is the most visited ecommerce site in the entire world. It boasts more than 2.45 billion monthly visitors, while Walmart gets over 400 million and eBay captures roughly 135 million monthly users— all buying, selling, and trading goods.
In other words, if you want to make a business out of selling anything online, you may want to consider being on one of these marketplaces in addition to your own website.
However, there is one more giant to consider, and that is Google. With more than 89 billion users every month, having reviews on Google for your products, brand, or online store is a surefire way to boost lead conversion and potential sales.
Online shopping is synonymous with purchasing, and Google Reviews are the lifeblood of success.
Why Do Google Reviews Matter?
It is way more common to find a potential consumer from your target audience looking for the latest tech gadget or kitchen enhancement on their mobile device through Google. Online shopping is synonymous with purchasing, and Google Reviews are the lifeblood of success.
Why are Google Reviews more important than Amazon or eBay reviews? For the simple reason that Google is where people start their online searches. Even if they add keywords like "Amazon shop" or "eBay auction" to their search query, they will still begin on Google because it's easy to remember or is set as their default browser page.
Then, you have the fact that the search engine giant makes it easy to read Google Reviews for business owners. The promotional opportunities of a Google My Business profile allows quickfire answers to many of the common questions from customers concerning who you are, what your brand sells, and the various other social media you manage. Just look at Nike as an example:

Google is doing everything in its power to ensure consumers using its platform are met with the precise information needed so they will use the service again in the future.
If you are selling on Amazon or eBay, you need to be listed on Google as well to capture those high-quality leads already searching for your products on the most widely accepted search engine in the world.
Why Amazon and eBay Rely on Google Reviews
Let's talk about basic SEO and online reputation for a moment. Amazon and eBay marketplaces are built on algorithms similar to any other ecommerce system where sellers, products, brands, and buyers are ranked. If you want to be featured near the top of a search term, you need to consider all the factors that go into your ascension.
Guess what? That means Google Reviews!
When someone leaves a Google Review of your brand or product, they boost your brand because it differentiates you from the rest of the competition. A user has taken the time and effort to go beyond a simple search and business transaction. That matters to Google. They will consider you more important because you have a more prominent reputation.
Just look at Apple AirPods. This is a high-value brand for which Google makes it easy to find user and critic reviews, boosting the brand authority.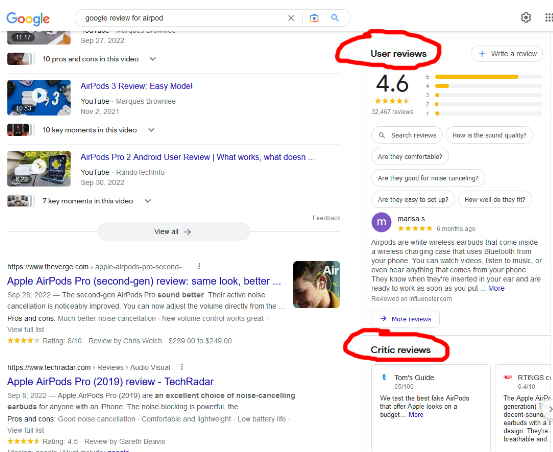 Six Essential Benefits of Having Reviews on Google Include:
Increased Visibility

– More people search on Google, putting your brand in front of more eyeballs than on Amazon or eBay combined. That leads to more significant SERP potential for your product page rank.

Social Proof

– User-generated content (UGC) is the golden touch in today's highly volatile SEO digital landscape. Online shoppers are far more likely to trust an authentic review from their peers than any copy you can imagine.

Customer Feedback

– Not only do you improve your visibility, but you get direct feedback from a broader consumer base that informs you how to improve your product or any feature of your online brand.

Competitive Advantage

– Want to rise above the sometimes crowded field on your Amazon or eBay store niche? Get some consumers to leave Google Reviews about how great your product is, or their experience with your brand was.

Trust & Credibility

– Positive Google Reviews translate directly to greater customer trust in what you are providing.

Repeat Business

– Conversion rates are directly affected by positive Google Reviews. In many case studies, CVR can increase by as much as 35%!
How to Secure More Google Reviews
Now for the tricky part every Amazon or eBay seller wants to know—how to generate more reviews. These tips will be specific to solicit more reviews on Google, but they work just as well for any other ecommerce platform or marketplace. Just remember to not be too pushy. No one appreciates that kind of pressure.
Simply Ask

– Use an auto-responder or some other digital automation to ask consumers to leave a review on Google. You can also do this by adding a physical note to your package or through social media.

Make it Easy

– Consumers are incentive driven. Anything that takes a lot of effort is going to be met with resistance. That's why you need to provide them with a direct link to your Google Reviews page.

Offer Incentives

– It's perfectly okay to offer discounts or other incentives for customers to leave a Google Review. Again, you want to be subtle, so you are stuffing this down anyone's digital throat.

Respond to Reviews

– When you actively respond to your customer's reviews, regardless of positive or negative, you are building a community. You are demonstrating you care about your reputation, and that matters to consumers.
Automate Collection – Use a platform like Shopper Approved that automatically collects and sends reviews to Google, Shopper Approved, and other review platforms like Trustpilot, Sitejabber, and Walmart.
Most importantly, don't take yourself too seriously. It's okay to have a little fun. Consumers like a personal touch that professionally delivers the experience of shopping in person to their online inboxes. They will appreciate you building a personality aligned with your brand goals.

Wrapping it Up
There is no secret formula to being the best and brightest on Amazon or eBay. It comes down to quality customer service and a commitment to daily maintenance. Part of that routine is building rapport with your past, current, and potential leads through any online reviews system—especially Google Reviews.
This emphasis on broader marketing and reputation building is essential to businesses like Spark Sales Online and our partners at Shopper Approved. We know how to drive traffic to your store by boosting your online presence for everything from Google Reviews to your ecommerce checkout procedure.
The simple fact is Google Reviews are essential for success on ecommerce platforms like Amazon and eBay. Customers are always going to rely on authentic reviews to make informed purchasing decisions, and businesses with positive reviews are more likely to be chosen.
Expand your presence to Google and bring in a whole new lifeline of high-quality consumers ready to check out your Amazon or eBay shop!
Related articles on Google Reviews