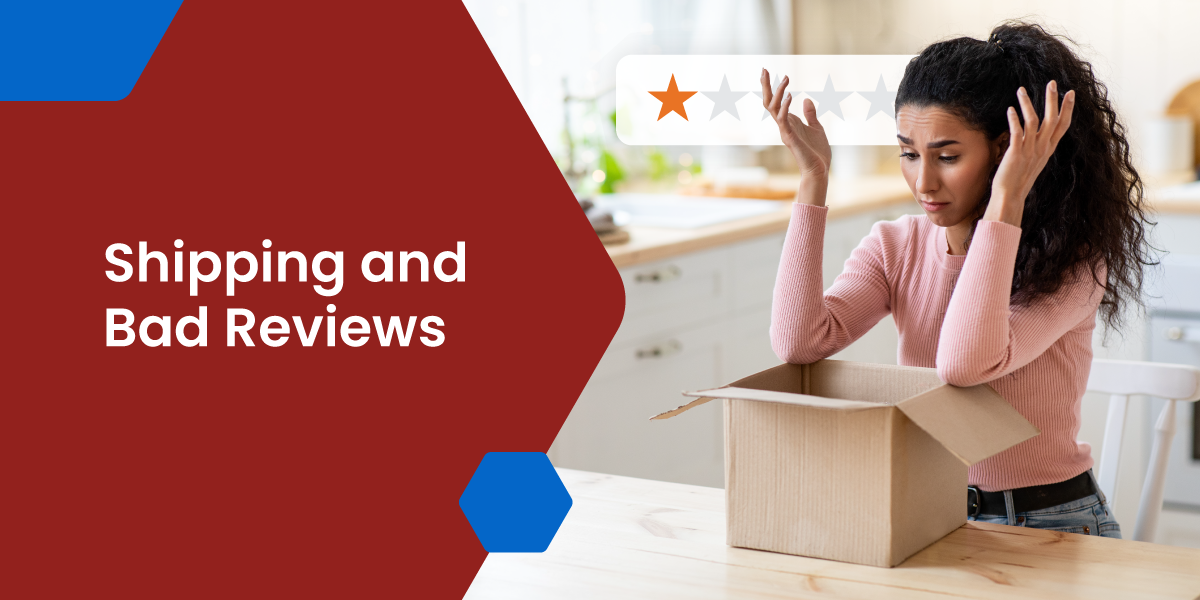 How to Avoid Bad Reviews During Shipping
Introduction
As a growing ecommerce store, you need to be aware of how important reviews can be. It has been shown that 95% of customers read online reviews before buying a product!
If you have good reviews then you are more likely to close the sale and see a purchase on your site. You might have even gained a new loyal customer! Positive reviews can push more people to your site as well as decrease cart abandonment.
On the other hand, if you have a high amount of negative reviews it can damage your reputation and stop the consumer from making a purchase on your site.
If reviews about your brand are mostly negative, the chances are higher that the consumer will abandon their cart.
But all is not lost! There are certain things you can do to increase positive reviews and help change the negative ones. And once there are positive reviews surrounding your business it can "increase customer spending by 31%."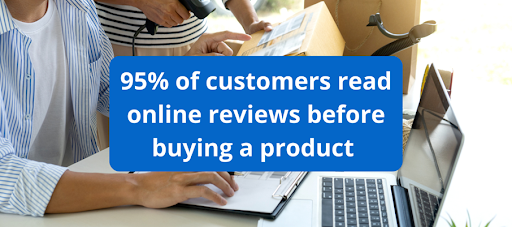 For ecommerce merchants, shipping is not just the endgame for the buyer's journey, it is often the defining piece of the entire shopping experience.
Consumers have very specific expectations for their shipping experience. At checkout, during shipping, and at arrival, your brand needs to make sure to keep your customer happy and satisfied with your effectiveness.
There are three main ways to do this when it comes to shipping:
Creating trust and transparency at checkout

Low shipping rates

Ensure packages for last mile delivery
Creating Trust and Transparency at Checkout
There are many ways to improve the shipping experience—and it all starts at checkout.
This part of the process is where consumers have to make a decision on which shipping method they want, how fast they want the product to arrive, and how much they are willing to pay for those options.
Checkout can be something that causes confusion for many buyers and leaves them not wanting to complete the purchase. There are three easy things that can help your business gain trust and increase transparency during checkout.
Add expedited lanes
Display accurate arrival dates
Calculate and display taxes and duties for international orders
Let's look at each of these three tactics a little more closely.
Add Expedited Lanes
Oftentimes, ecommerce brands run into the problem of only offering a single "lane" at checkout, not allowing customers to choose between different arrival times.
A great way to improve the customer experience is by giving the customer 3 – 4 shipping options to choose from. These usually vary in price, becoming more expensive the faster the product will be shipped. This not only saves you money, but allows the customer to receive their product more quickly.
Customers who cannot choose their arrival dates may possibly write a negative review. It also might be confusing for the customer to only see one shipping option and then have it take a lot longer than anticipated for their package to arrive. So keeping the buyer informed is important.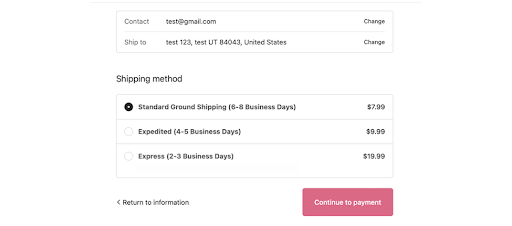 Display Accurate Arrival Dates
Increasing trust and transparency with accurate arrival dates is a great way to avoid a bad experience for the customer, as well as a potential negative review. Customers like to be informed and aware of the progress of their packages.
By displaying arrival dates, customers can make the selection that works best for them and their timeline from your shipping lane options. No one wants to be guessing when their package will arrive. The more informed the customers are, the more they will trust your brand, as long as the information is correct.
This is why making sure that delivery dates are accurate is so important. Negative reviews often talk about packages arriving late or being lost in transit. Even though these problems often originate from the carriers, the brands take most of the blame. Try to display as accurate time ranges for delivery as possible.
Calculate and Display Taxes and Duties (International Orders)
For international orders, there are many things that can go wrong and cause a bad customer experience leading to a negative review.
Brands need to be clear with their international customers if they will be purchasing DDU (delivered duty unpaid) or DDP (delivered duty paid). If the customer does not understand this important distinction, it can cause major confusion later on and damage the overall experience.
In checkout, you can calculate all duties and taxes and display the final costs to consumers. If this doesn't happen, then you can have confusion, delayed payments, and customs issues.
Calculating taxes and duties in checkout also helps avoid problems in customs. Packages that aren't cleared by customs can be delayed or permanently stuck in customs. All of these problems can potentially lead to negative reviews.
A good checkout experience for international orders is one where all the information is present and easily understood.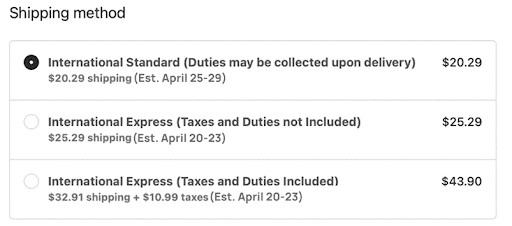 This not only helps the checkout experience for the consumer, but also benefits you because you will be able to collect the correct amount of taxes for each order at the point of sale. Delaying collection can be messy and confusing.
Low Shipping Rates
Another possible reason for bad reviews, high cart abandonment, and a bad customer experience is expensive shipping rates.
At the end of the buyer's journey, the shopper has selected the product they want to purchase and has accepted the price of that product. If they get to checkout only to find that all of the shipping pricing options are excessive, they will abandon the cart, have a bad experience, and possibly leave a poor review.
In order to keep shipping rates low, the first thing your brand can do is partner with a third-party company like Buku Ship that gets extremely competitive wholesale rates from a wide range of carriers. Working with a third party shipping partner can save you up to 55% on your shipping costs. You can then pass some of these savings on to your customers, an easy win that will make the shopper happy and your store more competitive.
On their website, Buku Ship explains another solution to high shipping prices: "Dynamic Rate Shopping is a feature of Buku that allows you to find the cheapest and best fit rate for every purchase. Using AI we're able to input this rate directly into your shopping cart. This isn't limited to a single carrier either. It searches through all of your available carriers for each specific zip code to give you the best and most accurate rate." [sic]
Ensure Packages for Last Mile Delivery
One common place for there to be problems for the consumer is during delivery. Packages can get lost, damaged, or stolen during the delivery process. A good way to protect yourself against this is through a clear return policy and package protection/insurance.
In checkout, you have the ability to clearly state your return policy. This is beneficial for customers to be able to read to know exactly what to do in case something goes wrong with either the product or delivery.
If consumers have an idea of what to expect, they are less likely to become confused and reactive if they need to make a return. When buyers are well informed and you have an easy-to-follow process, it will significantly improve the post-purchase experience.
Package protection gives both you and the customer peace of mind that no matter what happens during delivery, they will get their package. Once again, working with third-party companies like Buku Ship that offer package protection enables you to focus on growing your brand instead of delivery problems.
Package protection gives your customers the best post-purchase experience and eliminates the worry of a failed delivery.
Final Thoughts
There are many ways ecommerce brands can avoid bad reviews during the shipping experience. If you are able to optimize checkout, lower shipping rates, and create a good post-purchase experience, then there are significantly lower chances of getting a negative review.
Giving the customer a good checkout and post-purchase experience is all about increasing transparency and trust with those buying from your website. Giving the customer added information during checkout and delivery allows them to have a better understanding and expectation for what is going to happen. When expectations are broken, you are more likely to get a negative review.
If you want to learn more about checkout, shipping, and saving money, visit the Buku Ship site to see how third-party shipping can benefit your ecommerce store.
Further Reading
6 Strategies to Manage Negative Reviews
Is Your Website Costing You Money?